iTheatrics Establishes Annual Technical Theater Scholarship In Honor of Sharidan Giles
iTheatrics Establishes Annual Technical Theater Scholarship In Honor of Sharidan Giles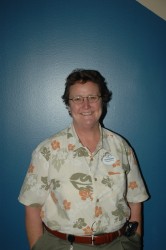 Educational theater consultancy firm iTheatrics is establishing an annual Sharidan Giles Technical Theater Award Scholarship.  Giles was a respected theater production manager and technical director, who mentored countless technical theater artists and was one of the first women admitted into her local branch of The International Alliance of Theatrical Stage Employees, Moving Picture Technicians, Artists and Allied Crafts of the United States union (IATSE local # 50).  For the past 18 years Giles worked for the Walt Disney Company in Orlando, Florida where she stage managed notable Disney greats such as Finding Nemo: the Musical, IllumiNations: Reflections of Earth Fireworks Spectacular, and The Lion King. She passed away on Friday, April 26, after a short illness.
Beginning in January 2014, the award will be given away each year at the Junior Theater Festival, the world's leading festival dedicated to students interested in musical theater. Giles annually served as a technical manager and technical theater workshop facilitator for the Junior Theater Festival, and was instrumental in developing its technical theater track for students, in which students are mentored by Broadway professionals and work side-by-side with staff to produce festival main stage events.
The scholarship award will be granted to the technical theater student who most exemplifies commitment, curiosity, collaboration and creativity in technical theater.  The honor includes a cash award to be applied to college or advanced training in technical theater, as well as mentorship sessions from a professional technical theater person.  All groups attending the festival will receive information as to how their technical theater students may apply.
Donations to the Sharidan Giles Technical Theater Award Scholarship may be made out to iTheatrics with "Sharidan Giles Scholarship" in the memo. Please send all donations to Sharidan Giles Technical Theater Award Scholarship c/o iTheatrics 628 West 52nd Street Suite 1F New York, NY 10019.
"Mentoring came as naturally to Sharidan as laughing" says Timothy Allen McDonald, founder and CEO of iTheatrics and close friend of Sharidan's for over twenty-seven years.  "She loved learning how to do things the very best way and then sharing that knowledge gleefully with anyone who was interested.  Sharidan broke into a world that was absolutely male-dominated and showed both men and women a better way to lead—by sharing knowledge, through clear communication, by staying calm in stressful situations and by showing extreme patience.  Why? Because she said everyone did their best under those circumstances and isn't that the goal, to do our best?  One of Sharidan's best traits was allowing you to make your own mistakes.  She'd make sure the mistake was just large enough for you to learn from it, but not so large that you would lose face. This scholarship will continue Sharidan's legacy of providing a helping hand to those with intellectual curiosity and an established interest in technical theater."
Giles was one of the first women to be accepted into IATSE Local #50, the Sacramento, Chico, Stockton, and Marysville, CA arm of the largest union representing workers in the entertainment industry.  In turn, Giles mentored other technical theater artists through the process of joining the union and made a point of encouraging other women to understand the union and become part of it.  She served as training chairman for IATSE Local #50.  In the 1980's she developed the test which apprentices must pass to graduate to full membership/journeyman status which is still in use today.
Giles served as a stage manager for the Sacramento Symphony from 1986 – 1992, where, in addition to stage management duties, she designed and built transportation systems for orchestral instruments and equipment.
From 1992 – 1995, she served as production manager/technical director for Chico City Light Opera.  At Chico City Light Opera, she was responsible for all the technical aspects of every production, overseeing everything from stage management to sets, lights, props, sound and costumes for over 50 shows.  She helped develop and construct the company's 230 seat theater facility complete with state-of-the-art lighting and sound systems and initiated the company's internship and apprenticeship program.
In 1995, she relocated to Orlando, FL, to work at Walt Disney World Parks and Resorts where she served as an entertainment manager for stage and fireworks shows. A recipient of Disney's Performance Excellence Award, Giles served on the development team for Disney's Animal Kingdom Conventions and Special Events; was an opening team member of Who Wants to be a Millionaire, Play It!; was a production stage manager for Spectacle of Lights; and was responsible for all park entertainment daily operations at Epcot through her role as Show 3 Duty Manager.
Giles worked on a number of shows at Disney's Animal Kingdom, Epcot and Disney-MGM Studios including: Finding Nemo, The Musical; Festival of the Lion King; Pocahontas and Her Forest Friends; the nightly pyrotechnical show Illuminations: Reflections of Earth; Magical Gatherings; Spectacle of Lights; Who Wants to be a Millionaire, Play It!; Voyage of the Little Mermaid, and Hunchback of Notre Dame.
In addition to her work at the Junior Theater Festival, Giles also served as a production stage manager, technical director and company manager of Intramusic Theatricals national tour of
A Year with Frog and Toad
, created by iTheatrics, which traveled to over 40 U.S. cities during the 2009-2010 season.  Giles also served as a stage manager for the Sacramento Symphony, props master for Sacramento Music Circus, and production manager/technical director for Chico City Light Opera.
Sharidan Giles Obituary from the Sacramento Bee