It's "Too Late to Turn Back Now" – BONNIE & CLYDE Available for Licensing
It's "Too Late to Turn Back Now" – BONNIE & CLYDE Available for Licensing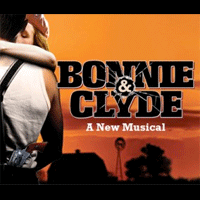 At the height of the Great Depression, Bonnie Parker and Clyde Barrow went from two small-town nobodies in West Texas to America's most renowned folk heroes and the Texas law enforcement's worst nightmares. Fearless, shameless, and alluring, their electrifying story of love, adventure and crime captured the excited attention of an entire country. Now, the most notorious couple of the twentieth century takes on a whole new adventure: the stage.
BONNIE & CLYDE
(music by
Frank Wildhorn
, lyrics by Don Black and a book by Ivan Menchell) is a thrilling and sexy musical with a non-traditional score, combining blues, gospel and rockabilly music  It is a wonderful option for featuring large ensemble casts and an opportunity to showcase your strong contemporary singers and actors.
When Bonnie and Clyde meet, their mutual cravings for excitement and fame immediately set them on a mission to chase their dreams. Their bold and reckless behavior turns the young lovers' thrilling adventure into a downward spiral, putting themselves and their loved ones in trouble with the law. Forced to stay on the run from every southern state's police force, the lovers resort to robbery and murder to survive. As the infamous duo's fame grows bigger, their inevitable end draws nearer.
On Broadway
A Side Splittin' Toe Tappin' Gun Totin' Musical!
Before
BONNIE & CLYDE
, Wildhorn and Black collaborated on another show from the MTI catalogue,
DRACULA, THE MUSICAL
.  Wildhorn initially contacted Black about collaborating on a song cycle based on the story of Bonnie and Clyde.  After a demo of five songs (all of which still remain in the present musical), the two worked to create the full production.  Wildhorn describes the music as a true Americana score.  It combines music of the period - country, ragtime, jazz, rockabilly, blues and gospel - together into a Broadway pop score.
The mix of period style with a contemporary feel makes the score both riveting and engaging.  The show features a male and female leading couple each with an expansive vocal range and a supporting couple requiring just as much musical talent and range.  Two children are needed for this production as well, playing young Bonnie and Clyde.  An ensemble of about 15 other characters, with little to no singing, make up the rest of the cast of
BONNIE & CLYDE
.
After a world premiere in La Jolla, California in 2009 and a Broadway debut in late 2011 featuring Jeremy Jordan and Laura Osnes this musical is now available for licensing
(regional restrictions apply due to a possible tour).
Synopsis
BONNIE & CLYDE
 tells the story of love that surpasses all danger and violence. The story centers on Bonnie Parker and Clyde Barrow, the ill-fated lovers and outlaws whose story has been infamous since they achieved folk hero status during the Great Depression.  In addition to Bonnie and Clyde's relationship there is also Clyde's relationship with his best friend and brother, Buck Borrow and his wife, Blanche, who too are inseparable despite all risks.   Both brothers are criminals on the run from the law.  Blanche, a religious woman who disapproves of the criminal lifestyle convinces Buck to turn himself in to the law while Clyde gets caught and thrown back in jail.  After Buck's release and Clyde's second escape from jail the couples are back to their life of crime.  Together the two couples commit crimes and lead this illicit lifestyle because of their love for one another.  Each of the characters emphasize the love and suffering that bind their relationships.  They have become too entrenched in crime that each couple is too far in love to part ways and go straight.  The notorious crew grows progressively more daring in their endeavors throughout the show which leads to their eventual demise as their robberies spiral out of control.
For more about the story of Bonnie and Clyde read Bonnie Parker's actual poetry about their lives:
http://allpoetry.com/poem/8564129-The_Trails_End-by-Bonnie_Parker