JumpStart Theatre Changing Kids' Lives Through Power of Performance
JumpStart Theatre Changing Kids' Lives Through Power of Performance
Below is an incredible article originally reported on WCPO Cincinatti, highlighting the incredible work of our friends at JumpStart Theatre. 
JumpStart Theatre Changing Tri-State  Kids' Lives Through Power of Performance
- Lucy May, April 26, 2017
CINCINNATI -- Za'Khyra Whitehead was having a tough time last year as a new student at James N. Gamble Montessori High School. So tough, in fact, that she went to talk to the school psychologist.
When the psychologist learned Za'Khyra had a beautiful singing voice, she recommended getting involved in the middle school musical. Za'Khyra auditioned and got the role of Erzulie the goddess of love in "Once on This Island JR."
She made new friends and started feeling like she belonged. The musical became so important to Za'Khyra, in fact, that she was determined to go to school and rehearsals even when her family was homeless and spent a few nights sleeping in their car.
"It helped because it was like, I didn't know I could actually do this," said Za'Khyra, now 14. "It just changed my whole experience of being here."
Her mom got back on her feet and moved into an apartment in Westwood, close enough so Za'Khyra could walk to school and would never have to miss play practice.
Za'Khyra is far from the only Gamble student whose life has changed for the better thanks to the school's musical theater program, Principal Jack Jose said.
"Students who have been given this power and this confidence to take a chance -- you can't bet against them in anything else," Jose said. "They're going to apply that skill in the classroom. They're going to apply that skill when they go to get a job. It's transformative."
No offense to reading, writing and arithmetic, but Jose and other educators argue theater is critically important for students, too. That's why the Educational Theatre Association has been working to launch musical theater programs in local schools that otherwise didn't have them, many of which serve large numbers of students living in poverty, said Julie Cohen Theobald, the association's executive director.
"We see that kids are more likely to want to go to school and stay in school because they're excited about what they're doing in theater," Theobald said, adding that theater also requires discipline, the ability to collaborate and it holds students accountable for doing their part.
"It gives them a purpose and gets them engaged in school," she said.
The association created its JumpStart Theatre initiative in collaboration with New York City-based iTheatrics and Music Theatre International, both of which helped start the Broadway Junior Musical Theatre Program in New York City in 2005.
JumpStart has helped launch musical theater programs at nine local schools since it began in 2015. The initiative targets middle school students because of their energy and flexibility.
Gamble was one of the first three schools to get involved in JumpStart, along with Holmes Middle School in Covington and Finneytown Middle School.
The association awards grants to each of the schools selected for the program and helps them for three years, showing them what it takes to launch a program and advising on the best types of shows to perform.
At the same time, the organization is conducting research at the participating schools in an effort to measure the impact of the new theater programs.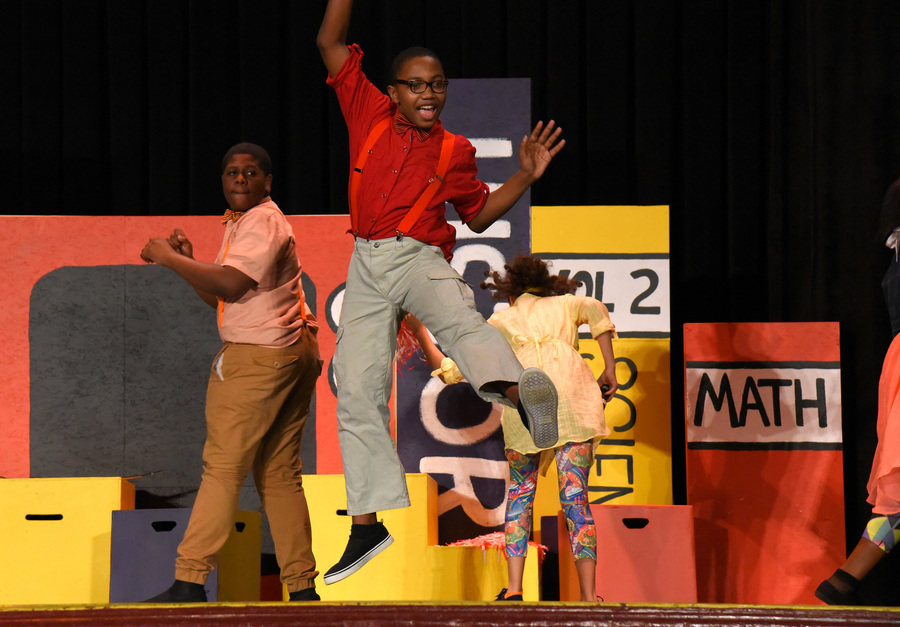 Schoolhouse Rock Live JR. performed by Dater High School (Photo © Susan Doremus). 
The association gathers data by observing teachers during the boot camps where they get training; by observing school performances; and by surveying the students who participate in the cast and crew before and after they become involved.
"The idea is to give the students something that will get them engaged, is fun, gives them self-confidence and teaches them to tell a story," said Jim Palmarini, the association's director of education policy. "Our first-year data shows a strong impact on their empathy and a strong impact on what it means to be creative."
For many students, that means learning new ways to solve problems and being forced to think on their feet if they forget a line or need to create a prop.
Ultimately, the association hopes the data will help reinforce the importance of musical theater programs.
"Big picture, if you don't have the data to support the value of a program, the chances are much less that school districts are going to invest the time, the resources and the energy to commit to the program," Palmarini said.
Early results are so promising that the association already is exploring ways to expand JumpStart to other cities, Theobald said.
"I would like to see this in the top 20 cities in the U.S. in the next five years," she said, adding that the association already has gotten interest from Detroit, Los Angeles, Cleveland and Louisville. "There's need everywhere."
To qualify for JumpStart, schools must be "underserved," meaning they can't have already had a musical theater program in place and don't already have a theater teacher.
After picking which schools will become part of the initiative, the association trains teachers to become directors of their school's musical theater program.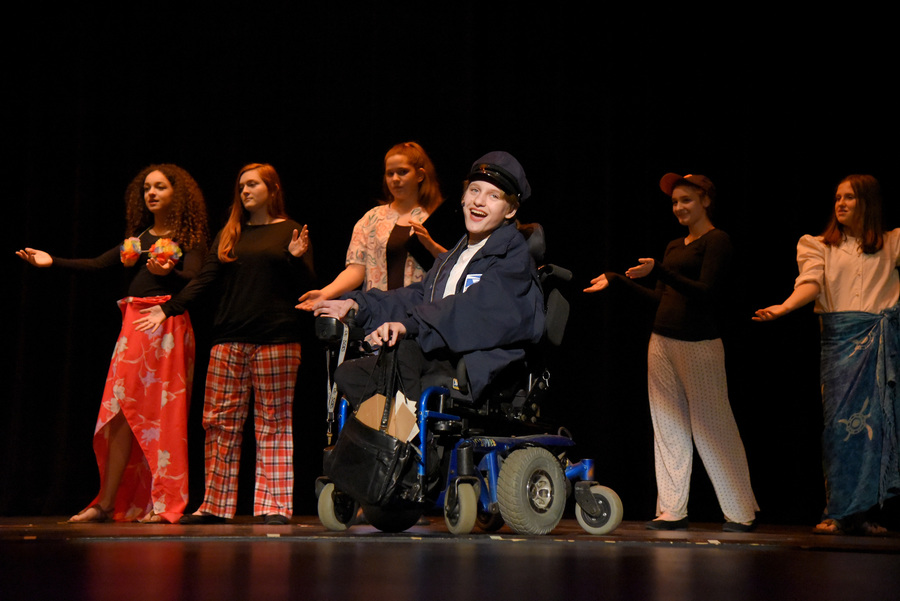 The Musical Adventures of Flat Stanley JR. performed by Finneytown Middle School (Photo © Susan Doremus). 
The teachers come from a range of disciplines, said Ginny Butsch, the association's community manager.
"We have math teachers, reading teachers, science teachers, special needs," she said. "Even a French teacher. Pretty much anyone in the school who's interested."
At Gamble, choral director Tom Frank took on the job and said the experience has been rewarding.
"For a student to get their first applause -- we work so hard on a musical. And if they've never done it before, they don't understand what it means to be appreciated for the talents they have," he said. "It's a life-changing experience."
That's been the case at other schools, too.
"Oftentimes, our kids are very reluctant to be seen up on stage, to be vulnerable, to fail," said Lisa Votaw, principal at Aiken New Tech High School, which became part of the program this school year. "It's sort of transformed many of the kids to believe that they can."
And for the students who get involved, the experience isn't about trying to outshine their friends onstage, said Kara Barbee, Aiken's musical director.
"It's how do we build each other up because we want the absolute best show we can do," Barbee said. "Every single cast member was absolutely transformed."
It's the kind of transformation that can mean the world to kids like Za'Khyra.
She auditioned for "Annie JR." at Gamble this year and got the role of Grace Farrell, Daddy Warbuck's professional secretary. Just like last year, the part required singing some solos onstage. And this time around, she wasn't even nervous.
"I knew I could do it," she said. "And I was just happy to be in it to work with Mr. Frank again on the play to help him out and the other people out."
The JumpStart Theatre Showcase will be held May 2 at the Aronoff Center's Jarson-Kaplan Theater. More information is available online.
Lucy May writes about the people, places and issues that define our region – to celebrate what makes the Tri-State great and shine a spotlight on issues we need to address. Childhood poverty is an important focus for her and for WCPO. To read more stories about childhood poverty, go to www.wcpo.com/poverty. To read more stories by Lucy, go to www.wcpo.com/may. To reach her, email lucy.may@wcpo.com. Follow her on Twitter @LucyMayCincy.
May, Lucy. "JumpStart Theatre Changing Tri-State Kids' Lives Through Power of Performance." WCPO.com, 26 April 2017.