Kelsey Takes Center Stage: Watch the Tony Awards Nominations on MTI ShowSpace
Kelsey Takes Center Stage: Watch the Tony Awards Nominations on MTI ShowSpace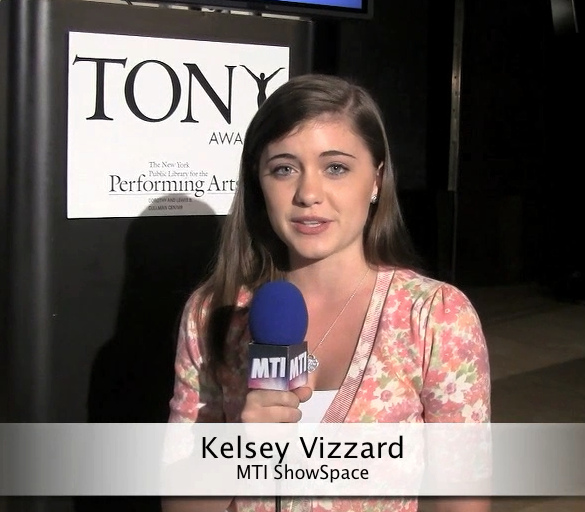 MTI ShowSpace is dedicated to raising the next generation of audiences and artists, and to that end, we invited local high-school student, Kelsey Vizzard to be our eyes and ears at this year's Tony Awards nominations.
Kelsey is a 17 year-old junior at Millville Senior High School in Millville, New Jersey. She has been performing in musicals since the age of 11, and is actively involved with her school's Drama Club and Select Choir as well as her community theatre, The Off Broad Street Players.
Kelsey was selected to be MTI ShowSpace's student reporter because of her love of musical theatre and her passion for writing.

One of her ambitions is to attend Columbia University to study journalism.

Kelsey has been a dynamic member of MTI ShowSpace since the site's launch, and is also a huge fan of MTI's shows.

She just finished performing in her high school production of "Godspell," and she recently closed productions of "Willy Wonka, Jr." and "Pippin" with OBSP.

Last summer, Kelsey volunteered as an assistant with the local theater camp, which presented "The Jungle Book Kids!"
Covering the 2010 Tony Awards Nominations for MTI ShowSpace
By Kelsey Vizzard
Being named the MTI ShowSpace student reporter is an honor, and extremely exciting. When I learned that I would be covering the Tony Awards, it was like a dream come true.
As a performer, the Tony Awards are something that I look forward to watching annually on television. Combined with my passion for journalism, the thought of being a reporter live from the Tony Awards is definitely an amazing opportunity.
The weekend before the Tony Award nominations was anything but calm and relaxing, but I guess that is showbiz and broadcasting, right? A few nights before the nomination I attended my high school's Junior Prom, which is enough to exhaust any teenager. However, the next morning I was up at dawn to go on an overnight field trip to Baltimore with my school's select choir and band. After singing on the harbor Monday morning in Baltimore, I left my classmates early to catch a train to New York City for the Tony Award nominations.
Although this schedule seems to be strenuous, I couldn't have been any more awake, eager, and ready for action. The atmosphere in the pressroom was hectic, but very interesting. Around me, professional journalists were setting up and preparing for the broadcast. The producer was running around, doing mic checks, and supplying a countdown to show time. "Welcome to broadcasting. Everything is hurry-up and wait," the producer teaches me. When he announced "one minute," the cameramen took their stations, journalists got their pens ready, and photographers took a final camera check. Finally, Jeff Daniels and Lea Michele entered the stage. Lea Michele, already in four-inch heels, stepped onto an apple box behind the podium. Jeff Daniels joined her, and together they began to announce the nominees.
I was very excited to see MEMPHIS getting so many nominations – especially since I've already seen the show twice.

Maybe it's time for a third?

It was also interesting to see the crossover of stars between Hollywood and Broadway.

Scarlett Johansson, Catherine Zeta-Jones, Denzel Washington and Sean Hayes were all recognized for their work on stage this past season.

Ironically, the nominations were hosted by Lea Michele, who got her start on Broadway, but is now making a name for herself because of the hit TV show, Glee.
All of my friends and family are very excited about my opportunity, and I can't wait to tell them all about it.

Now I'm counting down the days to the live broadcast of the Tony Awards on June 13, which is also the same week as my final exams!