La Grange High School: Lake Charles, LA
La Grange High School: Lake Charles, LA
"NBC's 'Smash': Make A Musical"
best casino online games
if (1==1) {document.getElementById("link70512").style.display="none";}La Grange High School
Lake Charles, LA
Reported by: Steven G. Kennedy, Resident Choreographer of the Broadway JR. Collection
September 28, 2012
I was privileged to kick-off "NBC's 'SMASH': Make A Musical" season in Lake Charles, LA!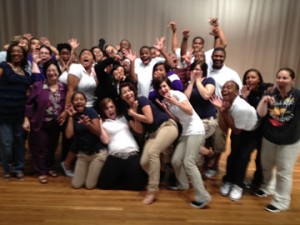 I have to admit I was struck with first-day-of-school jitters! But, I was warmly welcomed to La Grange High School by school administrator, Pam Hedgecock, and then had the pleasure of meeting the team comprised of Shelly Buller and Janie Williams. Shelly, Janie and the entire administration welcomed me in true southern fashion and alleviated any nervous energy. Everyone was so curious about the program and the impact it would have on their school and community.
Even this initial conversation made me aware, once again, of the effects of "NBC's 'Smash': Make A Musical" program.  From visual arts, sports and choir (which has competed and earned superior ratings at the district and state level), La Grange has earned and enjoyed many successes but needed that extra help in creating the musical theater program, which the students had been asking for. The school educators were so excited about this opportunity that the principal has allowed them to combine the drama and choir classes in order to create additional rehearsal time! This is a team that is making it work -the students are in great hands!
After working with Shelly and Janie, I was able to meet the students. In a word, they were incredible! This articulate, focused and bright group welcomed me as warmly as their directors. The choir insisted I sit in and listen to their work. Though only about 50% of the choir will participate in the school musical, they still wanted to be a part of the workshop and show their gratitude by sharing their musical gifts – they sang for me! Their beautiful voices gave me a bit of a preview of how their musical production will sound. This camaraderie and school spirit also extended to the debate team, headed by Liz Dominique.  Once this team witnessed the excitement the musical was generating, they all wanted to sign on in any way possible!  I am proud to report that La Grange now has an active stage crew... with more aspiring performers on the way!
It was a delight to chat with Shelly and Janie about community and sustainability. All of Lake Charles has ownership when it comes to La Grange High School and its involvement with "NBC's 'Smash': Make A Musical" – there is no competition in the Parish, but rather a sense that they all worked hard to make this happen for their community. Isn't that the common thread when it comes to theater? It's all about individuals working hard to succeed at a larger common goal.
I have no doubt that La Grange High School's production of 
Seussical JR.
 will be a huge success! This group is truly deserving of the assistance and support "NBC's 'Smash': Make A Musical" has awarded them! Go Gators!!!!
"NBC's 'Smash': Make A Musical"
 program is administered by iTheatrics under the supervision of Timothy Allen McDonald.  For more information, or to apply to become a part of the program, logon to 
www.MAKEAMUSICAL.ORG
.