MTI Author Stephen Schwartz and MTI Chair Freddie Gershon Honored at the 2010 Junior Theater Festival
MTI Author Stephen Schwartz and MTI Chair Freddie Gershon Honored at the 2010 Junior Theater Festival
Imaginations will soar, hearts will dance, and applause will thunder when more than 1,500 students, teachers, and Broadway professionals raise their voices in celebration of on-stage and backstage excellence in musical theater at the 2010 Junior Theater Festival.  Taking place at the Cobb Galleria in Atlanta, Georgia January 15-17, the Junior Theater Festival is hosted and produced by iTheatrics and Atlanta's Theater of the Stars and presented by MTI.
"The Junior Theater Festival celebrates innovation, enthusiasm, and collaboration," says Founding Chairman of iTheatrics Timothy A. McDonald.  "It allows groups from across the country to show the many ways young people with different interests can work together as a creative team to tell a story musically. In turn, professionals from theater and education encourage teachers and students to achieve their personal best by offering them immediate feedback, support, and ideas."
This year, composer/lyricist Stephen Schwartz (GODSPELL, WICKED) will be awarded the first Junior Theater Festival Award honoring the Advancement of Musical Theatre for Young People.  Additionally, the Junior Theater Festival's annual awards for student excellence in theatre will be renamed "The FreddieGs," honoring MTI Chairman Freddie Gershon.  In 1995, he created MTI Education, the first educational division in a major musical theater licensing firm, which has literally transformed the market for performance material for young people.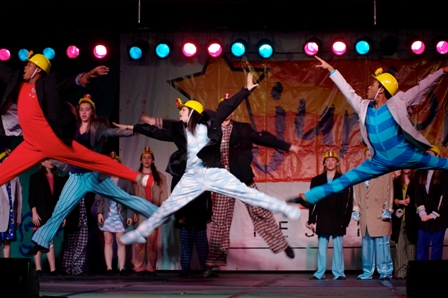 THE PHANTOM TOLLBOOTH JUNIOR was one of the new Broadway Jr shows represented at last year's Junior Theater Festival
Read more about this year's Junior Theater Festival in
this BroadwayWorld.com article
and
this Variety article
. Click
here
to learn more about the Junior Theater Festival. Join
the Junior Theater Festival group on MTI ShowSpace
to keep updated on the events this weekend - and, if you're attending, to share your experiences!