MTI Celebrates 60 Years - Mayor Bloomberg Names May 29th "Music Theatre International Day"
MTI Celebrates 60 Years - Mayor Bloomberg Names May 29th "Music Theatre International Day"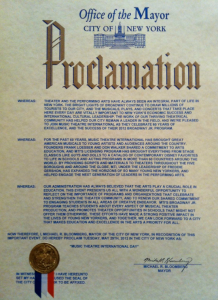 May 29, 2012 marks the 60th Anniversary of Music Theatre International!  In recognition of this milestone event, New York City Mayor Michael Bloomberg has officially named today, May 29th, "Music Theatre International Day".  We are delighted to share the proclamation with the entire MTI family and thank every single person who has ever seen or been involved with an MTI show!  The proclamation was presented at the Shubert Foundation / MTI Broadway Junior / NYC Department of Education "Student Share" event hosted by Nick Jonas.  Read Playbill's coverage. Here's what the proclamation says...
Office of the Mayor
City of New York
Proclamation
Whereas:
Theater and the performing arts have always been an integral part of the life in New York.  The bright lights of Broadway continue to draw millions of tourists to our city, and the musicals, plays, and concerts that take place here every day are vitally important to New York's economic success and international cultural leadership.  The work of our thriving theatrical community has helped our city remain a leader in the field and we're pleased to join Music Theatre International as they celebrate 60 years of excellence, and the success of the 2012 Broadway Jr. Program.
Whereas:
For the past 60 years, Music Theatre International has brought great American musicals to young artists and audiences around the country.  Founders Frank Loesser and Don Walker shared a commitment to arts classics like
Guys and Dolls
to a catalog of contemporary Disney favorites to life in schools and acting programs in more than 60 countries around the world.  By providing scripts and materials to theaters throughout the five boroughs and around the globe, MTI, under the leadership of Freddie Gershon, has expanded the horizons of so many young New Yorkers, and helped engage the next generations of leaders in the performing arts.
Whereas:
Our administration has always believed that the arts play a crucial role in education.  The event presents us all with a wonderful opportunity to reflect on the importance of programs and organizations that celebrate and strengthen the theater community and to renew our shared commitment to engaging students in all areas of creative endeavor.  MTI's Broadway Jr. Program teaches students about every aspect of musical theater production, and promotes theater opportunities in schools that might not offer them
otherwise.  These efforts have made a strong positive impact in the lives of young New Yorkers, and together, we can look forward to a city that makes education and excellence in the arts a priority for all.
Now therefore, I, Michael R. Bloomberg, Mayor of the City of New York, in recognition of this important event, do hereby proclaim Tuesday, May 29th, 2012 in the City of New York as:
"Music Theatre International Day"
Michael R. Bloomberg
Mayor