Muskegon High School: Muskegon, MI
Muskegon High School: Muskegon, MI
"NBC's 'SMASH': MAKE A MUSICAL"
Muskegon High School
Muskegon, MI
Reported by: Cynthia Ripley, iTheatrics Senior Education Associate, Resident Master Teacher
October 1, 2012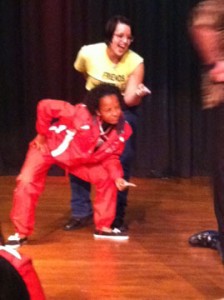 Imagine you are doing some leisurely Saturday shopping in a suburban mall, when you find yourself in the middle of a freeze mob of High School students in matching shirts.  Not only is it fascinating to watch, but you are then asked if you would care to scan the QR code on their t-shirt with your phone. This technology would then make it possible for you to vote for Muskegon High School to win a sustainable musical theater program through "NBC's 'Smash': Make a Musical."   This is only a tidbit of the innovative outreach that the students from this lakefront city of Muskegon, Michigan did to win the "NBC's 'Smash': Make a Musical" opportunity. The two faculty team members, Karli Baldus and Kirk Carlson, are young, talented, and unstoppable.  Karli fought for, endured and strategized to make this opportunity a reality in Muskegon High School. She would not take no for an answer.
Muskegan High School is mid-west football territory times ten with a marching band to match. It has a student body of 1,200 with minimal offerings in choral music and drama, and no musical theater. The urban campus is large and sprawling; the enormous auditorium is in need of repair, but you can tell the bones of this old girl are grand.  Beautiful wood and ceiling fixtures all throw focus to a stage that 
could
 host a cast of thousands. This vintage, wonderful space is home for these educational innovators. And up to now, there has been NO musical theater program.
Time to cue the herald trumpet fanfare! After tons of spirit, enthusiasm and creativity, the votes were tallied and this dream suddenly was on everyone's radar as a real program. Teachers, coaches, custodians, Muskegon Big Red football players and clearly LOTS and LOTS of kids are paying attention!
This team is innovative, smart and has unflappable faith in these kids. Five minutes into my first conversation with Karli, I knew she was 100 lbs. of spitfire. As in all good fairy tales the fairy godmother has arrived just in time, in the form of "NBC's 'Smash': Make a Musical." The magic dust just made their road a little easier for this large student body to create a program it deserves. I know the happy ending is on its way.
"NBC's 'Smash': Make A Musical"
 program is administered by iTheatrics under the supervision of Timothy Allen McDonald.  For more information, or to apply to become a part of the program, logon to 
www.MAKEAMUSICAL.ORG
.