Next To Normal Shakes Things Up Down Under
Next To Normal Shakes Things Up Down Under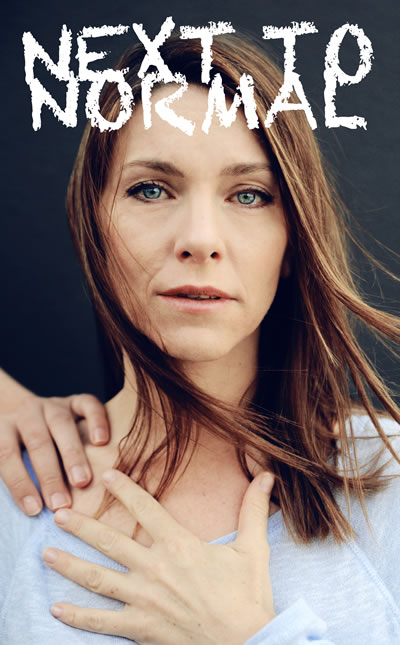 Boasting the Pulitzer Prize for Drama and three Tony Awards including best musical score, Doorstep Arts in association with Hayes Theatre Co presented  Next to Normal at Hayes Theatre Co in Sydney, Australia after a wildly successful season in Geelong.
With poignant lyrics and a powerful contemporary rock score,
Next to Normal
 is an insightful and fiercely honest story of love, loss and family life. Reprising her critically claimed role, 
Natalie O'Donnell 
(
Mamma Mia, The 25th Annual Putnam County Spelling Bee
), led a superb cast as Diana, a troubled woman in danger of being engulfed by her past. Cathartic and ultimately uplifting, 
Next to Normal
 challenges us to ask the question, 'What is normal?'
Joining Natalie in the cast were some of Australia's finest musical theatre talent including 
Anthony Harkin
(Avenue Q, Shane Warne The Musical), 
Alex Rathgeber 
(An Officer And A Gentleman, Fiddler on the Roof)
, 
Brent Trotter 
(
Jersey Boys
, 
Four Seasons In One Night)
, 
Kiane O'Farrell 
(
Carrie: The Musical, 42nd Street)
 and 
Clay Roberts 
(CATS, Thoroughly Modern Millie).
Playing its Sydney professional premiere, 
Next to Normal
 was rated the Theatre People's Choice for the number one production over its two-week Geelong season.
Check out the reviews and an interview Brian Kitt and Tom Yorkey below:
Guardian
http://www.theguardian.com/stage/2015/jan/29/next-to-normal-review-hayes-theatre-sydney
Artshub
http://performing.artshub.com.au/news-article/reviews/performing-arts/next-to-normal-246896
Theatre People
http://www.theatrepeople.com.au/reviews/doorstep-artshayes-theatre-co-present-next-normal
Sydney Morning Herald
http://www.smh.com.au/entertainment/musicals/next-to-normal-review-taut-riveting-production-shows-normal-was-worth-the-wait-20150115-12qpnr.html
Jo Litson – Scene and Heard  - Daily Telegraph
http://jolitson.com/2015/01/19/next-to-normal/
Theatre People
http://www.theatrepeople.com.au/reviews/doorstep-artshayes-theatre-co-present-next-normal
Weekend Notes
http://www.weekendnotes.com/next-to-normal-hayes-theatre-co/
Broadway World
http://www.broadwayworld.com/sydney/article/BWW-Reviews-Raw-and-Real-NEXT-TO-NORMAL-Tackles-The-Issue-of-Mental-Illness-With-Sensitivity-And-Honesty-20150115
Daily Telegraph
http://www.dailytelegraph.com.au/entertainment/arts/hayes-theatres-second-season-starts-with-groundbreaking-musical-next-to-normal/story-fniv7r7y-1227189799387
Canberra Critics
http://www.weekendnotes.com/next-to-normal-hayes-theatre-co/
Winner of Theatre People Pro Choice Award 2014
BEST MUSICAL (Limited Season)
BEST ACTRESS (Limited Season)
BEST SUPPORTING ACTRESS (Limited Season)
http://www.theatrepeople.com.au/features/2014-theatre-people-pro-choice-award-winners-announced
From a GP Perspective:
http://www.theatrepeople.com.au/tptalk/still-buzzing-next-normal-hayes
Articles:
Sydney Morning Herald
http://m.brisbanetimes.com.au/entertainment/theatre/electrotherapy-musical-next-to-normal-shocks-audiences-20150105-12i677.html
Perform The Show On Your Stage
Next to Normal