Opera Omaha, the Kennedy Center, and Turner Classic Movies Honor Loesser Centennial
Opera Omaha, the Kennedy Center, and Turner Classic Movies Honor Loesser Centennial
Tuesday, June 29 will mark the 100th birthday of composer and lyricist Frank Loesser. Over the course of his career, Loesser wrote over 700 songs and five Broadway musicals and contributed music and lyrics to dozens of Hollywood films.
A number of events are taking place around the country to mark the centennial of this American icon.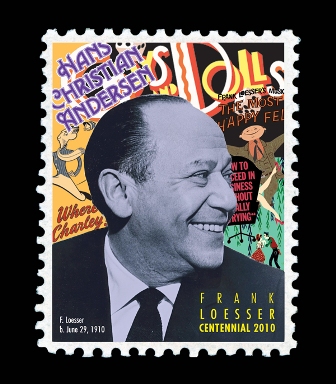 On April 16 and 18, Opera Omaha will celebrate American musical theater with "So In Love with Broadway," featuring a centenary tribute to Frank Loesser by Broadway stars Ron Raines, John Bolton and Karen Ziemba along with special guest Emily Loesser and the Omaha Symphony, conducted by Hal France.
On May 3, The Kennedy Center will host two special events: Millennium Stage will unveil a new stage work based on Frank Loesser's previously unheard "animal songs." Later that evening, the Terrace Theater will present "Broadway Up Close and Personal: Frank Loesser." ASCAP's Michael Kerker will interview Jo Sullivan Loesser about the composer and lyricist's work and life. They will be joined by three Broadway veterans: Ron Raines, Susan Egan, and Noah Racey (who starred in Goodspeed's 2004 revival of WHERE'S CHARLEY?).
On June 29, Turner Classic Movies will honor the centennial with an evening of classic films including Loesser songs. This offers fans a rare opportunity to experience Loesser's incredibly versatile musical oeuvre first-hand.
The evening kicks off with 1967's classic HOW TO SUCCEED IN BUSINESS WITHOUT REALLY TRYING, a sharply-drawn send-up of big business starring Robert Morse, Michele Lee and Rudy Vallee.
Next up is Walter Gottlieb's "superb" (San Francisco Chronicle) documentary HEART AND SOUL: THE LIFE AND MUSIC OF FRANK LOESSER (2006), which illuminates Loesser's fascinating, but all-too-brief life and remarkable career.
Romantic charmer NEPTUNE'S DAUGHTER (1949) stars Esther Williams, Betty Garrett, Red Skelton and Ricardo Montalban and features Loesser's oft-covered Oscar winner "Baby, It's Cold Outside."
RED, HOT, AND BLUE (1949) is a winsome comedy that stars Betty Hutton as an aspiring starlet who gets into trouble with the Mob and June Havoc as her beleaguered roommate. The gangster who kidnaps her is played by none other than Loesser, who turns in a bravura performance as piano-playing mobster Hair-do Lempke.
The evening closes with THANK YOUR LUCKY STARS (1943), a wartime musical romp with an all-star cast that includes Eddie Cantor, Bette Davis, Olivia DeHavilland, Errol Flynn, Ida Lupino, Hattie McDaniel and many others.
And if you don't want to wait until June for your Loesser film fix, TCM is showing six-time Oscar nominated HANS CHRISTIAN ANDERSON, starring Danny Kaye on April 11.
To see how MTI has been celebrating Frank Loesser's 100th birthday, click
here
.