Our New ShowKit of Materials Makes it Even Easier to Perform an MTI Broadway Junior Collection® Show
Our New ShowKit of Materials Makes it Even Easier to Perform an MTI Broadway Junior Collection® Show
Our ShowKit™ of Materials is Like Getting a Musical in a Box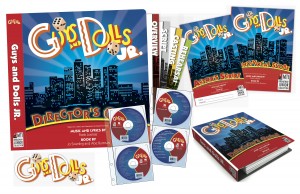 The MTI Broadway Junior Collection® features condensed author-approved versions of classic musicals custom tailored to the needs of young people and schools.  Shows range from Disney favorites and Broadway classics to modern works based on beloved books and films.  The music is written in keys appropriate for young voices and all shows can be expanded to accommodate as many performers as can fit on your stage.  And with the ShowKit™ of materials that comes with every MTI Broadway Junior Collection® title, there's no way to fail!
Even teachers with no theatrical training or experience can easily put on a successful production - all it takes is a little help from our industry-leading
ShowKit™
of materials.  Everything in the
ShowKit™
is yours to keep and contains helpful materials enabling you to make your musical the ultimate interdisciplinary teaching tool.  The
ShowKit™
includes:


Re-vamped Director's Guide (with a full compliment of production, performance and educational resources)


Family Matters Books (a guide for students and parents to help navigate the theatrical process)


30 Actors scripts for all the students to customize and keep



Re-vamped and Re-designed Director's Guide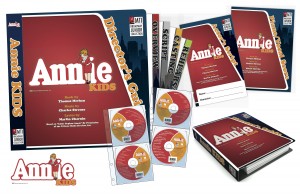 One of the most exciting elements of the
ShowKit™
is the fully re-conceived
Director's Guide
, patterned after Broadway production show books. This three-ring binder allows you to carry all of your information in one place and expand and customize the binder to meet your production needs.  Within the binder you will find:


Script and Score with suggestions for Staging, Choreography, Costumes, Directing, Lighting, Music, Props and Sets


Curriculum Connections featuring educational activities and lesson plans tied to the show


Production Handbook for tips on Casting, Rehearsals, Auditions and Costume and Set Design


Rehearsal and Accompaniment CD


Media Disc that includes editable and printable documents for budgeting, press releases, sample programs, a cue sheet, an extensive glossary as well as audition sides.


Currently, eight shows have been adapted with the new
Director's Guide
format, including:
Soon all of the shows in the 
MTI Broadway Junior Collection®
will be redesigned with new Director's Guides and made available in each of the ShowKits™.
License a Show Today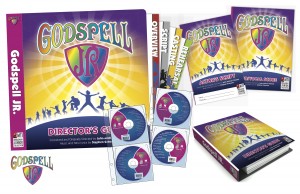 For more information about licensing an MTI Broadway Junior Collection® visit our website http://www.broadwayjr.com/, email us licensing@mtishows.com or call 212.541.4684.  Our representatives are always available to answer your questions or help with licensing your next show.
MTI ShowSpace

MTI ShowSpace is your social and professional network where you can share your experiences as well as photos, videos, sets, props, costumes and more. Show us your production!
In the News


Read about all-things MTI Broadway Junior

here

.