RAGTIME Re-Imagined: London's Landor Theater Presents an Intimate Version of the Sweeping Musical
RAGTIME Re-Imagined: London's Landor Theater Presents an Intimate Version of the Sweeping Musical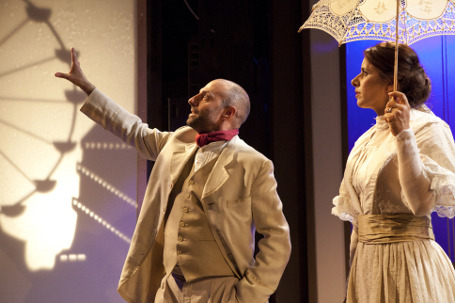 RAGTIME -
(written by the award-winning composer/lyricist team of
Stephen Flaherty
and
Lynn Ahrens
and noted playwright
Terrence McNally
and based on E.L. Doctorow's distinguished novel), intertwines the stories of three extraordinary families, as they confront history's timeless contradictions of wealth and poverty, freedom and prejudice, hope and despair, and what it means to live in America.
While this sweeping epic is typically produced with a large cast and set, at the
Landor Theater
in London, word is beginning to spread about a new, re-imagined production of a musical known for its grandeur.
The Landor, a fringe theater that features an intimate venue of 60 seats, is garnering attention for its production of RAGTIME. The cast, which is commonly made up of a large ensemble, ranging from 40 to 60 actors, only features 23 actors at the Landor. The score, which is written for an orchestra of over 20 musicians, is played by only five musicians at the Landor. The technical aspect is also just as intimate. RAGTIME, a musical that covers a vast amount of America's landscape throughout its story, usually calls for elaborate sets and aesthetics. At the Landor, however, the musical's landscape is not represented by large set pieces but, rather, by silhouette projections. Presenting a work that is recognized for its size in such a a rescaled style could be a risk for the Landor...but the reviews are in - critics and audiences alike are raving about the production and this new, intimate experience. The success of a smaller production is a significant development for schools, community theaters, and other organizations who may lack the space and/or budget to present RAGTIME. It is indeed possible to present the beloved musical in a smaller setting while maintaining artistic integrity and staying true to the material.



The Stage

says... "The result is a resounding success on many levels and despite any restrictions in scale, budget or cast this remains an epic production."







West End BroadwayWorld: "The production uses no microphones and no special effects and is all the stronger for it. Through the power of theatre, we really are transported 3000 miles in distance and 100 years in time, as a small stage turns into a sprawling city."




Spoonfed: "...the material makes for a rousing production and the intimacy of the setting makes rawness of the show even more apparent."




The Public Reviews says... "Full of heart too is a production that conducts a masterclass in how to stage Fringe musicals and says that, contrary to the American way, bigger it not always better."


RAGTIME at The Landor runs until October 8th. For tickets and more information, click
here.