Resource Spotlight: Logo Packs and Logo T-Shirts
Resource Spotlight: Logo Packs and Logo T-Shirts
Get the Logo Packs and Logo T-Shirts for Your Next MTI Show!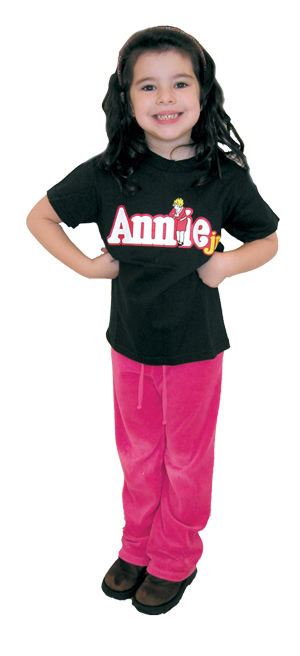 For many, designing the production logo can be a daunting task. Professional graphic designers could help but it will cost you a big chunk of change! Why not just leave it to us? With our exclusive Logo Packs, you'll be given everything you need to freely use our authentic artwork (typically the original Broadway and Off-Broadway designs). This valuable resource is a popular choice - you'll save time and money while avoiding the stress.
As any parent or director knows, production t-shirts are a prized commodity for the cast & crew who become involved with the show. The t-shirts are a great memento for all and can be used as an effective fund-raising project! The hassle and cost of putting together a large bundle of t-shirt designs & orders can be treacherous, however, so MTI is happy to provide our ever popular Logo T-Shirts. The t-shirts are officially licensed to your school and come in packs of six; making the experience that much easier for you.
The "Professional Look"
Are you searching for that professional look to your designs? Search no further with MTI's Logo Pack. For a licensing fee of $50, we will authorize the use of any of our available logos. The professionalism and artistic quality of the logos are unmatched by others and typically come from the original productions! By licensing the logo, you are given free reign over the graphic - use it on posters, programs, fliers, commercials, your website, and more. Your Logo Pack includes the license and a CD that includes logos in color and black & white with multiple digital format files (TIFF and EPS). This resource is easy to use and a great addition to your production. Find out more by clicking here.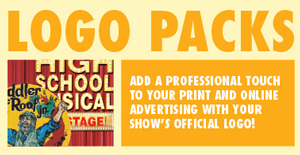 Wear Your Apparel
We have found that children, and adults alike, eagerly anticipate the arrival of memento T-Shirts which are typically distributed as acknowledgment of their hard work and involvement with the production. MTI is proud to offer our very own Logo T-Shirts! Affordably priced and featuring eye-popping, full-color screen-printed logos, our T-Shirts are a popular choice among many schools and theatre groups. The shirts come in packs of six (one size only per pack) and are available for: Child Small, Child Medium, Child Large, Adult Small, Adult Medium, Adult Large, Adult X-Large, Adult XX-Large; each pack of six is $80. We encourage you to use the Logo T-Shirts as a fund-raising tool for you and your cast. Click here for more information.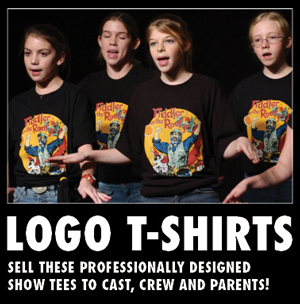 Request a Brochure…
To request a printed copy of our new Resources Brochure, please email us at
marketing@mtishows.com.

Share Your Story…Have you had a positive experience using an MTI Theatrical Resource?  Share your success story on MTI ShowSpace - our free online community. Track down available Set and Costume rentals, seek advice at MTI Show Support, and check out free videos and pictures on ShowSpace!