Resource Spotlight: RehearScore Plus®
Resource Spotlight: RehearScore Plus®
A DIGITAL REHEARSAL PIANIST THAT NEVER TAKES COFFEE BREAKS!
RehearScore®
is among MTI's most popular theatrical resources - helping directors put on flawless performances with their very own computerized pianist.  Over the years, we've received great feedback from our customers who have used RehearScore
®
, and its now been updated - or "Plussed" - with a host of new features to make your rehearsal process more manageable.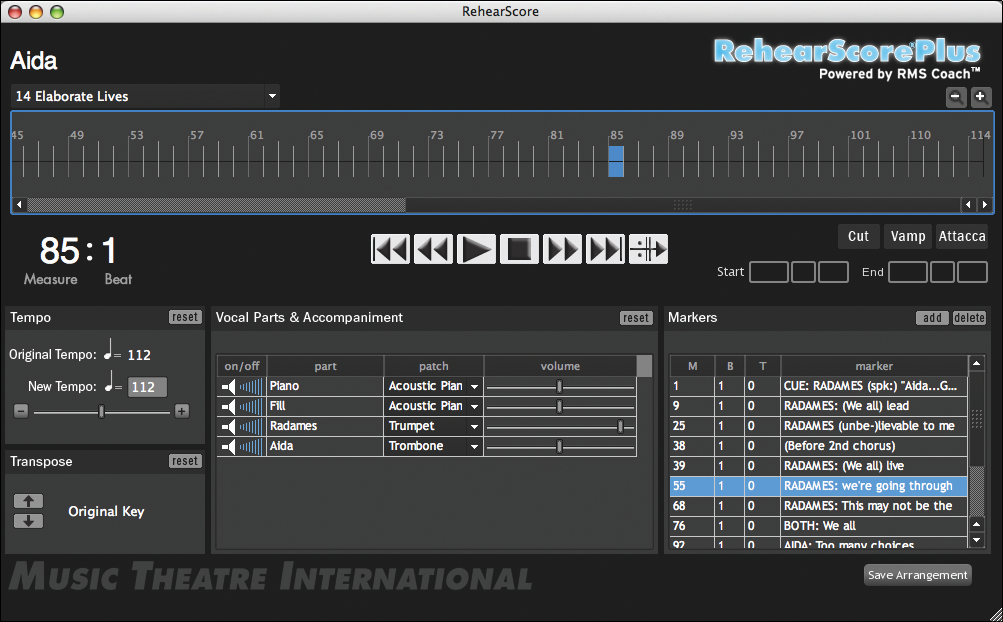 MTI RehearScore Plus. Click on image for full-size screenshot, displaying the all-new user interface for MTI's RehearScore Plus.
We recently had a chance to sit down with Kathy Chitwood, Executive Director of Eastlight Theatre in East Peoria, Illinois, who recounted her positive experiences with RehearScore®, in anticipation of then newly improved
RehearScore Plus®:
Having trouble learning those difficult harmony parts?  Need to vary the tempo for dance or choral rehearsals? Or how about transposing music up and down in half-step increments? The newly enhanced
RehearScore Plus®
is your cost-effective solution.  It's like a live having a live pianist, but without the added expense.  New additions to
RehearScore Plus®
allows users to:


Click and jump to ANY measure (New Feature!)


Add cuts and vamps (New Feature!)


Save changes (New Feature!)


Load the software onto as many computers as needed


Compatible with MAC OS X and Windows Vista (New Feature!)


Best of all,
RehearScore Plus®
requires no additional MIDI equipment and is available for $300 for the entire rental period.
RehearScore Plus®
is available for the following titles:


Beauty & the Beast


Disney's High School Musical


§  Seussical
§  Guys & Dolls
§  Into the Woods
§  Thoroughly Modern Millie
§  Les Miserables School Edition
§  The Music Man
§  Fiddler on the Roof
§  Annie
§  West Side Story
§  Godspell
§  A Funny Thing Happened on the Way to the Forum
§  Pippin
§  How to Succeed in Business Without Really Trying
§  The Pajama Game
§  Urinetown
§  Honk!
§  Once on this Island
§  Aida
§  Children of Eden
§  Fame
§  Little Women
§  Damn Yankees
§  Sweeney Todd School Edition
§  Tommy
§  Working
§  Singin' in the Rain*
§  Jekyll & Hyde*
§  Pirates of Penzance*
§  Seven Brides for Seven Brothers*
§  Schoolhouse Rock Live!*
§  Copacabana*
§  Ragtime*
§  Ragtime School Edition*
§  Big*
§  She Loves Me*
§  The World Goes 'Round*
§  The Adventures of Tom Sawyer*
§  The Boy Friend*
§  Forever Plaid*
§  1776*
§  Company*
§  The Apple Tree*
§  A Little Night Music*
§  Ain't Misbehavin'*
§  Bugsy Malone*
§  The Last Five Years*
§  Hot Mikado*
*September 2009