Sandy Wilson, Composer of THE BOY FRIEND Passes Away at Age 90
Sandy Wilson, Composer of THE BOY FRIEND Passes Away at Age 90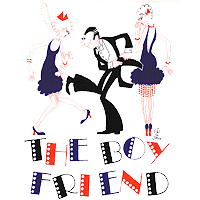 Music Theatre International is mourning the loss of beloved composer and lyricist, Sandy Wilson who passed away at the age of 90 on August 27th.  Wilson wrote the book, music and lyrics for two MTI musicals,
The Boy Friend
and
Divorce Me Darling
.
The Boy Friend
remains one the more popular classic titles in the MTI catalog.  A successful 2003 regional theatre production was directed by Julie Andrews, who made her stage debut in the original Broadway production in 1954.  More information on the history of the show, its cultural influence and interesting trivia can be found in the
Additional Facts
section of
The Boy Friend
's show page.
Sandy Wilson was born in Sale, Cheshire, and educated at Harrow and Oxford. His career in the theatre began with contributions to Hermione Gingold's revue Slings and Arrows and Laurie Lister's Oranges and Lemons. In 1953 he wrote the celebrated pastiche The Boy Friend, for the Players' Theatre, which went on to become a hit in London, at Wyndham's (running for five years), on Broadway, and all over the world. Since then it has been revived, highly successfully, in the West End: at the Comedy in 1967 and in 1984 at the Albery. His subsequent stage musicals include: The Buccaneer (1955), Valmouth (1958), Divorce Me, Darling (1964), His Monkey Wife (1971), The Clapham Wonder (1978) and Alladin (1979). For television he wrote the music for The World of Wooster and Danny la Rue's Charley's Aunt. He also performs in a one-man show, Sandy Wilson Thanks The Ladies. In 1975 he published an autobiography, I Could Be Happy. and Ivor, an appreciation of the career of Ivor Novello.