Setting the Scene with Broadway Media
Setting the Scene with Broadway Media
All too often, directors and scenic designers face the challenge of how to adequately illustrate every scene in a script. Limited fly and/or backstage space minimizes options, hanging scenery can be timely during load-in and strike, and renting painted drops is costly. That's where Broadway Media comes in!
With a mission to make theatre more accessible, Broadway Media breaks down barriers with their innovative Scenic Projections. Using everyday technology, they've created easy-to-use digital scenery covering every scene and setting mentioned in the script! Take a look at Madison Consolidated High School's production of 9 to 5 The Musical.
Director P. Aaron Kelsey shared, "The production has so many locations, there is no way we could have rented or hung that many drops to represent the various locations as effectively as the digital drops."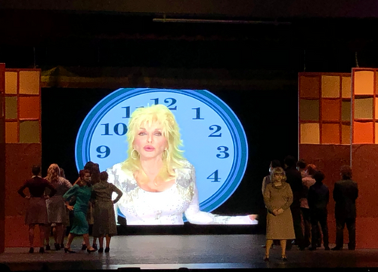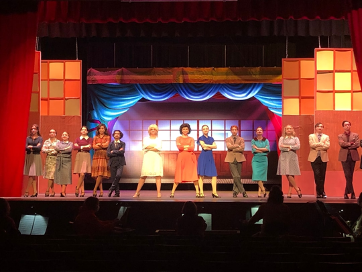 Not only do Scenic Projections replace the need for traditional backdrops, they also add special elements to the show, like the video from Dolly Parton-and for some of our other titles: magic!
Take for instance the Inside Out Theatre Company's production of Disney's Frozen JR. Elsa's ice castle comes to life through an animated sequence timed to the "Let It Go" track. In their rendition, the projections were integrated with built set pieces that made the stage dimensional.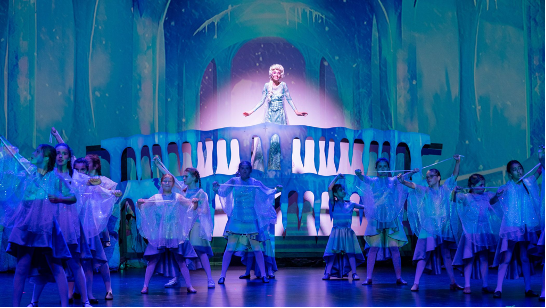 In addition to including each scene, setting, and magical moment, Broadway Media's Scenic Projections are easy to use! Standard packages include free, intuitive software that comes pre-cued to the script. You'll be amazed at how easy it is to bring a bit of Broadway magic to your next MTI production. Schedule a free consultation to Learn More about Scenic Projections today!