Spirit of '76 - Alive and Well in '09
Spirit of '76 - Alive and Well in '09
On Tuesday, January 20, 2009 -citizens across the country celebrated the enduring legacy of American democracy made possible by our founding fathers.  As the nation watched Barack Obama being sworn in as our 44th president, our thoughts also turned to the legacy of American musical theater and its central role in our culture.  It turns out that both Democracy and musical theater are uniquely American legacies that capture the imagination of the entire world.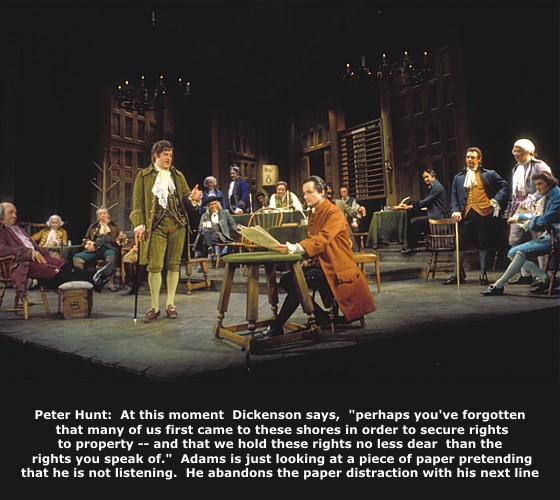 Uniting these two legacies is
1776
- a historical musical odyssey with music and lyrics by Sherman Edwards and book by Peter Stone.  The show carefully chronicles the struggles and compromises made by our forefathers as they wrote the Declaration of Independence.   Large portions of spoken and sung dialogue are taken directly from the letters and memoirs of the actual participants including John Adams, Benjamin Franklin and Thomas Jefferson.
MTI had a chance to catch up with producer Keith Edwards, son of legendary composer Sherman Edwards about his new website,
www.1776themusical.us
- a fascinating look at the show through the years.   The site features exclusive interviews with cast members from a 1997 revival including a chat with actor Brent Spiner and original cast member, Pamela Hall.
"We're in the midst of a very historic time as we face challenges on many fronts," said Keith Edwards.  "It's important to remember that as Americans, we've been here before.   I think the spirit of 1776 can not only inspire us meet these obstacles, but to also achieve things we've never dreamed possible."
Keith's mother, Ingrid Edwards sees a central theme of the musical playing out - this time on the world stage.
"For Franklin, Jefferson, and Adams, leading members of the Congressional Congress in 1776, the thorniest problem and most shameful dilemma was the expedient exclusion of the slavery clause in the Declaration of Independence in order to placate the Southern states and win their signatures the Declaration of Independence," says Ingrid Edwards.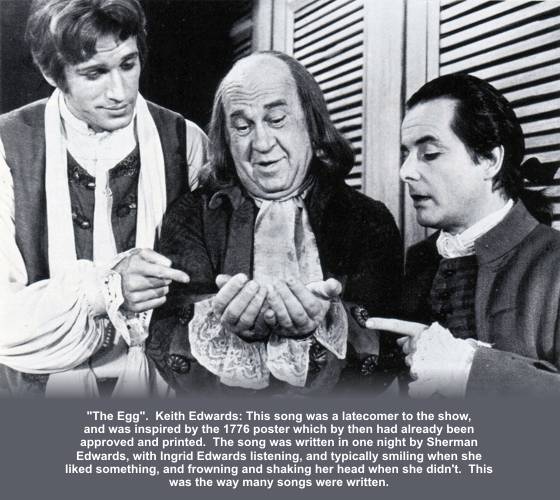 "Finally, now in 2009 the American people have solved and rectified this failure for all time by electing the first African American President of these Untied States of America, Barack Obama.  How Adams, Jefferson and Franklin would have cheered!!"
For more information or to license, visit
1776
on
MTI Shows
.
To "click" with other
1776
fans, visit
MTI ShowSpace
.
We strongly encourage you to visit
www.1776themusical.us
to learn more about this iconic American classic.