Storm the Barricade with LES MISERABLES: SCHOOL EDITION
Storm the Barricade with LES MISERABLES: SCHOOL EDITION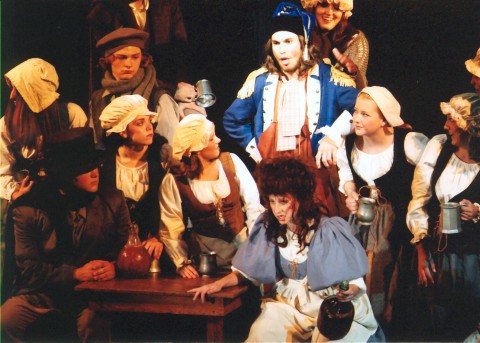 Harry S. Truman High School
Book by 
Alain Boublil
Music by 
Claude-Michel Schönberg
Lyrics by 
Herbert Kretzmer
and
Alain Boublil
Based on the novel by Victor Hugo
LES MISÉRABLES: SCHOOL EDITION
tells the story of the musical epic
LES MISÉRABLES
in a form that's more producible and accessible for high school students and audiences. MTI worked with producer
Cameron Mackintosh
to adapt the show to "meet the needs of the educational theater market." Some of these adaptations include cutting the running time down to just over two hours, slightly altering the score to accommodate younger voices, and creating a study guide and director's guide to facilitate high school productions that maintain the integrity of this classic musical. The director's guide that comes along with
LES MISÉRABLES: SCHOOL EDITION
is a wealth of information for new and experienced directors alike. For those who have never directed a show of this scale before the guide walks you through every step from how to encourage boys to audition and rehearsal warm-ups to costume and lighting ideas and suggesting you set aside time for yourself following the production. Every page of the script has notes about staging, transitions, and common pitfalls.
The Story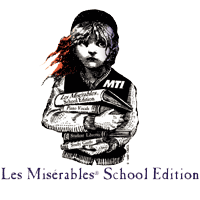 For those unfamiliar with the story of
LES MISÉRABLES
, a full synopsis can be found on the
MTI LES MISÉRABLES: SCHOOL EDITION
show page
here
.  It is a story of redemption, compassion, and love. To quote the
LES MISÉRABLES: SCHOOL EDITION
director's guide, "the essence of
LES MISÉRABLES
is a universal truth: "To love another person is to see the face of God" and this message requires very little in production value to connect with cast, crew and audience."
The universal concepts and rich characters of
LES MISÉRABLES: SCHOOL EDITION
make it a great show to do at any time, which is why the story has become a classic in both Hugo's novel and the musical adaptation. It connects wonderfully to both literature and world history curricula. Students reading Hugo's novel may find it challenging, but being able to watch, interact, and relate to the story through the musical will make the novel more exciting. Likewise, learning about French history may seem distant to students, but bringing it to life on stage instantly makes it more interesting. Musical numbers such as "The People's Song" and "One Day More" make  the causes behind and the implications of revolution far more engaging.
Enhanced Study Guide
The Enhanced Study Guide that comes along with the
LES MISÉRABLES: SCHOOL EDITION
has question and discussion guides that address the many themes present in the show. There are writing projects that ask students to consider issues of prejudice, Hugo's view of human nature, crime and punishment, and how we deal with tragedy. Students are also asked to consider the historical context of the piece by examining what was going on in the United States during the same time period, as well as considering how the themes of the musical relate to the present day.
There are many things for students to consider when looking at this last question. The study guide asks them to think about living conditions of the poor and the presence of homelessness in French society in the early 1800s. These issues are similarly, unfortunately, a prevalent problem that needs to be solved in our modern world. The numbers of people living in poverty or who are homeless in America alone is horrifying, let alone the world as a whole, and the generation that is currently in high school will have to tackle solutions to these issues. Learning to humanize those who are suffering is an important component of finding these solutions, and that is exactly one of the things
LES MISÉRABLES: SCHOOL EDITION
teaches students to do.
The central theme of
LES MISÉRABLES: SCHOOL EDITION
has to do with love. Jean Valjean's love for Cosette and sense of duty to keep his promise to Fontine, the love between Cosette and Marius, and Eponine's love for Marius all represent common types of relationships. These are also the kinds of relationships that many high schoolers are trying to navigate - relationships with parents, intense romantic relationships with each other, and of course unrequited love. Songs such as "A Heart Full of Love" and "On My Own" get to the essence of these feelings and are part of what make the show so exciting for audiences and actors alike. MTI's
LES MISÉRABLES: SCHOOL EDITION
makes all the wonderful music, themes, and characters available to a wide range of high school drama programs.
Licensing
To get information about licensing or to hear SOUND CLIPS from the show, click
here
.
Community
To see PHOTOS or get information about COMMUNITY RELATED RENTALS for the show click here to visit
MTI Showspace
.
About Ella Rose Chary
EllaRC is a bookwriter/lyricist and musical theatre lover. She's a new contributor to MTI Marquee - add her as a friend on MTI Showspace or check out her musical theatre and social justice blog, Stageleft.