Take the Tree House For a Spin! Magic Tree House: The Knight at Dawn KIDS Now Available for Licensing
Take the Tree House For a Spin! Magic Tree House: The Knight at Dawn KIDS Now Available for Licensing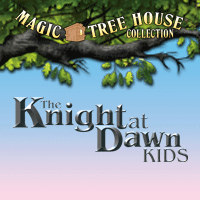 What would you do if a tree house in your neighborhood could transport you anywhere you wanted to go?
Two siblings, Jack and Annie, return to visit the Magic Tree House filled with a magnificent collection of books that can transport the reader to the wonderful faraway settings featured in their pages.  As they read a book about knights and the Middle Ages, Annie is intrigued by the Black Knight and the mysterious quest he says one must successfully complete before becoming a knight.  When she wishes to visit the castle in the book, the siblings are whisked away to medieval times and set off to learn more about the Black Knight and his quest.  Through their adventure, the two discover the power of hope and the true meaning of gallantry.
MAGIC TREE HOUSE: THE KNIGHT AT DAWN KIDS
is an adaptation of the second of Mary Pope Osborne's award-winning fantasy adventure books from the Magic Tree House book series.  The books are number one
New York Times
bestsellers - more than 100 million copies have been sold in North America alone.  The series has been translated into many languages and is available in more than 100 countries around the world.
How Far Can You See? - Check Out Photos from the Junior Theater Festival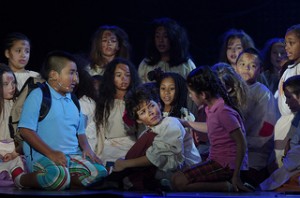 Explore
these
exclusive JTF performance photos to see how to bring the Magic Tree House to life on your stage.
Our ShowKit of Materials is Like Getting a Musical in a Box!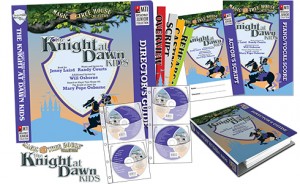 With the
MTI ShowKit®
that comes with every MTI Broadway Junior Collection® show, there's no way to fail! Even teachers with no theatrical training or experience can easily put on a successful production. All ShowKits® contain helpful materials enabling you to make your musical the ultimate interdisciplinary teaching tool.
The Excitement Continues in Your Classroom: Check out Mary Pope Osborne's Classroom Adventures Program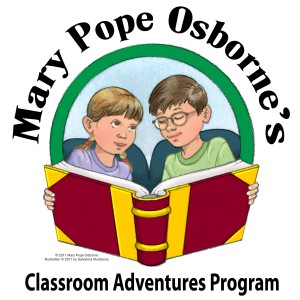 The Classroom Adventures Program is Mary Pope Osborne's gift to teachers across the country who have inspired her with their dedication to their students and their creative use of Magic Tree House in the classroom. The program provides a comprehensive set of resources that allows teachers to use students' love of Jack and Annie's adventures in the Magic Tree House to stimulate interest in subjects across the entire curriculum.
For more information, please visit:
MTHClassroomAdventures.org