The Customer is Always Right: Oliver!
The Customer is Always Right: Oliver!
"More!?" Ever since it premiered on the West End in 1960, this iconic line marks the beginning of young Oliver Twist's journey in Lionel Bart's Oliver!, adapted from the renowned Charles Dickens novel. The subsequent 1968 film version has been a family classic for generations, cherished by millions. With a repertoire of beloved songs, three Tony Awards, an Olivier award, ten Tony nominations, and eight Olivier nominations, Oliver has solidified its place in the Golden Age of musicals.
The young orphan's quest for home and love continues to touch audiences' hearts to this very day. Oliver is a hit for actors and theatregoers of all ages. Theaters and schools across the country can vouch for that!
For their current production of Oliver at theater juggernaut Goodspeed Musicals, director Rob Ruggiero writes: "Not surprisingly, when we think of this musical we typically gloss over the darker elements and think only of this incredible score peppered with hit after hit: 'Food Glorious Food', 'Where is Love?', 'Consider Yourself', 'Oom-Pah- Pah', and 'As Long As He Needs Me' - songs that bring a smile our face or touch our hearts and have endured for decades."
A heartwarming hit
For Leslie McManus of Do It Big Productions, Oliver's status as a classic was a major draw for audiences. The youth theater company in Mickleton, NJ produced the show this past April.
"For many audience members it evokes memories from their childhood, either from reading the story or seeing the movie," said McManus.
A show that walks a delicate tightrope, handling both serious themes and joyful numbers, Oliver gives audiences entertainment with heart and high stakes for the characters. McManus found that "while like many shows where you enjoy the music and dancing, this one opened a window for the audience to also reflect on how they perceive the world around them."
"Folks come to a musical for escape," stated Goodspeed's Ruggiero. "And I believe this Lionel Bart classic is an exceptional feast that offers complex and entertaining material that beautifully balances the best and worst of life's offerings."
"It resonates with audiences not only due to its famous source material written by Charles Dickens, but also for the story's universal concept of the 'home' and of family," said Aaron Alonso, production manager at Village Theatre's KIDSTAGE. "Even in darkness, there is still a glimmer of hope and how there is always a brighter future in the darkest of times."
Roles for all ages
Located in Everett, WA, KIDSTAGE put on Oliver last October. Working with youths of varying ages, Oliver was the right match, offering both substantial leading roles and energetic ensemble parts.
"The show was structured so well in providing opportunities for our older students to sink their teeth into iconic, thorough, and challenging characters", explained Alonso, "and for our younger students to have exciting and engaging tracks as part of Fagin's Gang and other smaller featured roles."
While putting on Oliver in April at Manchester, PA's Northeastern High School, director John Marrs cast a 7th grader in the lead role and put together a cast of elementary, middle, and high school students. This production was a special opportunity for actors of different ages to collaborate. Marrs was delighted that "everyone came together with the common goal of making Oliver the best show we could. With everyone embracing that objective together, we were able to help each student grow in their abilities and foster a greater appreciation and respect for everyone involved."
"Incorporating students from such a wide age range gave the show a unique quality," elaborated Marrs. "Watching youngsters experience the thrill of performance, many for the first time, was very special."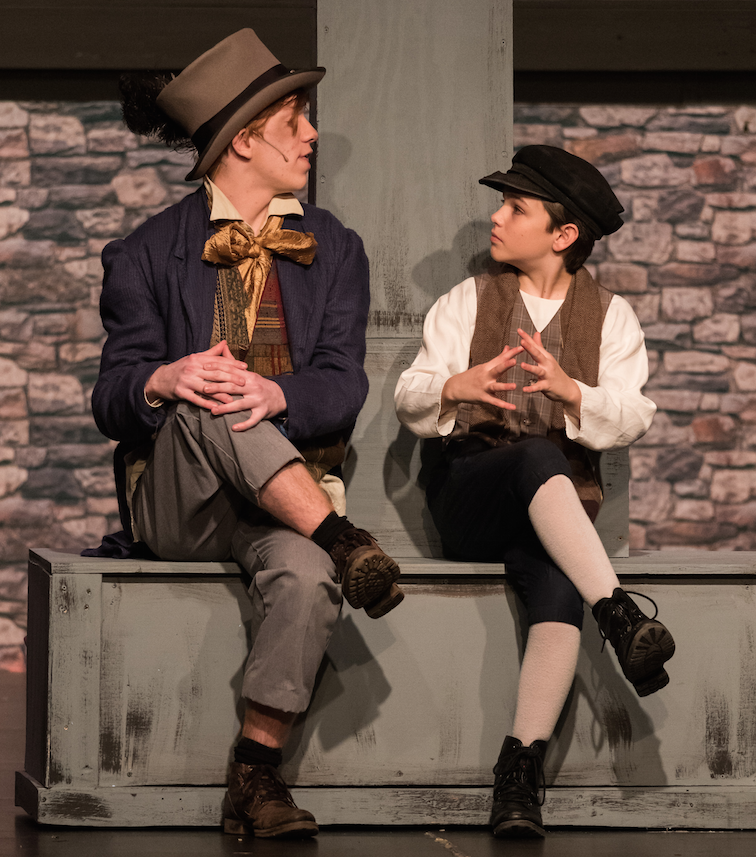 Isaac Latshaw and Seth Erdley at Northeastern High School. Photo courtesy of John Marrs.
Relatable to anyone
From love to poverty to family, Oliver's themes universally appeal to all audiences. For Alonso of KIDSTAGE, it is about "finding a place to belong, finding a family in the most unexpected places, love, hope, acceptance, and forgiveness, all universal themes that transcend time and cultures."
"Perseverance and the power of genuine love echo as the themes of Oliver's story," reflected Northeastern High's Marrs. "He never gives up on his quest for life as he travels to London. Nancy's love for him coupled with Mr. Brownlow's bond carry him through hardship and tragedy, in spite of the odds being stacked against him."
Indeed, it was those odds that Do It Big's McManus saw as applicable to contemporary times.
"The story holds a worldview that still translates today," said McManus. "That even though this story is set in 'Dicksonian London' it warns society of the dangers of greed and the effects of poverty which resonates to any time period."
Above all, Goodspeed's Ruggiero reminds us that "at the center of all these things is one little boy, whose innocence and pure soul alters the lives of the many people he encounters."
Consider yourself invited to book this heartwarming tale and bring Lionel Bart's Oliver! to your stage today!