The Excitement Continues in Your Classroom: Check out Mary Pope Osborne's Classroom Adventures Program
The Excitement Continues in Your Classroom: Check out Mary Pope Osborne's Classroom Adventures Program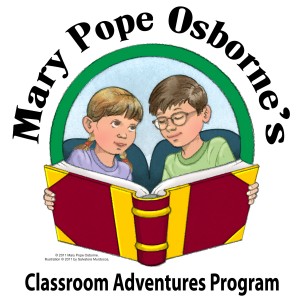 It's obvious we need to find better ways to teach all children to read. But I believe that literacy is not enough. We need to give children a passion for reading. Once ignited, this passion can be a fierce motivation for a young person to try to change his or her life for the better.
-Mary Pope Osborne
The
Classroom Adventures Program
is Mary Pope Osborne's gift to teachers across the country who have inspired her with their dedication to their students and their creative use of Magic Tree House in the classroom.  The program provides a comprehensive set of resources that allows teachers to use students' love of Jack and Annie's adventures in the Magic Tree House to stimulate interest in subjects across the entire curriculum.
Program resources include:
• A complete "Curriculum Key" that classifies every Magic Tree House book and nonfiction Fact Tracker with regard to subjects and core curriculum standards
• A Reading Level Guide for all books and Fact Trackers in the series
• Individual Lesson Plans for each book in the series, including lesson plans specifically tailored for Special Education classrooms
These resources are available free of charge.  They are a true gift to elementary school teachers struggling to find ways to inspire their students and still meet curriculum standards.
In addition, through Mary Pope Osborne's Gift of Books, Mary provides for a gift of Magic Tree House books to children in Title 1 and other under-served schools across the country.  Proposals may be submitted on the
Gift of Books page of the Classroom Adventures website
.
For more information, please visit:
MTHClassroomAdventures.org