The Fantasticks: An All-New Steampunk Adaptation Readies for National Tour
The Fantasticks: An All-New Steampunk Adaptation Readies for National Tour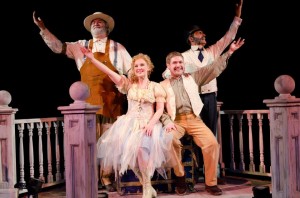 The
Nebraska Theatre Caravan
is launching a national tour of
THE FANTASTICKS
that reimagines the classic show with a steampunk sensibility.
Talk about a time-proven audience-pleaser! "Try to Remember" a time when this charming, romantic musical wasn't enchanting audiences around the world. 
THE FANTASTICKS
 is the world's longest-running production of any kind, and with good reason: at the heart of its breathtaking poetry and subtle theatrical sophistication is a purity and simplicity that transcends cultural barriers. The result is a timeless fable of love that manages to be nostalgic and universal at the same time. It is a moving tale of young lovers who become disillusioned, only to discover a more mature, meaningful love.  Punctuated by a bountiful series of catchy, memorable songs such as "Try to Remember" and "Soon It's Gonna Rain", audiences will find themselves humming along whether they are revisiting the show or discovering it for the first time.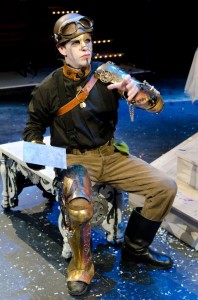 Through the creative genius of Director Carl Beck, Costume Designer Georgiann Regan and Scenic Designer Jim Othuse, comes a steampunk-inspired adaptation of this classic musical which promises to provide an unparalleled experience.
Of the steampunk concept, Beck said "It's not an intrusive concept. It seems like the allegoric-quality can blend with the fantasy, giving it a quasi-period feel and making for a stronger statement than [
The Fantasticks
] usually gets." He added that the story is not being re-written or changed in any way. Outside of the costumes, set and props, this show is, in its entirety, the original.
"It's classical simplicity. It's not a contemporary character tale. It's about a boy who is overly in love with a girl. [Their] father's are trying to keep them together by pulling them apart," Beck said. "Steampunk seems to lend itself to this story by finding beauty among the broken pieces."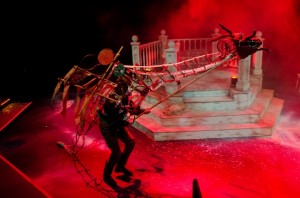 To learn more about the production including tour dates, cast and crew, and reviews click
here
.