THE FIX is In!
THE FIX is In!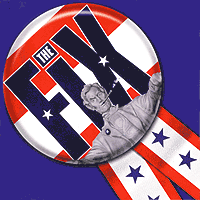 One of the great things about the MTI catalogue is that it often feels like there is a musical for every occasion, and the 2012 election cycle is no exception.
THE FIX
, a musical satire from
John Dempsey
and
Dana P. Rowe
, is a modern, crackling, and incisive commentary on the state of American politics.
When a prominent politician dies, under less than honorable circumstances (he was in bed with his mistress), his wife, VIOLET teams up with her crippled brother-in-law, GRAHAME to get her slacker son, CAL, to take his father's spot. Despite his initial resistance, Cal gets caught up in his new powerful role. He rejects Grahame and Violet's attempts to control him and make him the candidate they want him to be. However, he doesn't actually know what he's doing. His whirlwind road into politics is filled with deceit, sex scandals, blackmail and drug abuse. (Sound familiar?) When Cal finally realizes his life and his campaign have spun too far out of control, he tells the press that mobster ANTHONY GLIARDI is a crook, rather than lying and telling them he's not, as Gliardi had asked. This gets Cal and his mistres, TINA, shot by Gliardi. The haunting ending to the piece is not one of redemption, but rather signals a continuation of the cycle of power and greed in politics, as Cal's son is pushed into the limelight to follow in his footsteps. Part tabloid, part
Manchurian Candidate,
this wholly original piece keeps audiences on the edge of their seats. For a fully synopsis of
THE FIX
, click
here
.
In a time when many Americans, regardless of party or affiliation, are disenchanted with politics and politicians,
THE FIX
really hits home. Its infectious rock score and well-told, cautionary story resonate against the backdrop of actual news stories that seem as startling as the fiction in the show. Evidence of this resonance can be found in Long Beach, California at the
International City Theatre
, where
THE FIX
is currently running with rave reviews. Audience and press alike are responding to the production, as a review on
Life In LA
put it: "If you're tired of hearing about the candidates' empty promises as they travel the country campaigning – or even if you just love a good story with wit and relevance – go see "The Fix"."

All accounts of the show in local press say that it is a well acted and cleverly done production. Reviews praise everything from the story itself to the scenic elements to the artistic decisions to cast 9 actors rather than the much larger cast used by the original production in London in 1997.
Stage Scene LA
says, "With a brilliant cast and inspired music, the International City Theater's production of "The Fix" is a wonderful way to spend a Friday night" and the
LA Examiner
writes "If you do not see another stage performance this year do go and watch "The Fix"."
The timing couldn't be more right for International City's production of
THE FIX
. Presidential elections always push politics to the forefront of the American news cycle, and usually come with a high dose of mud slinging and accusations of scandal. 2012 has already proved to be no exception, and promises to have more of the same in store. One of the things that musical theater can do is help us process events going on on a larger scale by personalizing public figures and archetypes. People often go to the theater for both a release from national news and for insights about the human condition that can help contextualize that news. With its rocking eclectic score and biting sense of humor,
THE FIX
is a show that takes on that task whole-heartedly, and based on the press it's getting in Long Beach, it succeeds.
To put on your own production of
THE FIX
and tap into the excitement and agitation surrounding the election year, visit
THE FIX's
MTI showpage
here
and learn about licensing, variations in cast size, and listen to a few of the contemporary tunes.
To learn about productions going on in your area, to see pictures and video, or to learn about rentals visit
THE FIX
on
MTI Showspace
.