The Kennedy Center Announces Recipients of The Kennedy Center/Stephen Sondheim Inspirational Teacher Awards
The Kennedy Center Announces Recipients of The Kennedy Center/Stephen Sondheim Inspirational Teacher Awards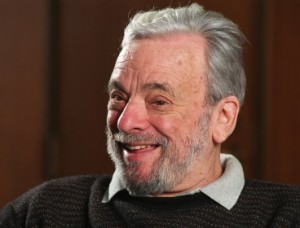 10 Teachers Receive National Award for Excellence in the Program's Second Year
(WASHINGTON, D.C.)—The John F. Kennedy Center for the Performing Arts announced the 2012 winners of Kennedy Center/Stephen Sondheim Inspirational Teacher Awards – a series of annual grants which recognize inspiring teachers across the United States. After receiving hundreds of nominations through the Kennedy Center website, 10 teachers were selected for their exceptional influence on their students. Award recipients each receive $10,000 and are showcased, along with the people they inspired, on a website dedicated to inspirational teachers. The awards were created in honor of Stephen Sondheim's 80th birthday and were initiated and funded through the generous support of Freddie and Myrna Gershon.
The 10 teachers are: Chris Bundy of Floyd Central High School in Floyds Knobs, IN; Vincent Catano of Catholic Memorial School in West Roxbury, MA; Christopher Collins of Rains High School in Emory, TX; Amy Gibson of Huntingtown High School in Huntingtown, MD; Richard Golenko of J. Frank Dobie High School in Houston, TX; Dr. Riffat Hassan of University of Louisville in Louisville, KY; Dr. John M. Long of Robert E. Lee High School in Montgomery, AL; Donna Porter of Picayune Memorial High School in Picayune, MS; Nicole Waicunas of Edwin O. Smith High School in Storrs, CT; and Roderick Zano of Princess Anne High School in Virginia Beach, VA.
In many people's lives there is at least one teacher who inspired and helped them become who they are today. Although the range of subjects and grades taught spans widely, these teachers have one thing in common: each has overwhelmingly impacted his or her students' lives and encouraged them to reach their potential. Quotes from nomination essays include: ". . .from that moment on, I felt as if I had someone that genuinely cared about me and saw a brighter future than I had ever seen for myself. . .", ". . .[She]changed my entire perspective. . .", "I've never seen someone care more for his students or their well-being. . .", "[He] gave me a new purpose in life."
"Teachers define us," stated Stephen Sondheim. "In our early years, when we are still being formed, they often see in us more than we see in ourselves, more even than our families see and, as a result, help us to evolve into what we ultimately become. Good teachers are touchstones to paths of achieving more than we might have otherwise accomplished, in directions we might not have gone."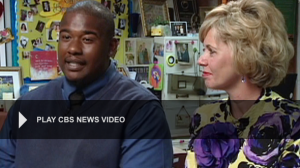 Watch CBS News' coverage of the one of the winning teachers and the student who nominated her.
"We have seen first-hand how much difference a single teacher can make in the life of his or her students," said Darrell M. Ayers, Vice President of Education at the Kennedy Center. "The Kennedy Center is grateful to administer such a meaningful award recognizing this important profession."
Noted composer and lyricist Stephen Sondheim frequently attributes his success to the teachers in his life. The Kennedy Center/Stephen Sondheim Inspirational Teacher Awards are presented each year on Sondheim's birthday — March 22— to a handful of teachers, kindergarten through college, who are nominated via the Kennedy Center website at
(kennedy-center.org/sondheimteacherawards
). Nominators must be at least 18 years of age and have been a student of the nominee. Teacher nominees must teach or have taught in a K-12 school, college, or university in the United States. Teachers of all grade levels and subject areas are eligible. A panel of judges reviewed a pool of nominations and selected the recipients based on the power and quality of the nomination from their former students.
Winner of the Special Tony Award® for Lifetime Achievement in the Theatre, Stephen Sondheim has received more Tonys® than any other composer. Mr. Sondheim wrote the music and lyrics for Saturday Night, A Funny Thing Happened on the Way to the Forum, Anyone Can Whistle, Company, Follies, A Little Night Music, The Frogs, Pacific Overtures, Sweeney Todd, Merrily We Roll Along, Sunday in the Park With George (for which he received a Pulitzer Prize), Into the Woods, Assassins, Passion and Road Show, as well as lyrics for West Side Story, Gypsy and Do I Hear a Waltz? and additional lyrics for Candide. Revues of his work include Sondheim on Sondheim, Side by Side by Sondheim, Marry Me a Little, You're Gonna Love Tomorrow, and Putting It Together. For films and television, he composed the scores of Stavisky and Reds and wrote songs for Dick Tracy, for which he received an Academy Award and Evening Primrose.
He also received the Kennedy Center Honors in 1993. Mr. Sondheim is on the Council of the Dramatists Guild, having served as its president from 1973 to 1981.
To learn more about the Stephen Sondheim Inspirational Teacher Awards, please visit
kennedy-center.org/sondheimteacherawards
.
A full list of recipients and their nominating students is below: