The Legendary Arthur Laurents Passes Away at 93
The Legendary Arthur Laurents Passes Away at 93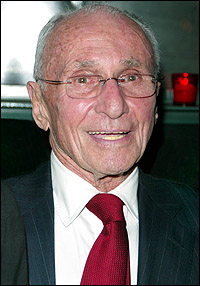 Music Theatre International is deeply saddened by the loss of beloved librettist, playwright, screenwriter, director and friend
Arthur Laurents
.  Arthur died in Manhattan on May 5th and was 93 years old.  Among his many accomplishments, Arthur was the book-writer for MTI shows
WEST SIDE STORY
and
ANYONE CAN WHISTLE
.
MTI's Chairman and CEO, Freddie Gershon had this to say:
"I felt privileged to spend time with Arthur and have him call me his trusted friend, share heated badinage and listen to stories of worlds gone by.....of Yule Brenner, Ingrid Bergman, Helen Hayes and the origins and making of Anastasia, The Snake Pit, The Way We Were, The Turning Point and more, and who the characters really were based on. He had great stories of tennis with Charlie Chaplin, life with Farley Granger and mostly Tom Hatcher. He had a disdain of phonies and an ability to out Machiavelli the most manipulative of  stars, producers and studio executives. His economy of words cut to the chase in plays, musicals, and in life.  He could be brutal, venomous and unforgiving if necessary and nurturing seductive and compassionate when necessary.
He was a complex talent who told me the greatest complement of his life was the run thru at City Center for Gypsy.  He walked out to give the traditional pre-apology speech of 'we may have to stop and start again etc.' But he couldn't. The audience of over 2000  stood and just applauded wildly. He said his knees shook and tears welled up. He felt public recognition at last from his theater community, and he drank it in. Reluctantly he held his hands up to motion the crowd to be seated and then said loudly "HELLO EVERYONE. MY NAME IS ARTHUR. WHAT'S YOURS?"  The crowd stood again. Arthur loved the moment so much."
MTI will bring you additional coverage about Arthur, his life and his prolific career, but in the meantime here are links to stories about him on Playbill.com and NYTimes.com:
Playbill.com: Arthur Laurents, Legendary Librettist, Playwright, Screenwriter and Director, Dies at 93
NYTimes: Arthur Laurents, Playwright and Director on Broadway, Dies at 93