The Marquee Q & A Series: Anne Horak
The Marquee Q & A Series: Anne Horak
In the fourth installment of our Marquee Q & A, actress Anne Horak catches up with MTI's Tyler Paul to discuss YOUNG FRANKENSTEIN, Susan Stroman & Mel Brooks, and more...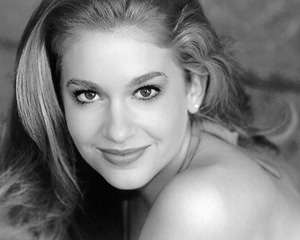 Anne Horak, a young actress with a blossoming career, began her journey with a number of leading roles at regional houses fresh out of college. Since appearing in the mounting of
LONE STAR LOVE
, at Seattle's prestigious 5th Avenue Theatre, Anne has gone on to enjoy a featured role in the City Center Encores! production of
MUSIC IN THE AIR
and a reading of
BABES IN ARMS
directed by
Randy Skinner
.
Anne's big break came when she landed the role of Rita in the Broadway holiday run of Irving Berlin's
WHITE CHRISTMAS
and she continues to add to her list of impressive credits; she now portrays Inga in the first National Tour of
Mel Brooks'
YOUNG FRANKENSTEIN
. Anne joined Music Theatre International, from the road, to chat.
MTI
:
Artists and actors, in particular, typically talk about that life-changing revelation where they discover, "this is what I need to do." Anne, did you ever have that epiphany?AH
: I grew up watching Fred Astaire and Ginger Rogers' movies, with my dad, which gave me the inspiration to sing and dance from a young age. I hadn't decided to pursue this, as a career, until my junior year of high school when I played Polly in
CRAZY FOR YOU
. It was such an
incredible
experience and it was a dream come true to have the opportunity to work with
Susan Stroman
, the original Choreographer of CRAZY FOR YOU, on YOUNG FRANKENSTEIN.
MTI: What is it about the theatre, and performing, that you love most?AH
: Going to the theatre is an escape for people so it is
very
fulfilling to be able to make people smile, laugh, and escape from the troubles of their everyday lives for at least a few hours.
MTI: You have appeared in a number of different roles and productions since the start of your professional stage career in 2007. Currently, what has been your most cherished character and/or production to be a part of?AH:
I would have to say Inga in YOUNG FRANKENSTEIN; the role is fun because I get to do a little of everything in regards to singing and dancing (and yodeling!) but, more importantly, I've had the opportunity to work with such amazing people. It was also a dream to work on this role with Susan Stroman, as well as to meet
Mel Brooks
. It has been equally incredible to share the stage every night with such brilliant actors including Tony award winners & nominees
Roger Bart
,
Shuler Hensley
, and
Brad Oscar
.
MTI: Prior to your breakthrough on Broadway, you were featured as Paquette in Bernstein's CANDIDE at the Bellingham Festival of Music, which is a show licensed by Music Theatre International. Could you briefly describe your experience with this beloved masterpiece and share advice to those organizations and schools that may choose to produce this musical?AH:
I was working alongside some extremely talented professional opera singers [in CANDIDE] and it was a very short rehearsal process so I definitely went to Bellingham having prepared all of my material beforehand. It is one of the most beautiful scores ever written, and it was honor to be able to perform the material; it is such precious work. The only thing I would say, as advice, is to be fully prepared and study the music and show as thoroughly as possible.  
MTI:
You were given the task of portraying the featured role of Inga in the first National Tour of YOUNG FRANKENSTEIN, which is a brand-new 'Fast Track' title from the Music Theatre International catalog. Tell us what it was like to be a part of this popular musical comedy?AH:
As I mentioned before, having the chance to work with Susan Stroman, who was the defining reason for me to pursue a career in musical theatre, was a true dream. Also, to have the opportunity to perform in a Mel Brooks musical, and deliver all of the jokes and moments that so many people treasure from the cult-classic film is pretty incredible when you consider what an icon Mel Brooks is. Many times you can hear the crowd say the line before you even have the chance to deliver it and the [song] "Puttin' On the Ritz"
never
ceases to stop the show.
MTI: The characters in Mel Brooks musicals could be considered over-the-top and comically slapstick. How did you prepare for the role of Inga and can you offer any tips for those students who may be cast in YOUNG FRANKENSTEIN?AH:
One should
never
imitate other actors but in a piece that is based on such a cult-classic film, it is important to know the movie well and to honor the past performances while still making the character your own. Beyond just watching the film, I also brushed up on my German (I luckily had taken 4 years of it in high school) and I experimented with my yodeling skills to prepare for the role of Inga! I hadn't yodeled before but, luckily, it was something that came rather naturally to me. Everything about Inga comes from a place of honesty and innocence. Although she comes off as a 'sexy lab assistant', Inga's comedy and genuine love only works if you approach her from a real and honest place.
MTI: You have now spent quite a lot of time traveling on the road. Please tell us what it's like to be in a touring company; how about your favorite part about touring and the part you find most challenging?AH:
My favorite part about touring has definitely been seeing so many cities that I had never been to; not only do you get to be a tourist in all of these great cities, but you really get to feel like a true local too. When we are in a city for 4 to 6 weeks, you have time to definitely get a feel for what it is like to
live
there. The parts of touring that can be a little more challenging is packing up all of your belongings every week and also living, for weeks at a time, in hotel rooms. There are tricks, however, and things you learn along the way to make packing easier.
MTI: You have also had the pleasure of performing in many other MTI titles including SEUSSICAL, DISNEY'S BEAUTY AND THE BEAST, and GUYS AND DOLLS. Which show stands out to you the most?AH:
SEUSSICAL stands out to me the most because of the wonderful creative journey that our Director led us through during rehearsals. I played Mayzie and I had such an incredible experience developing the character. The show lends itself to
so
much creative freedom and we really took advantage of that.
MTI: One final question, Anne. Recently a lot has been said about the current state of Broadway and musical theatre: the popularity of The Tony Awards telecast, the struggling economy and ticket prices, the increased Hollywood presence, and more. What are your thoughts on the current state of Broadway?AH:
I've only been out of school for about four years now but it seems to me, in looking at the history of Broadway, that it is an ever-changing and ebbing and flowing industry. There are slow times with any business, and although that may be the case on Broadway right now, I believe it will turn around at some point. The economy may make it difficult for people to want to splurge on theatre tickets but Broadway still offers that
escape
for people who are struggling.
Anne on the Web
Access Anne Horak's official website, here.
Licensing
To find out more about our MTI titles and how you can license a show, click here.