The Marquee Q & A Series: Jesse Nager
The Marquee Q & A Series: Jesse Nager
In the sixth installment of our Marquee Q & A, actor Jesse Nager catches up with MTI's Tyler Paul to discuss FAME, XANADU, and more...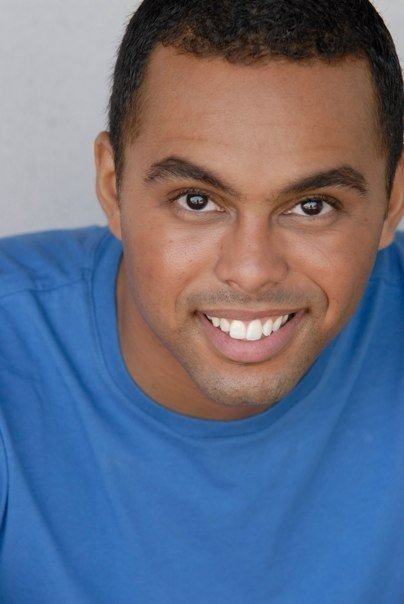 Jesse Nager, a talented actor and vocalist/musician, has been rewarded with a blossoming career in the industry. He premiered in the Off-Broadway production of
FAME
fresh out of his collegiate institution. Jesse continues to appear in numerous mountings of Broadway musicals and National Tour companies. In the past, Mr. Nager could be seen on the stage of
DISNEY'S MARY POPPINS
and The Beach Boys'
GOOD VIBRATIONS
musical on Broadway.
As an artist of many talents, Jesse also proudly serves as the Artistic Director of The Broadway Boys and is active in the concert circuit; arranging and adapting various musical theatre songs & vocal standards for contemporary singers and singing groups. Jesse most recently spent his months, on the road, with the National Tour of
XANADU
and agreed to sit down with us to chat.
MTI: Artists and actors, in particular, typically talk about that life-changing revelation where they discover, "this is what I need to do." Jesse, did you ever have that epiphany?JN:
I did! I knew I always wanted to perform; I started dancing when I was five years-old but when I did my first musical (at French Woods Performing Arts Camp),
SWEENEY TODD
, I got the theater bug. I knew I was going to be an actor from then on.
MTI: What is it, about the theatre and performing, that you love most?JN:
There is something about telling a story that transports people away from their lives and problems and anything else that may be worrying them. Depending on the show, you can change someone's life and mindset for hours...days, even, and much of the time people leave with hope and inspiration; it is remarkable.
MTI: You have appeared in a number of different roles and productions since breaking onto the theatre scene in 2003. Currently, what has been your most cherished character and/or production to be a part of?JN:
Oh, there is one show that immediately comes to mind - Stephen Sondheim's
BEING ALIVE
directed by
Billy Porter.
[BEING ALIVE] was a revue of Sondheim tunes rearranged and infused with gospel, funk, and jazz. The music, which was brilliant to begin with, became current and hip and pulled at my heart strings every night. Also, being able to work with
Stephen Sondheim
is a privilege that so many people never have the opportunity to do; his genius specificity overwhelmed me daily! Billy Porter's brilliance and innovation inspired me - it was truly life changing. It is the reason I got into this business.
MTI: The 2003 Off-Broadway production of FAME, which is licensed by Music Theatre International, was host to your New York City stage debut. What advice can you offer to those students and actors who may be presenting this musical? What are your thoughts on FAME as a musical theatre piece?JN:
Well, it is interesting because I went to LaGuardia High School (
Fiorello H. LaGuardia High School of Music & Art and Performing Arts
) - the school that FAME is based on. It was really crazy how 'full circle' it was, for me, having
that
show be my New York debut. One of the things that I always say about the show, and movie, is how similar they are to the school. My advice to people in any production [of FAME] is to really tap into the innocence and youth of the piece. You know, there are some crazy songs and some crazy lyrics but guess what? There are some crazy kids and some crazy teenagers too! There's a lot of truth in the show and a lot of hoping and dreaming. Most importantly, the show is about energy and excitement. I remember my first day at LaGuardia and the song "Hard Work" captures a lot of what I was feeling.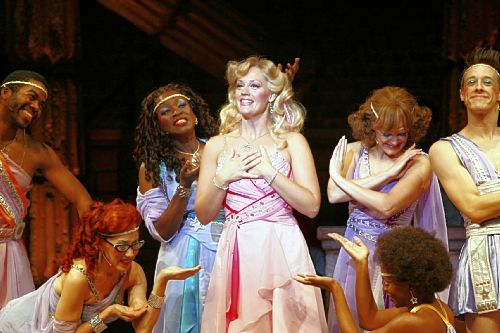 MTI: You could be recently seen in the first National Tour of XANADU, a brand-new title to be added to MTI's Collection. What was your role and can you tell us how it was to be involved with such original & unique material?JN:
I tell everyone,
XANADU
is the most fun I have ever had onstage...in my entire life! It is sheer joy and comedy. I was able to do so many things in this production that I would
never
be allowed to do by any other director. I appeared as Terpsicore, Agliope, Young Danny, Hermes, and a Centaur. Actually, [the role of] Hermes was the most fun because I got to be incredibly butch
and
feminine in the same scene! We just really tried to tap into the truth of these classical characters, within the 1980s, and the comedy poured out on its own.
MTI: XANADU presents its own special challenges, in regards to both material and execution. What advice can you give to those organizations or schools that choose to produce this musical?JN:
[XANADU] is tricky; it's actually tough to get 'right'. You need to have someone who can look completely natural on skates while singing, dancing, acting and, most importantly, living. Sonny has to be completely
real
in his stupidity - the actor can't play dumb...he has to play naïve. [That] seems simple but 'dumb' can come across as fake. Also, the sister muses have to be completely over-the-top in physicality and vocalization. They should think of it as a modern dance piece.
MTI: Jesse, you spent much of this past year on the road. What was the touring experience like for you?JN:
I
love
touring; it's amazing to see all of the cities and to explore the country. It's also interesting to learn the personalities of each city. XANADU audiences are very telling - you have to be open and willing to laugh and have fun - some cities aren't as wired to do that and you can tell instantly.
MTI: What makes XANADU different from other titles? What makes this piece so special?JN:
XANADU has a funny book that it is practically unstoppable. Truly, the book itself is
so
brilliant that you have to put very little work into it. It's also a cheap show to produce and it is personality-driven. If you have eleven creative performers, this show can be done in a "minute." It's an excellent show in both large and small venues, as we found out, and what my Mom loved about it is that it is educational; there are a ton of Greek history & mythology references...which I happen to enjoy. It also is a great throwback piece for children of the 1980s.
MTI: What is on the horizon, for you, in regards to projects and productions?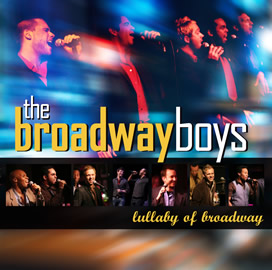 JN:
I am actually the current Artistic Director of a singing group called
The Broadway Boys.
The Broadway Boys are a collection of the hottest tenor voices, currently working on The Great White Way, representing such shows as
WICKED
,
RENT
,
HAIR
,
JERSEY BOYS
,
MARY POPPINS
,
MEMPHIS
, and many more. The Broadway Boys infuse elements of pop/gospel/funk/jazz with traditional Broadway repertoire. By redefining the musical theater sound for audiences, we are able to present show tune listeners with music that they are familiar with in a new, fresh way while introducing non-theater listeners to an amazing catalog of music. We have a lot of performances coming up so I am getting everything in order and it's very exciting.
MTI: One final question, Jesse. Recently a lot has been said about the current state of Broadway and musical theatre: the popularity of the Tony Awards telecast, the struggling economy and high ticket prices, the noticeable increase of Hollywood's presence, and much more. What are your thoughts on the current state of Broadway?JN:
Broadway has
always
gone through changes from era to era. As producers try to capitalize on various trends, the industry will continue to change...but there will always be art. Art always shines through any 'fluff'. Look at
NEXT TO NORMAL
, which shocked everyone by recouping [its financial investment] with no stars attached! This is because the show was good and I happen to be of the mindset that every production, which comes to NYC, has something about it to admire and enjoy. I like seeing all kinds of shows - I have no problem with exploring different kinds of productions and all they have to offer individually. If people truly enjoy art, they should be open to everything.
Jesse on the Web
To visit Jesse's official Facebook Fan Page, click here.
Licensing
To find out more about our titles and how you can license your own show, click here.