The MTI Broadway Junior Resource of the Month: Show Support on MTI ShowSpace
The MTI Broadway Junior Resource of the Month: Show Support on MTI ShowSpace
Broadway Junior Resource of the Month is a featured series, on the MTI Marquee, which will take you on a brief tour of an available resource for Broadway Junior Collection titles. The Broadway Junior Collection consists of all titles classified as a JR. or KIDS adaptation.

We hope you'll consider this offered resource when choosing your titles! If you are on ShowSpace, visit the Broadway Junior's ShowSpace profile and friend us. You can also follow Broadway Junior on Twitter by clicking here.
Show Support on MTI ShowSpace

Have you ever wondered how to fly the "magic carpet" in DISNEY'S ALADDIN JR.? Have you ever been given the daunting task of picking the perfect Broadway Junior show for a cast of 40 girls and only 3 boys?! MTI Show Support, the innovative resource program built to answer these questions and many more, is the ultimate source of knowledge for all things Broadway Junior! Conveniently located on the MTI ShowSpace website, this exclusive feature will assist you in the pursuit of finding an answer for your question or simply giving you ideas and pointing you into the right direction.
MTI Show Support is moderated by Broadway Junior Collection expert Cindy Ripley. Cindy, who has proven to be an invaluable asset for Directors & Educators of all experience levels, is a nationally-recognized educational consultant in the field of music and theatre. In addition to her relationship with MTI, Cindy brings over 30 years of professional knowledge to Show Support and currently serves as Master Teacher and Guest Director for iTheatrics. MTI Staff members also drop by, each week, to offer their own artistic advice.
You've Got Questions? We Have Answers!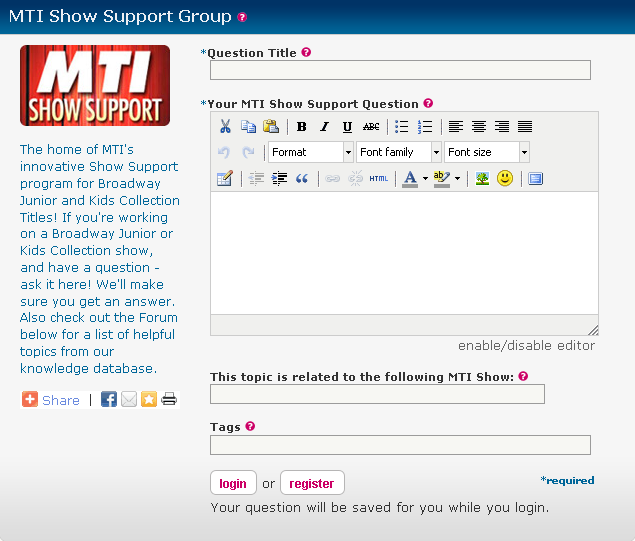 Your journey will begin with the online Question form, which can be found at the top of the MTI Show Support page. The Question form is a direct link to Cindy Ripley; using the supplied form, complete all necessary components and press the "Save" button. A response typically takes about 1 - 2 business days and will be posted on the Show Support page.
But wait...there's more! Make sure to scroll down or else you'll miss it - it's the Show Support Question Forum. This feature is offered as an opportunity to engage in powerful discussion with other Directors & Educators, who may have the same exact question or a possible solution to your problem! This platform is a perfect place to brainstorm ideas with artists and teachers who may be in the same boat as you.
The Broadway Junior Guru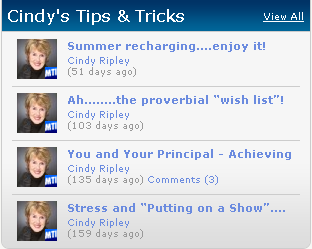 Explore further and you will find that we offer more than just answers and discussion forums! MTI Show Support showcases Cindy Ripley, our Broadway Junior Guru, in a series of blog posts. Titled Cindy's Tips & Tricks, this exclusive feature gives readers the chance to hear from Cindy herself. The monthly blog offers personal thoughts, random musings, and other helpful advice.
You won't find this content anywhere else because it's only available on Show Support at MTI ShowSpace! Previous blog entries include "Budgets or Bust?" and "You and Your Principal - Achieving the Perfect Pairing." Remember that if you're a registered ShowSpace user, you can also comment on Cindy's posts.
Broadway Junior is Going Viral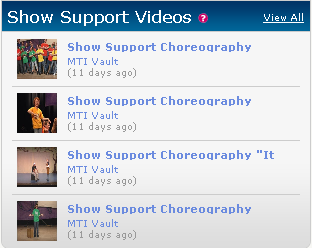 The MTI Show Support Choreography series, an innovative resource offered for all Junior titles, is now available to watch (for free!) in the Show Support area on ShowSpace. The videos, created by Broadway Junior experts: iTheatrics, are a sampling of what you could do with children on-stage. Featuring the staging and choreography of renowned professionals, each Junior title is represented with at least one video sample. Show Support Choreography can be accessed by visiting the Show Support Videos section on MTI ShowSpace - check it out today and become inspired by going viral!