The Revival As Pure As Gold: A Trip Into the Woods with Lear deBessonet
The Revival As Pure As Gold: A Trip Into the Woods with Lear deBessonet
By now, there is no way you haven't at least heard about the Encores! production of Into the Woods at New York City Center that is now an enchanting Broadway revival at the Saint James Theatre. Upon taking a bow at New York City Center, the acclaimed production was praised by critics as "charming", "delightful", and "enchanted" - and has only received more raves since. As the show continues to garner standing ovations and prepares for a stellar, new cast, we want to go back to where it all started. We were able to chat with the director herself, Lear deBessonet and talk to her about the Encores! production that put a spell on New York City.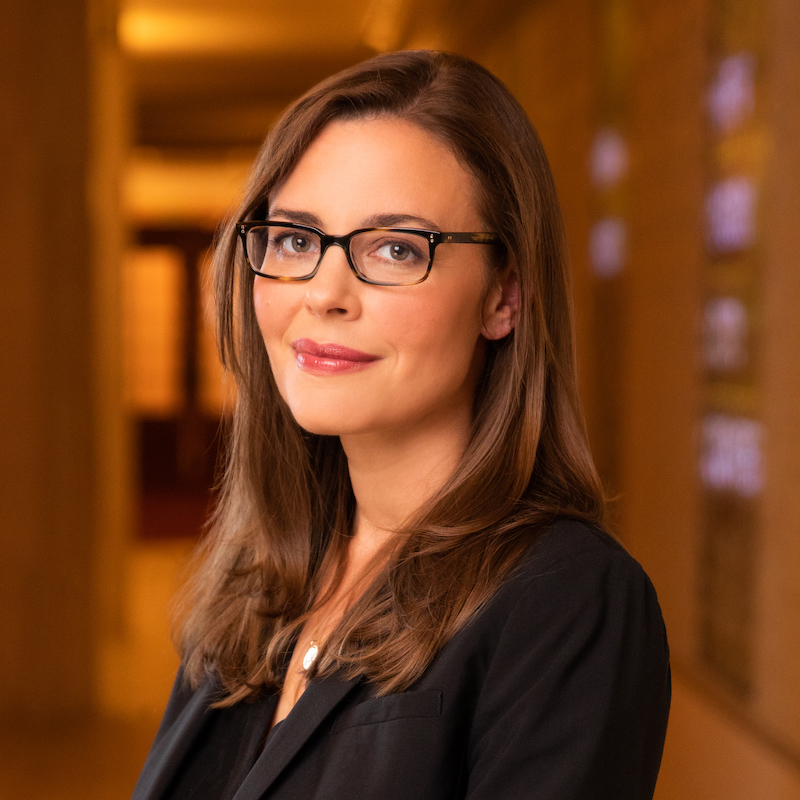 Photo Credit: Matthew Murphy
Lear deBessonet is the Encores! Artistic Director at New York City Center and an Obie Award-winning director. She has directed numerous Encores! and Encores! Off-Center productions such as Big River and Pump Boys and Dinettes. She is also founder of the Public Works program and was a resident director at The Public Theatre. We were so thrilled that she was able to chat with us about what makes Into the Woods more than just a wish.
This was a fantastic season for NYCC. How did you decide on Into the Woods as your closer for the Encores! season? What was the process for deciding this Encores! season?
I was passionate about the idea that the third show have a wide embrace with inter-generational appeal.   My vision for this production of Into the Woods was born in the early dark days of the pandemic, at a time when it was very uncertain when theater would be able to come back.  I decided that whenever we could return and welcome audiences back into the theater (whether that was 6 months or 5 years away), the first thing I wanted to direct when back was Into the Woods.  I was so grateful that James Lapine and Sondheim supported this idea- I think they know how deeply the show touches people, and that it has a special way of speaking to us in times of uncertainty and fear. 
How did you expect audiences to resonate with this production? What was the most common feedback you got from audiences after they saw the show?
I believed the show would be a balm for all our souls.  Into the Woods paints a beautiful, precise picture of what it is to be a human— and what it is to FEEL like a human.  The fairy tale characters wrestle with all the complexity of emotion that we each deal with - being "excited and scared", confused, elated, devastated, hopeful.  
The most common feedback I got was that people found the show joyous and moving.  And in fact, a lot of people commented on the show feeling very "human"— exactly what I'd hoped.  
The Community Chorus was such a moving addition for the end of the show, especially during such a heart-wrenching song like "Children Will Listen". How did they become a part of the production?
I love working with community and since becoming the Artistic Director at Encores!, had been very excited about how we might welcome community into the space, particularly in our new tradition of programming one iconic musical per season (Into the Woods was the first of these).  It felt very organic to have the community chorus join for song that song; "Children Will Listen" is about the big human family and the way we pass down stories between generations.  I loved the idea of a chorus of seniors and middle schoolers each bringing their own unique perspective and lived experience to the performance of that song. 
When producing Into the Woods, what was the one thing NYCC wanted audiences to take away from it?
We wanted audiences to feel embraced, to feel deeply connected to their own humanity and those around them.  
What do you think Into the Woods offers to younger audience members and those who are new to musical theatre?
Into the Woods is a fabulous first theater experience, and it's a masterclass in what musical theater does so well.  Because the show is working with familiar fairy tale characters, it offers a wide entry for audiences of any age to feel included.  And because the show is so gloriously good, with music and lyrics perfectly illuminating the individual characters and the story and themes, it really makes a case for why musicals are magical.  
What inspired your vision for the overall design of the show?
With Encores!, the design is about making simple elegant and somewhat minimal choices, putting the focus on the music and the actors leading the event.  I wanted the design to inspire that sense of fable and fairy tale, to be fun and beautiful, and also to leave lots of space for the audiences' imagination. 
Talk to us about casting for the show — Putting such iconic performers in these iconic roles must have been a challenge. How did you all find the right fits?
Casting for me is a deeply intuitive process that involves holding a role in my head alongside an actor and imagining where they might take it. Into the Woods is a feast for actors- the roles are just SO good, and the writing is transcendently perfect. We were so blessed that these dreamy actors loved the show and said yes to our great adventure!
Into the Woods has struck the hearts of theatregoers for over 30 years. James Lapine and Stephen Sondheim's work answers many questions in what some would call a time of hopelessness.  We are grateful to Lear deBessonet and the New York City Center team for collaborating with us and for their impeccable work on such a miraculous production.
Production Photo Credit: Joan Marcus
Follow the fun @mtishows on Instagram, Facebook, and Twitter.