Vandercook Lake Middle School/High School: Jackson, MI
Vandercook Lake Middle School/High School: Jackson, MI
"NBC's 'SMASH': MAKE A MUSICAL"
Vandercook Lake Middle School/High School
Jackson, MI
Reported by: Cynthia Ripley, iTheatrics Senior Education Associate, Resident Master Teacher
September 28, 2012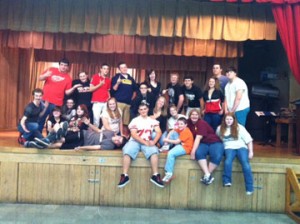 I love watching students articulate their feelings about artistic experiences. After our "NBC's 'Smash': Make a Musical" workshop at Vandercook Lake Middle School/High School in Jackson, Michigan, I had the pleasure of listening to student interviews, led by a reporter from news station WILX, the local NBC affiliate.  When a student named Tricia was asked what being involved in musical theater meant to her, Tricia replied, "I love it because it is a place where you can just be yourself. It's a group that will love you and take care of you."  Meanwhile, another Vandercook student named Chad told the reporter that through theater, "I have become more open to people. It is much easier to be friendly and nice."  I marvel at the honesty kids are able to reveal with a microphone and a stranger.  Finally, another student named Nate summed up the importance of the arts by adding, "When the school day is tough and I need to escape, I go to rehearsal with this big family and my day is immediately 100 times better."
There is nothing new about this phenomenon; a musical theater community allows kids a place to be accepted for their own uniqueness. I've heard this truth from students, who represent the range of socioeconomic backgrounds and languages spoken all across this great country. And every time I hear a kid say how theater has given them a place on their own "team," it refuels my urgency for preserving and creating programs like "NBC's 'Smash': Make a Musical."
The team from Vandercook Lake School, led by Roschenne Parmalee, Jason Konkel, Tami Allen and Karen Johnson, all know exactly what their kids need. This ideal "small town America" community also knows what they need, as is evidenced by their Facebook page that garnered enough people to vote them to become one of the top ten "NBC's 'Smash': Make a Musical"  schools in the country. They want this rare and wonderful opportunity to be the springboard for a well-orchestrated foundation of musical theater for ALL of their students. This program will  become a tradition in the community that is supported, attended and anticipated from all generations. The stories these teachers and community members told me about their kids were full of pride, love and a lot of laughter.  I told them they were the "perfect storm" for this project.  Everything lines up for the right reasons to create something incredible for ALL in Vandercook Lake. And this community has the ingredients, energy and passion to guarantee it.  I can't wait.
"NBC's 'Smash': Make A Musical"
 program is administered by iTheatrics under the supervision of Timothy Allen McDonald.  For more information, or to apply to become a part of the program, logon to 
www.MAKEAMUSICAL.ORG
.