Want Something: Celebrating Stephen Sondheim's 80th Birthday
Want Something: Celebrating Stephen Sondheim's 80th Birthday
On March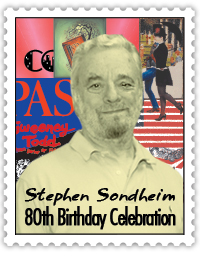 22, 2010, musical theatre legend Stephen Sondheim will celebrate his 80th birthday.  The composer/lyricist of groundbreaking work such as COMPANY, SWEENEY TODD, SUNDAY IN THE PARK WITH GEORGE, ASSASSINS, and PASSION, and the lyricist of Broadway classics WEST SIDE STORY and GYPSY, Sondheim has redefined what musical theatre can do, and his influence is evident in the generation of writers after him.  Spanning a wide range of subject matter, musical style, and structure, Sondheim's music and lyrics have made audiences experience great joy, bittersweet sadness, and the love of acceptance. Written with brilliant bookwriters such as Arthur Laurents, George Furth, and John Weidman, Sondheim's shows are just as relevant today as they were the day they first opened. Revivals of WEST SIDE STORY and A LITTLE NIGHT MUSIC currently light up Broadway, and his latest, ROAD SHOW, played off-Broadway's the Public Theatre in fall of 2008.
Send Stephen Sondheim Your Birthday Wishes On ShowSpace

What better way to honor a man who has spent over fifty years touching people's lives than by thanking him personally?  We encourage you to find a photo, article, program, poster, or anything that expresses the meaning Sondheim's music and lyrics have in your life, and write a note to Sondheim explaining the item's significance.  If there isn't any one thing that encapsulates your relationship with Sondheim's art, simply write a brief letter.   Send us your material so we can compile it into a scrapbook, which we will present to Sondheim himself.  This is your chance to directly thank one of the greatest composer/lyricists in musical theatre history for the songs that have affected your life.
Here's how to submit your material for the Sondheim 80th Birthday Scrapbook: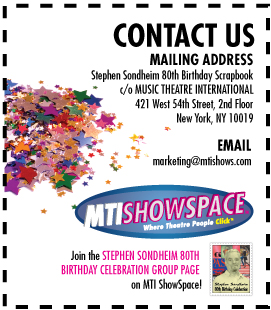 We'll be contributing our own content, as well.  Weekly articles, a special Sondheim's 80th Birthday logo, a contest, and other editorial content have been keeping our main site (www.mtishows.com) and MTI ShowSpace (mtishowspace.com) Sondheim-centric in the month leading up to his birthday.

We've already written six articles on the work of Stephen Sondheim:
Gracious Living: The Pursuit of Wealth and Happiness in SATURDAY NIGHT
Good Thing Going: The Positive Message of MERRILY WE ROLL ALONG
The Sondheim Revues
My Dearest Giorgio: The Use of Letters in PASSION
There Is No Other Way: Suicide in PACIFIC OVERTURES
Song Analysis: "The Story of Lucy and Jessie" from FOLLIES