We've Got the Show Right Here: GUYS AND DOLLS Back on Broadway
We've Got the Show Right Here: GUYS AND DOLLS Back on Broadway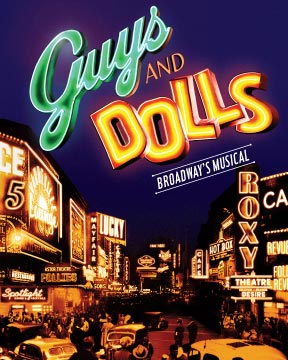 On March 2nd at Broadway's Nederlander Theatre, the curtain opened on the latest revival of the classic musical comedy, GUYS AND DOLLS.  One of the most beloved musicals of all time, GUYS AND DOLLS brings to life Damon Runyon's madcap New York City replete with its rough-and-tumble gangsters, colorful gamblers and sassy showgirls.
GUYS AND DOLLS holds a special place in MTI's heart not only because it's a fantastic show, but also because it was written by the man who founded MTI in 1952, Frank Loesser.  We'll have plenty more to say about Frank Loesser, Abe Burrows and the entire show in an upcoming series designed to give you a behind-the-scenes glimpse of rare archival photos, videos and audio clips from MTI's vault.  In the meantime,
click here
to check out our GUYS AND DOLLS show page to hear song samples and find out how to license the rights to perform this show in your community.
More - including a very special discount offer - after the page break:
And to get you even more excited about the newest production starring Oliver Platt, Lauren Graham, Craig Bierko and Kate Jennings Grant take a look at this terrific article from Broadway.com:
http://www.broadway.com/How-Guys-and-Dolls-Became-the-Toast-of-the-Town/broadway_news/5021166
MTI also has a special ticket offer for up to $50 off tickets for the new production, which can be found by
clicking here.