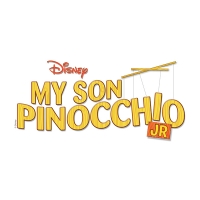 Disney's My Son Pinocchio JR.
The classic tale of an aging toymaker and his beloved wooden puppet is given a touching finish in this Disney gem.
Full Synopsis
A group of Fairies-in-Training gather to celebrate yet another "perfectly granted" wish of the Blue Fairy ("When You Wish upon a Star"). Their celebration is interrupted by the toy maker, Geppetto, who complains that Pinocchio, the puppet she brought to life as his son, is defective. To uncover the truth, the Blue Fairy takes us back in time to the day of Geppetto's wish. Geppetto's toy shop is filled with parents and their eager children ("Toys"). Having no children of his own, Geppetto envies them and wishes for his heart to be full ("Empty Heart"). The Blue Fairy grants his wish and brings Pinocchio to life.
The next day, the overjoyed Geppetto teaches Pinocchio a song he learned from his father ("Geppetto and Son") and introduces him to the Town Fathers, but Pinocchio wanders away. We then travel forward in time ("Rise and Shine") to see Geppetto attempt to teach Pinocchio about toy making. When the disinterested Pinocchio lies, his nose grows. Still not convinced of Pinocchio's imperfection, the Blue Fairy takes us forward again to Pinocchio's first day of school. Heeding Geppetto's instructions to "act like everyone else," Pinocchio begins mimicking other students and gets into trouble. In the town square, the puppeteer, Stromboli, notices that Pinocchio is a stringless puppet and tries to recruit him for his marionette show, but the Blue Fairy sends Stromboli away.
Back in the present, Geppetto repeats his request for the Blue Fairy to take Pinocchio back. Pinocchio overhears and runs away ("When You Wish upon a Star – Reprise"). Geppetto goes looking for Pinocchio and finds him performing for Stromboli ("I've Got No Strings"). After the show, Stromboli locks up Pinocchio, but tells Geppetto that the puppet left. Meanwhile, Pinocchio escapes, but Stromboli vows to find him ("Bravo Stromboli"). The Blue Fairy finally agrees to take Pinocchio back once Geppetto finds him ("Just Because It's Magic"). In Idyllia, Geppetto encounters Professore Buonragazzo and his "perfect child" machine, which creates a series of perfect children ("Satisfaction Guaranteed"), but none can replace Pinocchio. Back on the road, Geppetto meets talking animals who act like something else because of their parents' expectations. Meanwhile, the Blue Fairy offers Pinocchio to Stromboli since Geppetto still doesn't want him ("Bravo Stromboli – Reprise").
A Ringleader and his Roustabouts introduce us to a children's paradise ("Pleasure Island"). Geppetto finds Pinocchio there, but fails to convince him to come home. Suddenly, Pinocchio and the other delinquents become donkeys and are sent away on a ship, which Geppetto pursues in a rowboat. The young fairy, Sue, conjures a whale to save them, but it swallows Geppetto and Pinocchio. Inside the whale, Geppetto promises to be a better father if they ever get home ("Geppetto and Son – Reprise"). Pinocchio lies so that his nose tickles the whale's throat, and it sneezes them out. Back at the toy shop, Stromboli and the Blue Fairy await them. Having learned how to appreciate fatherhood, Geppetto offers Stromboli anything in his shop in exchange for letting him keep Pinocchio ("Since I Gave My Heart Away"). Stromboli refuses, and the Blue Fairy must grant Stromboli his wish, but the young fairies point out that Pinocchio has learned to become a real boy, rendering him useless for Stromboli's show. With father and son now transformed and united for good, the Blue Fairy's perfect record remains intact!
Connect
Curriculum Connection
Billing
Music and Lyrics By

Book By
Requirements
You must give the authors/creators billing credits, as specified in the Production Contract, in a conspicuous manner on the first page of credits in all programs and on houseboards, displays and in all other advertising announcements of any kind.
Percentages listed indicate required type size in relation to title size.
Author Billing – Disney's My Son Pinocchio JR.
(This Rider is part of the Production Contract)
Licensee shall incorporate the following credits and comply with all size and other restrictions on the title page of all playbills and programs, and in all houseboards, displays and in all other advertising, press release and any other promotional material, except as otherwise provided below, as follows:
The [Licensee]
Production of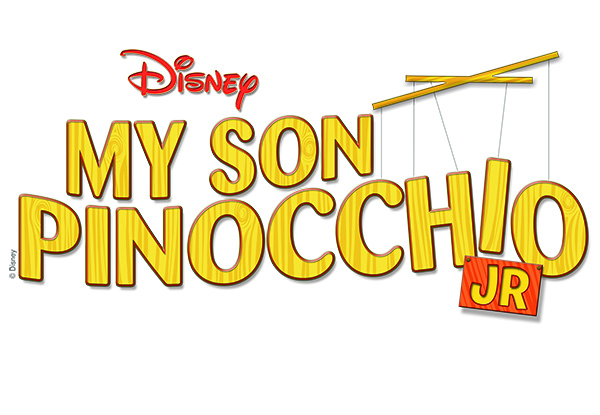 Music & Lyrics

STEPHEN SCHWARTZ

Book by

DAVID STERN
"When You Wish upon a Star" and "I've Got No Strings"
Music by Leigh Harline, Lyrics by Ned Washington
from the Walt Disney Motion Picture PINOCCHIO
The billing to Licensee must be in the form specified above, including the words "Production of" below Licensee's billing, which words shall be visually contiguous with the title, so that the audience is informed that Licensee is the producer of the production.
The size of the credit to the authors shall be no less than 50% of the regular title, and if there is no regular title, then no less than 20% of the logo or artwork title.
Licensee's billing shall be no less than 50% of the size of the logo or artwork title, as measured by the proportion of the average size of Licensee's name to the largest letter in the logo or artwork title.
The name "Disney's" immediately prior to the title of the Play shall be in plain type font, shall be no more than 33% of the title, as measured by the proportion of the size of the "D" in "Disney" to the size of the largest letters in the title.
Licensee is prohibited from copying or otherwise using any costume designs, character designs, artwork or other intellectual property from the Film, although there may be a general similarity to the characters' appearances.
Video Warning
If you purchase a separate license to allow non-commercial video recording of this production, you must print the following in your program. ANY VIDEO RECORDING MADE OF THIS PERFORMANCE IS AUTHORIZED FOR PERSONAL, AT-HOME, NON-COMMERCIAL USE ONLY. THE SALE OR DISTRIBUTION OF SUCH RECORDING IS STRICTLY PROHIBITED UNDER FEDERAL COPYRIGHT LAW. If you do not purchase the separate license for video recording, you must print the following in your program. The videotaping or other video or audio recording of this production is strictly prohibited
Included Materials
Production Resources
Resource
ACTOR'S BOOK TENPACK
FAMILY MATTERS (PACK OF 10)
HOW DOES THE SHOW GO ON-10/CS
HOW DOES THE SHOW GO ON?
LOGO PACK
LOGO PACK DIGITAL
LOGO TEES SIX-PACK ADULT LARGE
LOGO TEES SIX-PACK ADULT MEDIUM
LOGO TEES SIX-PACK ADULT SMALL
LOGO TEES SIX-PACK ADULT X-LARGE
LOGO TEES SIX-PACK ADULT XX-LARGE
LOGO TEES SIX-PACK CHILD LARGE
LOGO TEES SIX-PACK CHILD MEDIUM
LOGO TEES SIX-PACK CHILD SMALL
PRODUCTIONPRO-DIGITAL SCRIPT/SCORE
VIDEO LICENSE