No Strings Attached - MY SON PINOCCHIO JR Available for Licensing
No Strings Attached - MY SON PINOCCHIO JR Available for Licensing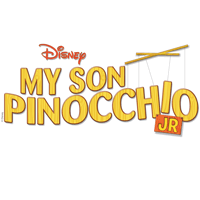 Pinocchio must prove himself brave, truthful and unselfish, but what about the toymaker?  Raising a perfect child might not be as easy as it looks.  The Blue Fairy and her Fairies in Training lead Gepetto on a hilarious journey through this fractured fairytale in order to discover what it means to be "A real father." 
Oscar and GRAMMY Award - winner Stephen Schwartz
adds a brand new score to the classic Disney hits, "When You Wish Upon a Star" and "I've Got No Strings." 
MY SON PINOCCHIO JR.
is the perfect show for a dynamic cast of middle school performers.
Unlike the Disney movie,
MY SON PINOCCHIO JR.
is told from the perspective of Geppetto rather than Pinocchio.
MY SON PINOCCHIO
/
MY SON PINOCCHIO JR.
stems from the famous animated feature film of Carlo Collodi's classic tale with Pinocchio (1940) which was adapted by Disney into a cheeky television version in the form of the Wonderful World of Disney live-action movie Geppetto (2000). After this adaptation, the inherently theatrical story was adapted once again by David Stern and Stephen Schwartz for the stage, incorporating the Ned Washington/Leigh Harline songs "When You Wish Upon a Star" and "I've Got No Strings" from the Disney film.
MY SON PINOCCHIO JR.
was originally titled Geppetto & Son (after one of its songs), but was eventually settled on the current title to better connect audiences to our source material.
Schwartz said in production notes that he believes that the show "is entertaining while at the same time dealing with such important themes as individuality, self-esteem and the relation of parents and children.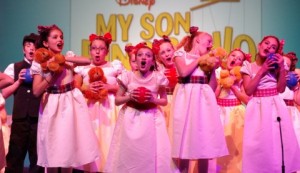 MY SON PINOCCHIO JR at the 2012 Junior Theater Festival.
Our ShowKit of Materials is Like Getting a Musical in a Box!
When you license the rights to
MY SON PINOCCHIO JR.,
you will receive everything you need in our new and improved ShowKit of music and materials.  MTI and iTheatrics have redesigned the look, feel and content of the ShowKits to ensure they remain the absolute best educational musicals anywhere.
One of the most exciting new elements is the fully re-conceived Director's Guide, patterned after Broadway production show books.  Features of the new Director's Guide include:


A three-ring binder allowing you to carry all of your production information in one place and expand and customize the binder to meet your production needs


The Actor's Script section of the Guide features a full-sized script for easier viewing


Expanded resources in all production and curriculum aspects that reach three levels of directing experience: beginning, intermediate and advanced


A media disk of resources including audition sides and editable forms including a fully-editable program


Helpful Resources on MTIShowSpace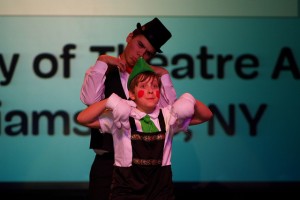 MY SON PINOCCHIO JR at the 2012 Junior Theater Festival
MTI ShowSpace is the place to get all the help you need putting on a production of
MY SON PINOCCHIO JR.
  With MTI's help and advice forum,
Show Support
, you can get answers to questions that might come up during the course of your production.  If you're working on an MTI Broadway Junior Collection show (JR./KIDS), and have a question –
ask it here
! We'll make sure you get an answer.  You can also visit
Community Rentals
for the latest sets, props and costumes for rent, sale or trade!