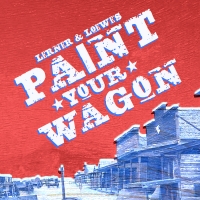 Fortunes rise and fall during the California Gold Rush in Lerner and Loewe's classic musical about love and ambition.
Full Synopsis
Act One
In the midst of the California Gold Rush, a widowed miner, Ben Rumson, and his 16-year-old daughter, Jennifer, discover gold dust. Ben lays claim to the land and soon scores of fortune-seeking prospectors arrive to Rumson ("I'm On My Way"). Soon the entire male population, except Jennifer, reaches 400 and the prospectors plan to send for Cherry and her Fandango Girls ("Rumson").
Jennifer wonders "What's Going On Here?" when a handsome Mexican miner, Julio, arrives from just outside of town and the two connect ("I Talk To Trees"). The prospectors pontificate their wandering lifestyle ("They Call The Wind Maria"). 
Ben wishes his wife were alive during these tumultous times ("I Still See Elisa") as the all-male population pressures Ben to send Jennifer away. Ben decides to send her east when he discovers her love for Julio ("How Can I Wait?"). A Mormon newcomer, Jacob Woodling, arrives and the prospectors immediately pressure him into bidding one of his two wives, Sarah and Elizabeth ("Trio"). Surprisingly, Ben finds himself attracted to Elizabeth ("In Between"), and bids the highest ("Whoop-Ti-Yay"). A devastated Jennifer is appalled by her father and runs away, promising to reunite with Julio in a year ("Carino Mio"). Cherry and her Fandango Girls arrive to Rumson ("There's A Coach A Comin' In"). Julio discovers his mining is running dry, and must move on from Rumson. 
Act Two
A year passes, and now that the Fandango Girls have arrived, the prospectors of Rumson celebrate ("Hand Me Down That Can o' Beans"). Ben is unaware of other miners interest in Elizabeth, and Julio considers investigating a lake rumoured to have gold dust at the bottom ("Another Autumn"). A freshly educated Jennifer returns to Rumson ("All For Him"). Ben explains to Jennifer his desire to move on from Rumson ("Wandrin' Star"). Jennifer learns from the departing Fandango girls of Julio's plan to search for new gold and Elizabeth runs off with another miner, leaving Ben alone. 
News of a new strike reaches Rumson and the prospectors pack up and leave. All that remain are Jennifer, waiting for Julio, and Ben, who understands that Rumson is indeed the place for him. Months pass, and a haggard Julio returns to Rumson, surprised to find Jennifer still there. An ailing Ben welcomes him and he and Jennifer are reunited. 
Show History
Inspiration
Paint Your Wagon is a Lerner and Loewe musical set in the midst of the California Gold Rush in the 1950s featuring am score true to the indigineous music. 
Productions
The musical opened in November of 1951 at the Shubert Theatre on Broadway and ran for 289 performances. 
A london production opened on the West End at Her Majesty's Theatre in 1953 and ran for 477 performances. 
Various re-worked adaptations have been staged in recent years, including: Brentwood Theatre in Los Angeles, the Pioneer Theatre Company in Salt Lake City and as part of New York City Center's Encores! series in 2015. 
Billing
Book and Lyrics by

Music by
Requirements
You must give the authors/creators billing credits, as specified in the Production Contract, in a conspicuous manner on the first page of credits in all programs and on houseboards, displays and in all other advertising announcements of any kind.
Percentages listed indicate required type size in relation to title size.
Lerner and Loewe's
PAINT YOUR WAGON
A Musical Play
(100%)
Book and Lyrics by

ALAN JAY LERNER

Music by 

FREDERICK LOEWE
Original dances created by Agnes DeMille
Such credits for all purposes shall be in a type size equal to that of any other credits except for those of the producer and star(s) above the title. The credit for the authors shall be in a type size at least 75 percent of the size of the title of the play; and wherever the name of one of the authors appears, the other name(s) shall also appear. In the programs, the credits shall appear on the title page thereof.
The videotaping or other video or audio recording of this production is strictly prohibited
Included Materials
| Item | Quantity Included |
| --- | --- |
| LIBRETTO/VOCAL BOOK | 32 |
| PIANO CONDUCTOR'S SCORE ACT 1 | 2 |
| PIANO CONDUCTOR'S SCORE ACT 2 | 2 |
Production Resources
Resource
HOW DOES THE SHOW GO ON-10/CS
HOW DOES THE SHOW GO ON?
LOGO PACK DIGITAL
PRODUCTIONPRO
REFERENCE RECORDING
STAGE MANAGER SCRIPT
STANDARD ORCHESTRATION
| Instrumentation | Doubling |
| --- | --- |
| BASS | ACOUSTIC BASS |
| CELLO | (2 PLAYER MINIMUM) |
| GUITAR | BANJO , GUITAR |
| HORN | |
| HORN 3 | |
| PERCUSSION | BASS DRUM , BELLS , CASTANETS , COACH BELL , CYMBALS , GONG , POP GUN , SLAPSTICK , SNARE DRUM , TAMBOURINE , TEMPLE BLOCKS , TIMPANI , TOM TOM , TRIANGLE , WOOD BLOCK |
| REED 1 | ALTO SAXOPHONE , CLARINET , FLUTE , PICCOLO |
| REED 2 | ALTO SAXOPHONE , CLARINET |
| REED 3 | CLARINET , OBOE , TENOR SAXOPHONE |
| REED 4 | BASS CLARINET , CLARINET , TENOR SAXOPHONE |
| REED 5 | BARITONE SAXOPHONE , BASSOON , CLARINET |
| TROMBONE | |
| TROMBONE 2 | |
| TRUMPET | |
| TRUMPET 3 | |
| VIOLA | (2 PLAYER MINIMUM) , 1 DOUBLES MANDOLIN |
| VIOLIN | (4 PLAYER MINIMUM) |
| VIOLIN 2 | (2 PLAYER MINIMUM) |