MTI Acquires Licensing Rights to Lerner and Loewe Classics
MTI Acquires Licensing Rights to Lerner and Loewe Classics
Loverly!
Music Theatre International Acquires Licensing Rights to Lerner & Loewe's My Fair Lady, Brigadoon, Camelot, Paint Your Wagon, and The Day Before Spring.
Drew Cohen, President of Music Theatre International (MTI), announced today that MTI will represent the secondary stage performance rights to five musicals by the legendary writing team of Lerner & Loewe, including their masterpiece My Fair Lady, the beloved classics Camelot, Brigadoon and Paint Your Wagon, and their newly-restored early work, The Day Before Spring.   MTI, from June 1, will begin representing My Fair Lady in the US, the UK, and all English-language territories, and will represent the four other titles on a worldwide basis. (Some restrictions may apply).
The collaboration of librettist-lyricist Alan Jay Lerner (1918-86) and composer Frederick Loewe (1901-88) defined wit and glamour in the golden era of the Broadway and Hollywood musical.  Winners of multiple Oscars, Tonys, Golden Globe and Olivier Awards, their timeless and romantic musicals include such songbook standards as: "Almost Like Being in Love" and "The Heather on the Hill" (Brigadoon, 1947); "They Call the Wind Maria," "Wand'rin' Star" (Paint Your Wagon, 1951); "Wouldn't It Be Loverly?," "With a Little Bit of Luck," "I Could Have Danced All Night," "On the Street Where You Live" (My Fair Lady, 1956); and "Camelot," "If Ever I Would Leave You," "How to Handle a Woman," and "I Loved You Once in Silence" (Camelot, 1960).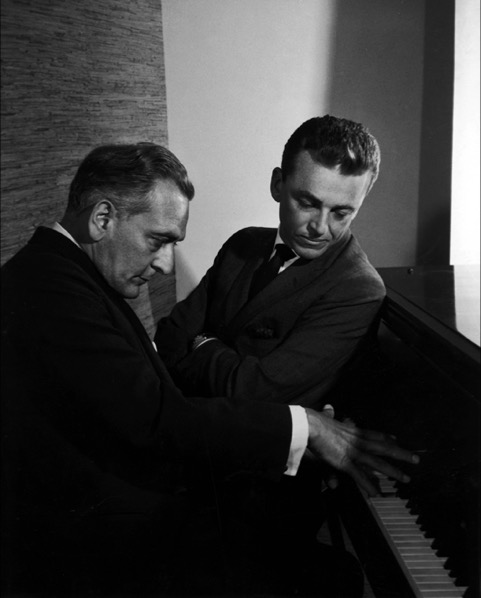 Frederick Loewe and Alan Jay Lerner. 
The newest addition to the canon is also one of the oldest:  The Day Before Spring (1945) had a short Broadway run, and was never recorded or fully revived, but has enjoyed select concert re-appearances at New York's Bandwagon (1990), the York Theatre, New York (2007), Lost Musicals, London (2010), and the University of Sheffield, England (2017).  Its representation by MTI will mark the musical's first release in the secondary market.
"We are honored to have been selected by the representatives of Lerner and Loewe to represent their musicals," said Drew Cohen. "These are among the greatest musicals ever written for Broadway and the West End, and we look forward to sharing them with our customers around the world, from high school auditoriums to regional theatres to opera houses." Cohen added, "Not all musicals stand the test of time but these were so exceptional to begin with, and have only become more appreciated over the years."
MTI Chairman and CEO Freddie Gershon offered, "A toast to our new family members, Messrs. Lerner and Loewe: We're so glad you sought to fly…/And we know the reason why…/You're part of MTI/Now we're all on the street where you live/(What a great way to celebrate Eliza Doolittle Day!)"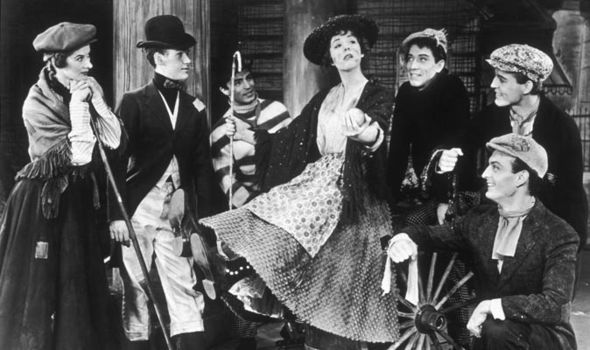 Julie Andrews and cast in the original production of My Fair Lady. 
Sir Cameron Mackintosh, co-owner of MTI with Gershon, and himself the producer of two highly acclaimed UK revivals of My Fair Lady (in 1979 and 2001, respectively), said:  "I was lucky enough to see the original production of My Fair Lady at London's Theatre Royal Drury Lane several times, including the Last Night on my 16th birthday in 1963, when I gate-crashed the party and danced all night.  Two years later I started my career there as a stage hand on Camelot, and shortly after that, thanks to a little bit of luck, I met the legendary lyricist Alan Jay Lerner. We became firm friends and Alan directed my first London production of My Fair Lady in 1979.  Like Professor Higgins, he taught me so much about the musical theatre that he and Fritz Loewe created so brilliantly.  Personally I am thrilled at the absobloomin' loverly news that their legendary body of work has found a new home with MTI. Bravo Eliza!"
In a joint statement, Loren Plotkin, trustee of the Alan Jay Lerner Testamentary Trust and Emily Altman, President of the Frederick Loewe Foundation said, "We are delighted that five Lerner & Loewe musicals will now be represented by Music Theatre International.  MTI's success in bringing musicals to new audiences worldwide, its commitment to arts education, and its ground-breaking achievements in schools across the globe, reflect values that we share.  The partnership of Alan Jay Lerner and Frederick Loewe is recognized as one of the most successful in musical theatre history; on their behalf, we now look forward to a long and fruitful partnership with MTI."