Virtual Performance Toolkit

Virtual Performance Toolkit: Streaming, Remote, and Online Editions
Below you will find lots of helpful tools, tips, and resources to inform you and assist in making your virtual production a success.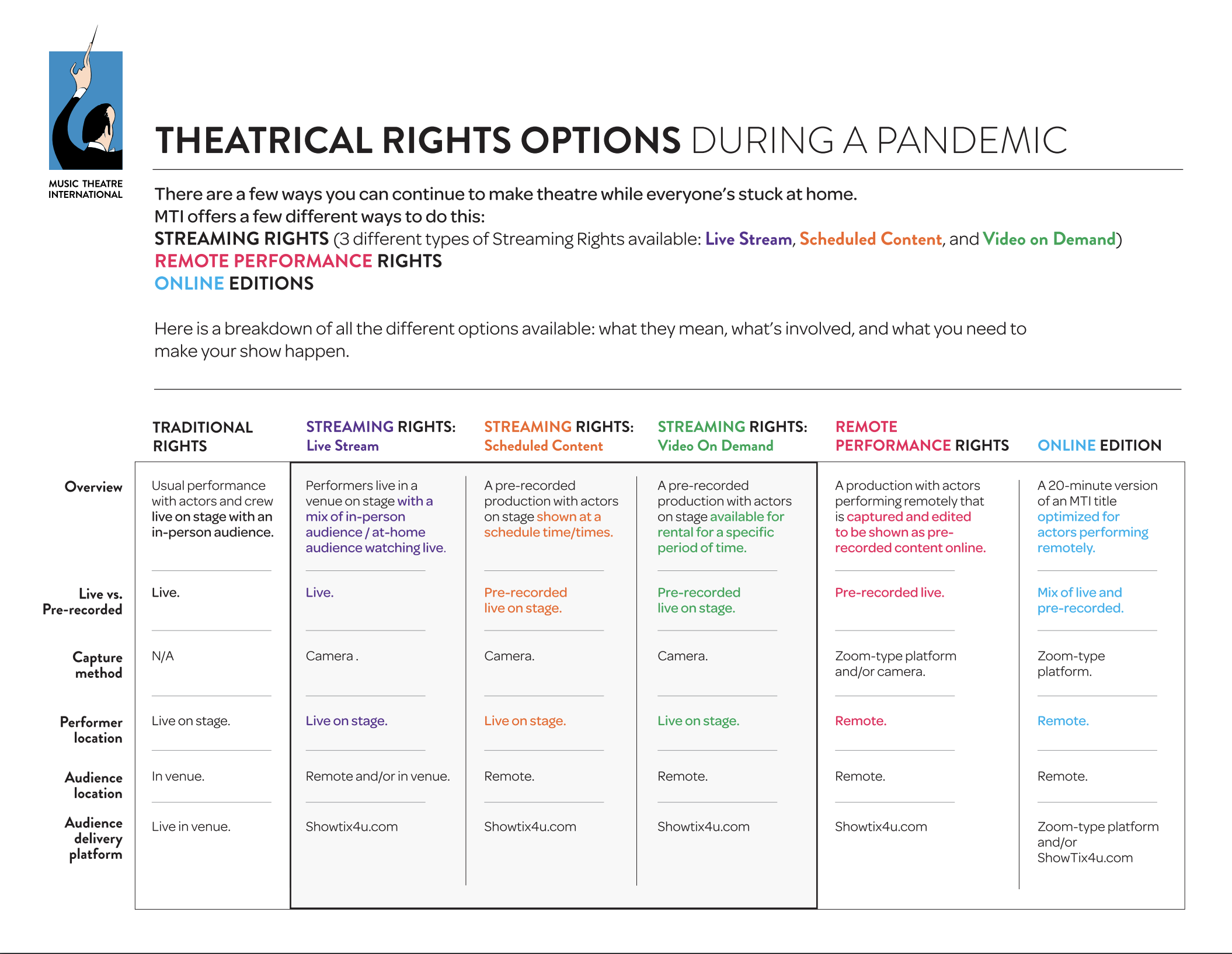 (Click the image to enlarge and download.)
Did You Know?

Did you know we created a series of articles to help break down all of this information even furtner? From new streaming options, raising money with past productions, Remote performances, and more, be sure to check them out here.

Video Breakdown of MTI Virtual Options

Watch John Prignano, MTI's COO and Director of Education and Development, break down the above chart and the various virtual and remote options for your next production.


Virtual Options

Check out the titles available for our various virtual options.

Remote Performance Guide

Get started performing remotely with this free and excellent Remote Performance Guide from our friends at iTheatrics.

Download the iTheatrics' Remote Performance Guide PDF.

A Note from iTheatrics' Director of Education, Marty Johnson:
"We all know that rehearsing in the same room and performing in front of a live audience is the optimal way to experience musical theatre. But unfortunately, sometimes that just isn't possible. While a Remote Performance may seem like a slightly daunting task at first, we promise it can be done by anyone with the desire to make it happen. This Remote Performance Guide will give you specific information on how to get started, including basic online rehearsal and performance techniques." 

Special Offers on Production Resources

Performance Accompaniment Recordings
We are currently offering our Performance Accompaniment Recordings at a standard flat fee of $750 with no additional fees*. This applies to all theatres, regardless of size. Check out the resource page for more information.

BMD Scenic Backdrops
Download a free Zoom/Digital Background from our friends at Broadway Media.

Choreography Videos
Our friends at The Original Production are currently offering Five FREE choreography video tutorials from iconic shows.

Interactive Scripts and Scores by ProducitonPro
Enjoy a free 30-day trial of ProductionPro on your next production. Digital scripts, scores, and interactive breakdowns.