A Record-Breaking Elf JR!
A Record-Breaking Elf JR!
The holiday spirit was alive and well on December 5th in Citronelle, AL, where over 500 North Mobile county children from McDavid-Jones Elementary School made history when they performed a production of Elf The Musical JR.. Taking place on the Citronelle High School football field, the production featured the largest cast ever of children in a Broadway JR. musical.
Sunny Side Theater, located in Mobile, AL, is dedicated to bringing musical theater to as many children as possible. In 2017, the Sunny Side Theater outreach program performed a traveling show for McDavid-Jones with a great response from the students. Realizing how valuable it was for their community to experience musical theater, the school decided to partner with Sunny Side on producing a full-school musical. Previously, there was no all-school Christmas program because there was no venue large enough to have 500 kids perform. Principal Jill Dickinson came up with the idea to have it on the Citronelle High School football field and the process began.

In planning how to produce a show with 500 kids, Directors Chris Paragone and Lauren Westbrook came up with the idea to have each grade level sing one of the chorus numbers. First they held auditions for the lead roles with over 200 kids trying out. The cast list was set and rehearsals began. The show was presented as a community event with local churches invited to attend as well.
"Being able to bring musical theater to a community on the outskirts of the county has been incredibly rewarding. Sunny Side fully believes that participating in musical theater promotes self-confidence and great lifelong skills and every child should have access to that," says Director Chris Paragone.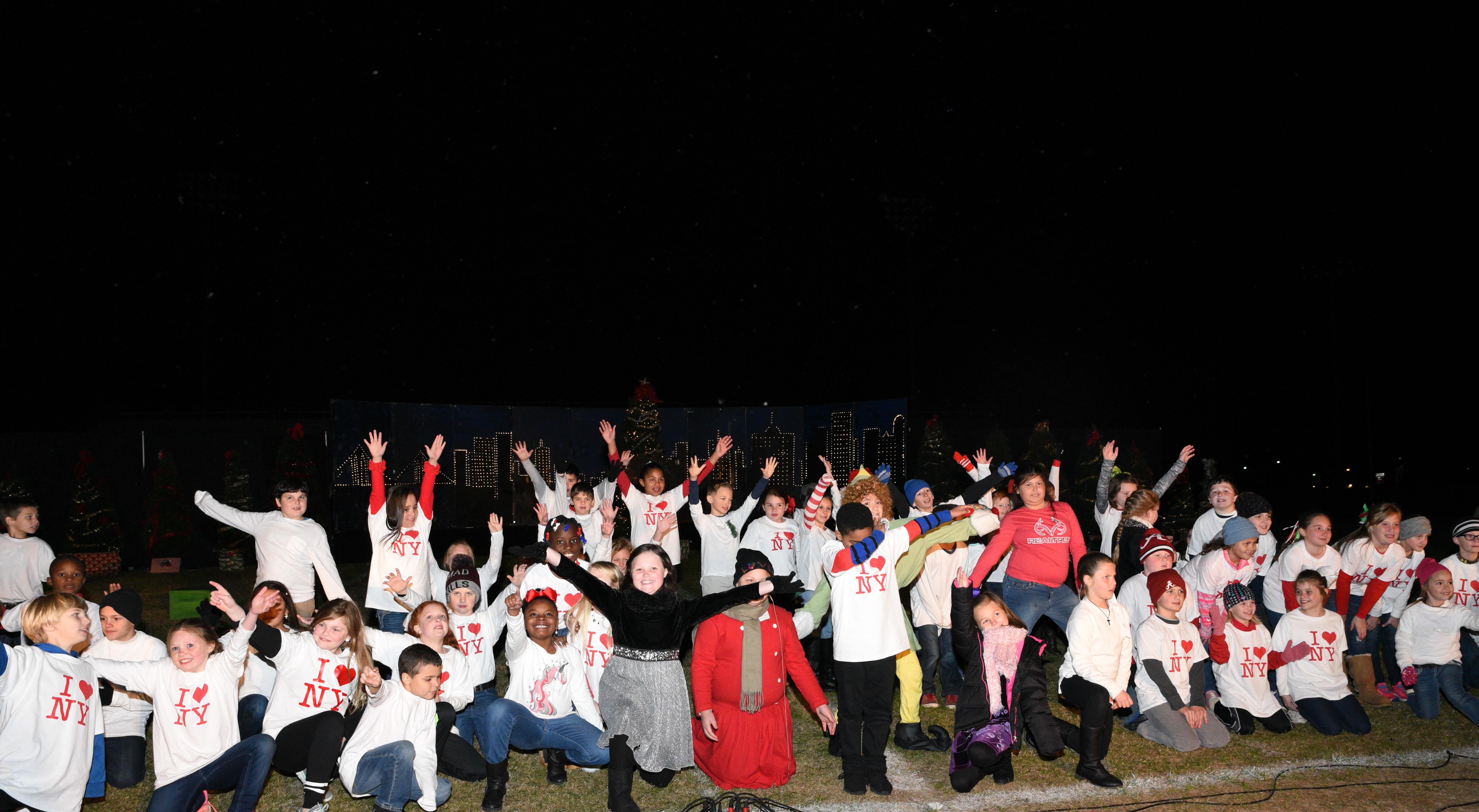 Director Lauren Westbrook adds, "There are so many kids who attend a large school that don't ever get the chance to be noticed because they aren't the smartest or most athletic. I'm glad we get a chance to reach every child."
"We are enormously proud of the partnership formed between Sunny Side and McDavid-Jones," stated John Prignano, MTI's Chief Operating Officer and Director of Education and Development. "Musical theatre is a collaborative experience, and we commend the leaders of these two organizations for having the vision to make this art form available to so many deserving students all at once."

The creators of Elf The Musical and Elf The Musical JR., Bob Martin, Matthew Sklar and Chad Beguelin are collaborating once again on a brand new show, The Prom, now playing at Broadway's Longacre Theatre. When reached for comment about this gigantic production of Elf JR. they said, "The authors of Elf are feeling especially Sparklejollytwinklejingley about the Sunny Side Theatre and the McDavid-Jones Elementary School production of Elf JR. We all remember how magical it was to participate in school musicals and to have a production of our show of this size warms our hearts. And to know that so many people came together to make this production a reality is especially touching. To everyone involved, thanks for proving that 'the best way to spread Christmas cheer is singing loud for all to hear!'"
Bring the cheer of Elf The Musical JR. to your stage!