Apply for The Gershwin Awards - Recognizing Exceptional Performances by NYC High School Students
Apply for The Gershwin Awards - Recognizing Exceptional Performances by NYC High School Students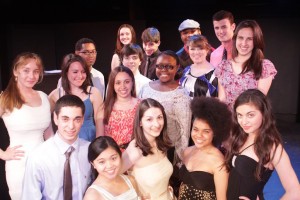 Created in 2011, the
Gershwin Awards
are presented annually to recognize high school students in the New York City Metropolitan Area for outstanding achievement in their high school's musical theatre productions. Modeled after the
National High School Musical Theater Awards (The Jimmy Awards)
, the ceremony will be held at
CAP 21 on Saturday, May 18, 2013
. The Gershwin Awards program is produced and presented by Camp Broadway® and CAP 21. The program draws on the legacy of the great American songwriting duo George and Ira Gershwin, whose immeasurable impact on modern-day musical theatre continues to inspire a new generation of performers.
How it Works
Nominees participate in a day-long audition led by professional Broadway coaches. Coaches instruct ensemble workshops and individual coaching sessions, evaluating participants during the process. Following these craft-building exercises, the nominees present a showcase for family, friends and teachers which includes a solo performance by each nominee as well as an ensemble performance. The students are then judged on their performances by a panel of industry leaders. Three awards are given: Best Performance by a Lead Actor, Best Performance by a Lead Actress and The Up-and-Comer Award.
Award Categories
The Up-and-Comer Award recipient will receive a full scholarship to Camp Broadway's The Next Step summer program. The recipients of the Best Performance by a Lead Actor and Best Performance by a Lead Actress awards will receive a full scholarship to CAP 21's Summer Pre-College Musical Theatre Training Program and Musical College Auditions Prep Program as well as $1,000 to be used toward continued education. The Best Performance by a Lead Actor and Best Performance by a Lead Actress winners will also go on to represent the Gershwin Awards at the National High School Musical Theatre Awards (NHSMTA). At the national level, participants will receive additional coaching over a 6-day program which culminates in a performance on the Minskoff Theatre stage, home to Broadway's
The Lion King
. NHSTMTA winners receive college scholarships and other accolades.
Eligibility
Any public or private high school in the New York City metro area may apply to participate in the Gershwin Awards. The awards focus solely on the performances of the high school students, honoring their acting, singing and dancing abilities. The Gershwin Awards program is committed to recognizing only the actual performances of the high school students themselves. Students must be nominated by a teacher or director of the musical theatre program in the student's high school.
There is neither a fee to participate nor to apply for your school's participation in the Gershwin Awards.
Apply
Applications can be found on GerhswinAwards.com and should be printed and mailed to Camp Broadway.
The deadline for receiving applications is April 26, 2013.
The student participants do not have to be nominated in order for your school to apply. This information will be requested at a later date, so we advise schools to identify themselves as interested by sending in an application as soon as possible.
All eligible schools 
will be asked to
submit video footage and photos of their nominees performing their role on their high school's stage as proof of their performance during the eligible calendar year. This video should be at least 0:30 in length. A full-length DVD of the production is not necessary; a highlight reel is encouraged.
It is advantageous to the school and the student performers that the video be of the highest quality. 
The video may be either a performance or a final dress rehearsal.
Please note that only one male and one female representative may participate on behalf of a given school.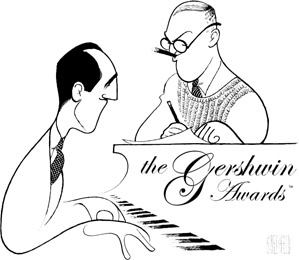 Links
The Gershwin Awards on Facebook
The Gershwin Awards Official Site
The National High School Musical Theater Awards / "The Jimmy's"