AVENUE Q SCHOOL EDITION - Now Available for Licensing!
AVENUE Q SCHOOL EDITION - Now Available for Licensing!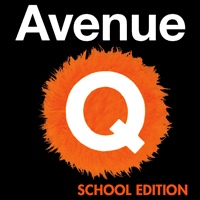 Winner of the TONY® "TRIPLE CROWN" for BEST MUSICAL, BEST SCORE and BEST BOOK,
AVENUE Q
is part flesh, part felt and packed with heart. 
AVENUE Q SCHOOL EDITION
(Music and Lyrics by
Robert Lopez
and
Jeff Marx
, Book by
Jeff Whitty
) is a laugh-out-loud musical that tells the timeless story of a recent college grad named Princeton who moves into a shabby New York apartment all the way out on Avenue Q. He soon discovers that although the residents seem nice, it's clear that this is not your ordinary neighborhood. Together, Princeton and his new-found friends struggle to find jobs, dates, and their ever-elusive purpose in life.
Why an AVENUE Q: SCHOOL EDITION?
Because the original AVENUE Q has some content elements that previously made it a difficult choice for some high school productions, MTI has worked with the AVENUE Q authors to create an adaptation that maintains the dramatic intention and integrity of the piece, while editing it to make it more appropriate for high school audiences and performers.
School Edition Resources
Like most MTI School Edition musicals,
AVENUE Q: SCHOOL EDITION
comes with an
accompaniment CD,
curriculum-enhancing Study Guides, Director's Guides with production advice for teachers
, as well as
adapted vocal parts specifically written with student voices
in mind. The accompaniment CD contains tracks that can be used in production and rehearsal to accompany students, so school productions do not have to be limited by the availability of student musicians.  A reference recording of the school edition version is also available.
What's Changed?


The language (both dialogue and lyrics) has been cleaned-up throughout. Think of the show being rated PG-13 now rather than rated R




The song "Internet is For Porn" has been replaced with a brand new song, "My Social Life is Online," written by the original composers exclusively for the School Edition.  Here's sample of the new song performed by students at Bradford High School in Kenosha, Wisconsin:


"My Social Life is Online"


The songs "My Girl Friend Who Lives In Canada" and "Loud As The Hell You Want" are cut from this version




The video segments throughout the show are all now performed live using actors




The scenes with the Bad Idea Bears have been trimmed and amended to now focus less on drinking




A few character names have been changed - Lucy T. Slut is now just Lucy, and Mrs. T. is now Mrs. Butz


These changes exist to serve the greater message of the piece by allowing its themes to reach a wider audience.
The Set
One of the most convenient aspects of the scenic design for
AVENUE Q
is the use of a single unit set.  The original production was set in front of a fairly realistic low-rise apartment building and therefore did not require major scene changes.  In Atlanta, Georgia, the Horizon Theatre Company's set design was storybook-esque and imaginative – with the band seated on stage.  Whether you choose to go with a unit set, or a design unique to your theatre,
AVENUE Q
provides plenty of room for creativity.
The Puppets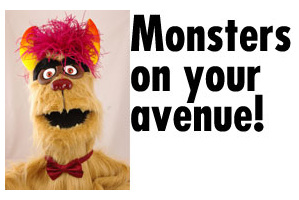 A complete set of 26 dynamic puppets (11 practice puppets and 15 performance puppets) is now available to rent for your theatre's production of
AVENUE Q
/
AVENUE Q SCHOOL EDITION
.
Since almost every puppet has at least one costume change during the show, we provide an in depth schematic detailing which puppet should be used for each scene and what clothes they should be wearing. Puppets such as Rod and Kate have hands and are operated by a two-rod system.  Others, such as Trekkie and Nicky, are "live hand puppets" that utilize the puppeteers' free hand as the hand of the puppet.
The Cast
AVENUE Q SCHOOL EDITION
is an ensemble piece that can accommodate a large cast.
If you're looking at your upcoming season and thinking
"It Sucks To Be Me,"
then obtain the rights today for
AVENUE Q
SCHOOL EDITION.