BLACK HISTORY MONTH-Innovative Musical Contributions: AIN'T MISBEHAVIN' & FATS WALLER
BLACK HISTORY MONTH-Innovative Musical Contributions: AIN'T MISBEHAVIN' & FATS WALLER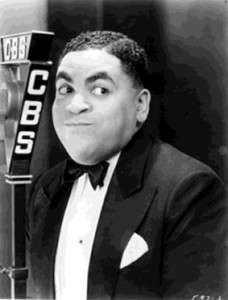 Thomas "Fats" Waller
In honor of Black History Month, MTI Marquee is featuring shows from our catalog that deal with the national celebration's themes, and those African American artists whose work has helped shape musical theatre history. Falling into the latter category is Thomas "Fats" Waller, the musician and composer who's work makes up the score for AIN'T MISBEHAVIN'.

A two-act revue, AIN'T MISBEHAVIN' features songs by Waller and various lyricists.  Though the show, created by Richard Maltby, Jr. and Murray Horwitz, isn't exactly a Waller biography, the piece spans music from his career and brings to life the "comic and musical soul of 1930's Harlem" -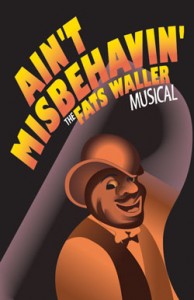 Waller's stomping ground. AIN'T MISBEHAVIN', which opened in 1978, was awarded two Tony awards, Best Musical and Best Featured Actress: Nell Carter. Largely regarded as the prototypical "jukebox" or "catalogue" musical, it garnered a significant amount of praise for its (then) unique structure. The show is known for bringing Waller's work to an unfamiliar generation.  Even those already familiar with his music might be surprised to discover title song "Ain't Misbehavin'" and "I Can't Give You Anything But Love" were written by this melodic genius.
Born in 1903 in Harlem, Thomas Wright "Fats" was the son of a Baptist minister. As a child, he learned to play the organ in his father's church, where the seeds of musical history were planted. After going on to become a renowned jazz pianist, "Fats" Waller became a profound figure in the Harlem Renaissance. A cultural movement in the 1920s and '30s, the Harlem Renaissance launched many black American artists to popular recognition, a previously unprecedented occurrence, given the lack of interest by white "cultural authorities" and legal restriction.  It was during this time that Waller rose to prominence. His work stands as a prime example of the musical styles and choices being innovated in that revolutionary environment.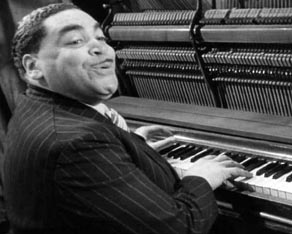 At His Piano

In the early 1920s "Fats" begin making a name for himself as a musician. At the age of 18, he recorded his first piano solos, "Muscle Shoals Blues" and "Birmingham Blues". 1928 marked Waller's Broadway debut with the musical KEEP ON SHUFFLIN'. That same year, he also made his Carnegie Hall debut. In 1929, he and lyricist Andy Razaf (collaborator on ...SHUFFLIN'), composed "Load of Coal" and "Hot Chocolates", the latter with another BLACK HISTORY MONTH, Innovative Musical Contributions subject, Eubie Blake. In 1929, Waller released his  incomparable tune "Ain't Misbehavin'" which would later become a star vehicle for both Cab Calloway and Louis Armstrong.
Since his death from pneumonia in 1943 at the age of 39, "Fats" Waller and his music have been honored by numerous awards (including a Grammy Lifetime Achievement) and countless  "hall of fame" inductions (Big Band & Jazz Hall of Fame, Songwriter's Hall of Fame, and Grammy Hall of Fame). His music has stood the test of time, and his legacy has contributed monumentally to the expansion and diversification of the Broadway musical as an art form. Sadly, artists of color have historically faced discrimination and lack of opportunity in the world of musical theatre, particularly mainstream venues like Broadway, despite creating work that deserved (and deserves) recognition.  Shows like AIN'T MISBEHAVIN' allow the work of these artists to continue to reach audiences nationwide.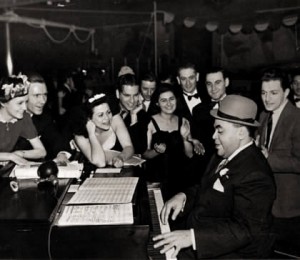 Fats and his Fans
To learn how to license AIN'T MISBEHAVIN' visit the showpage or MTI showspace.
Click to learn more about Black History Month