Broadway Junior Student of the Month: May 2016
Broadway Junior Student of the Month: May 2016
Over the next several months we will be honoring MTI's Broadway Junior Student of the Month.
These students have been selected out of hundreds of outstanding applicants and display the exemplary qualities of dedication, passion, leadership and spirit. Their love of Broadway Junior and desire for learning and growing through musical theatre is palpable and we are proud to honor these Broadway Junior Stars.
Our Broadway Junior Student of the Month for April 2016, is Lauren Hill from Play on Players in Gainesville, GA.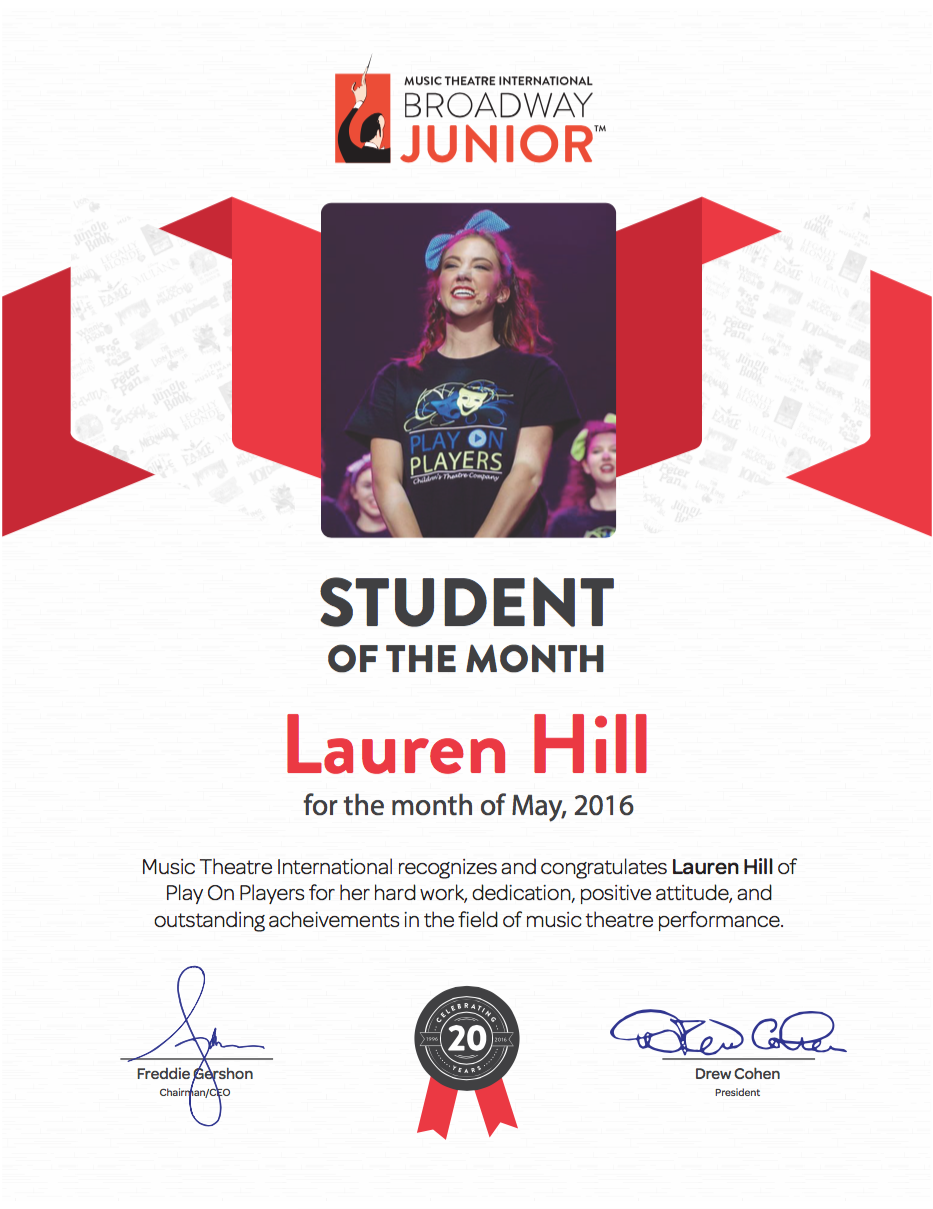 What Broadway Junior Means To Me - By Lauren Hill
I was cast in my first Broadway Junior Show, Seussical JR., when I was twelve years old. I remember being so excited when I found out that I was going to be a Bird Girl! Since then I have been a part of over ten Broadway Junior Productions. Broadway Junior holds a very special place in my heart. It is through this program that I have grown both as a performer and as a person. This program is unique because it provides opportunities for aspiring performers, like myself to pursue their passion in a safe and fun environment. Broadway Junior is about much more than simply "putting on a play." It is about making new friends, building confidence, helping and encouraging fellow cast members to learn a new dance step or harmony, and brightening an audience members day by transporting them into another time and place. Theatre has been my life for the past six years and I've enjoyed every minute on the stage. I have fallen in love with each character I've had the opportunity to play. These shows have had such a profound impact on my life, that I've chosen to pursue Musical Theatre on a collegiate level.
Nominating Essay - By Carly Ann Berg and Haden Rider from Play on Players
Lauren is the Spirit of Play On Players Children's Theatre. She has been with us since we started this company while we (directors) were in college! She is now in her last show with us before she graduates from high school! She will be playing Sarah Brown in Guys and Dolls JR.! Lauren is completely dedicated to every aspect of the theatre, not to mention she is crazy talented. She is a quadruple threat: singer, dancer, actress, and a director's dream.  She is also the most amazing mentor to every student around her.  She helps to bring the cast together as a family, always remains positive with a smile on her face, and guides little ones through the production/rehearsal process.  Lauren received a service scholarship to any college of her choice this month and was given the chance to sing in front of an entire thespian conference for their opening number! She was INCREDIBLE!!! Her hard work, dedication, talent, and passion inspires so many around her!  We are excited for her last show with us and will cherish every moment working with this amazing girl!  We get teary eyed thinking about her graduating, but we know it's time to share this special girl with the world! Congratulations to Lauren Hill! She truly has a God given gift!