Broadway Junior Student of the Month: May 2017
Broadway Junior Student of the Month: May 2017
Over the next several months we will be honoring MTI's Broadway Junior Student of the Month.
These students have been selected out of hundreds of outstanding applicants and display the exemplary qualities of dedication, passion, leadership and spirit. Their love of Broadway Junior and desire for learning and growing through musical theatre is palpable and we are proud to honor these Broadway Junior Stars.
Our Broadway Junior Student of the Month for May 2017 is Aaron Caleb Hall from MasterWorx Community Theatre in Lynchburg, VA.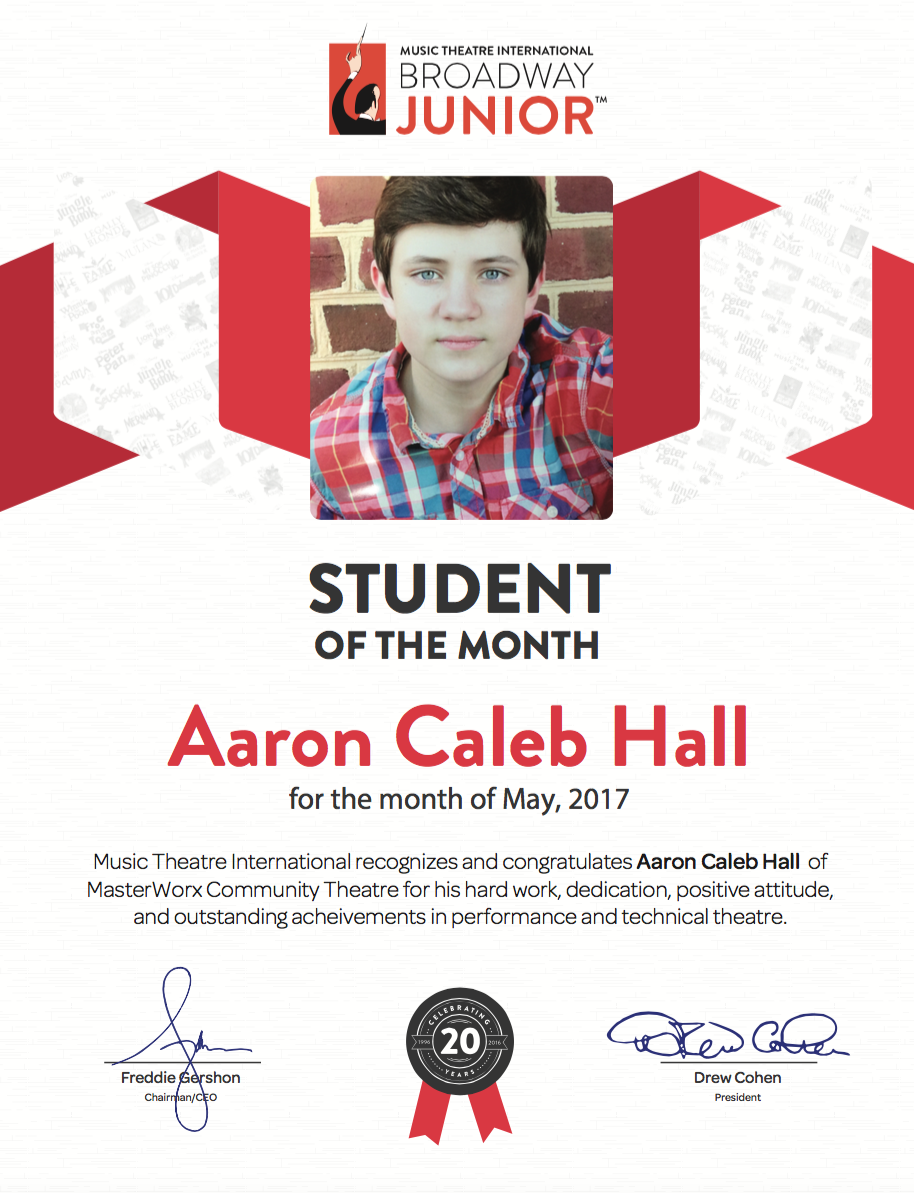 What Broadway Junior Means To Me - By Aaron Caleb Hall
What Broadway Junior means to me is: opportunity. It's an opportunity to grow, learn, and be challenged. When I did my first Broadway Junior show, I was very young and new to theater, but they had every resource available to learn what you needed to know about a show. Throughout the years I have grown so much as an actor because of my start with a Broadway Junior show.  With every show I have done, my skills in team building, team work, and team effort have grown. Nothing in a show is done alone, and while working together to make these shows happen, you form a family. Doing a Broadway Junior show welcomes you into the world of theater in an intriguing way. The scripts and music of these Junior shows give you the effect of the full show and are just as spectacular and entertaining. I have never been disappointed with the product we, my cast and I, made because of the opportunities and the resources MTI have provided us. These shows have been a big part of my life and journey into the first stages of theater. I would recommend Broadway Junior to any student looking to begin theater.
Nominating Essay - By Michelle Velastegui
It is my pleasure to nominate Aaron for MTI's student of the month.  Aaron is passionate about the arts and is a true leader in every sense of the word.  Aaron has been an actor in several of my MTI productions (Hairspray Jr, as Link, Schlomo in Fame JR. and a Prince and the Wolf in Into the Woods JR.)  Not only is he a gifted actor, and singer, but at the young age of 16 he is an aspiring choreographer as well. He recently choreographed both High School Musical JR. 1 & 2, and is currently choreographing Once on this Island JR. as well. He is a hardworking student who puts other students first and works tirelessly on making each production the best it can be.  He gives every student the time needed to perfect a song, or dance, never once complaining.  He gives 100% in all he does, and never expects anything in return. His kindness is only surpassed by his love of people, community, and theater.  An aspiring actor himself, I see great things in this young man, and I highly recommend him for this honor.