Broadway Junior Student of the Month: November 2017
Broadway Junior Student of the Month: November 2017
Broadway Junior Student of the Month honorees were selected out of hundreds of outstanding applicants and display the exemplary qualities of dedication, passion, leadership and spirit. Their love of Broadway Junior and desire for learning and growing through musical theatre is palpable and we are proud to honor these Broadway Junior Stars.
Our Broadway Junior Student of the Month for November 2017 is Duane Patrick Jr. from Flat Rock Middle School in Tyrone, Georgia.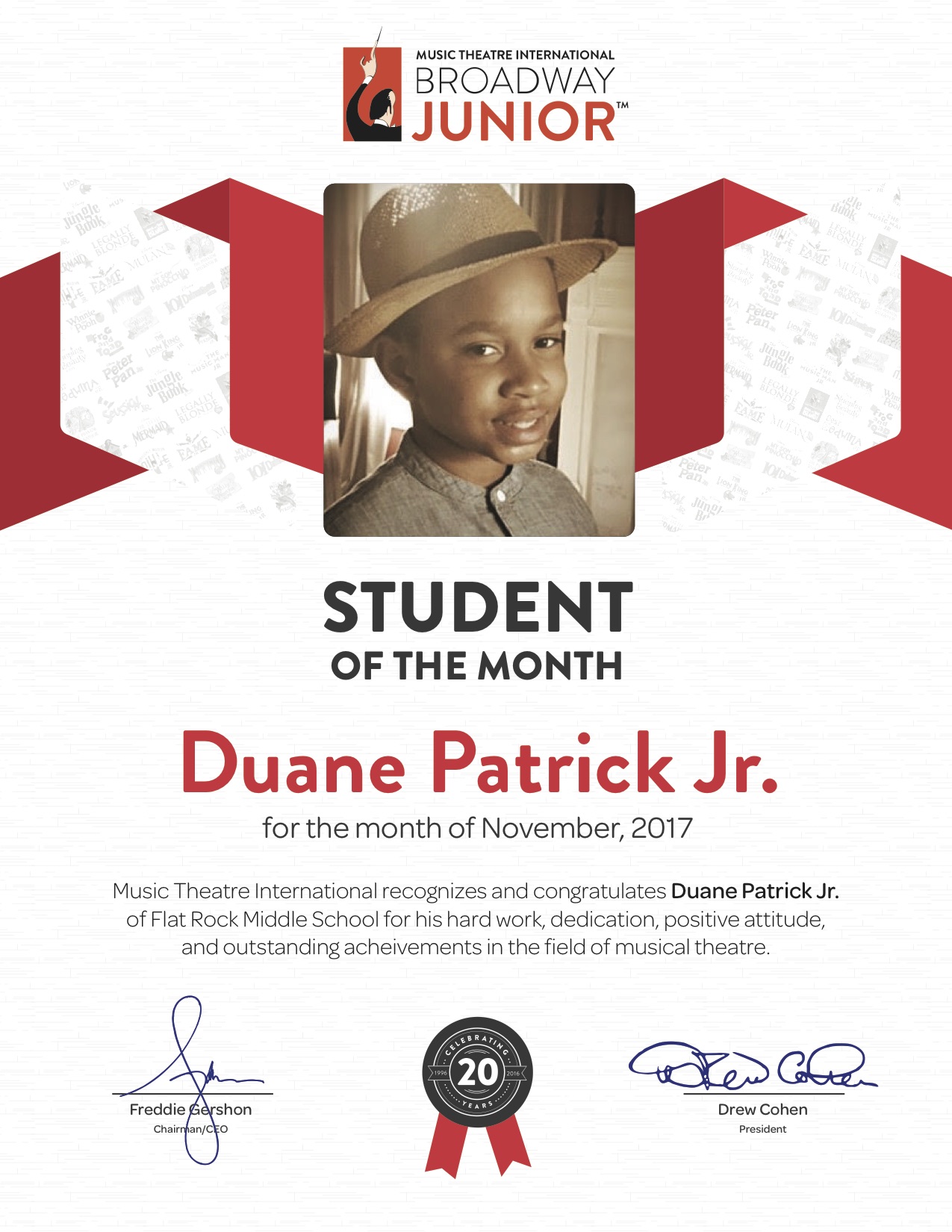 What Broadway Junior Means To Me - By Duane Patrick Jr.
I was first introduced to Broadway Junior in December of 2016 when my chorus teacher, Mrs. Lamb, announced that we were going to be doing a musical. I was very excited at the start because I felt like this was something that I was going to be interested in. I automatically started to enjoy the script and knew that this experience was going to be fun. Later on, when we got our roles, I realized that the script was making me even more excited for the actual presentation of the musical. To me, MTI scripts are very fun and interesting. I also think that Broadway Junior scripts made by MTI are a great way of training new, hard-working actors from around the world. Broadway Junior has given me the opportunity to learn more about performing arts and musical theater. Being a part of this Broadway Junior musical I have decided that acting and performing is something that I am going to continue to pursue in my life.
Nominating Essay - By Dana C. Lamb-Schaubroeck, M.M.E.
Duane Patrick Jr. is one of our new sixth graders at Flat Rock Middle School in Tyrone, GA. He is the kid who instantly fell in love with Chorus and Music Theater and he is often (always) in the chorus room looking to rehearse when he has any free time at school. Duane's Sixth Grade Chorus class decided to work on Lion King Jr. for the music theater festival. And when he brought so much talent to his audition, it was no surprise he was cast as Simba, both old and young!
I could not have been more pleased that he was our Simba in Flat Rock's first ever presentation of Lion King Jr. He one of the most humble and outgoing, yet respectful and talented students that I have ever taught. Being the lead was not the boundary for his involvement in the show, even when he had the majority of the script and all of his music memorized in two weeks. He also helped paint sets for the play and would organize Facetime rehearsals with other cast members on the weekends. He is a dynamic, and ambitious young man, and yet he remains teachable and focuses on making every aspect of his performance the best it can be. When Duane took his curtain call, he realized the fruits of weeks of hard work: the audience rose to their feet and roared.
As a teacher, I am thrilled that Music Theatre International has beautifully reframed some of the most beloved musicals specifically for the middle school actor. These resources did not exist when I was in middle school music theater a generation ago when we greatly struggled with both the length, breadth, and content of the full scale shows. Now as a teacher, my students have manageable, attainable, and interactive resources to experience the wonders of music theater. Through Music Theatre International's availability of Broadway Junior musicals, students like Duane Patrick Jr. are able to discover talents and abilities that they didn't know that they had.
To have one of my students considered for Music Theater International/Broadway Junior's Student of the Month is a tremendous honor, and I fully believe that Duane Patrick Jr. truly exemplifies this honor. He consistently exhibits commitment to the arts, works hard to improve his skills and talents, maintains excellent grades in his academic areas, and is clearly a peer leader among the cast and grade level. Thank you so much to the Broadway Junior organization for giving teachers comprehensive resources for our arts-based classrooms; but moreover, thank you for the opportunity to nominate our very best for such a prestigious recognition.