Broadway Junior Student of the Month: October 2017
Broadway Junior Student of the Month: October 2017
Broadway Junior Student of the Month honorees were selected out of hundreds of outstanding applicants and display the exemplary qualities of dedication, passion, leadership and spirit. Their love of Broadway Junior and desire for learning and growing through musical theatre is palpable and we are proud to honor these Broadway Junior Stars.
Our Broadway Junior Student of the Month for October 2017 is Meera Mennillo from Barrington Middle School in Barrington, Rhode Island.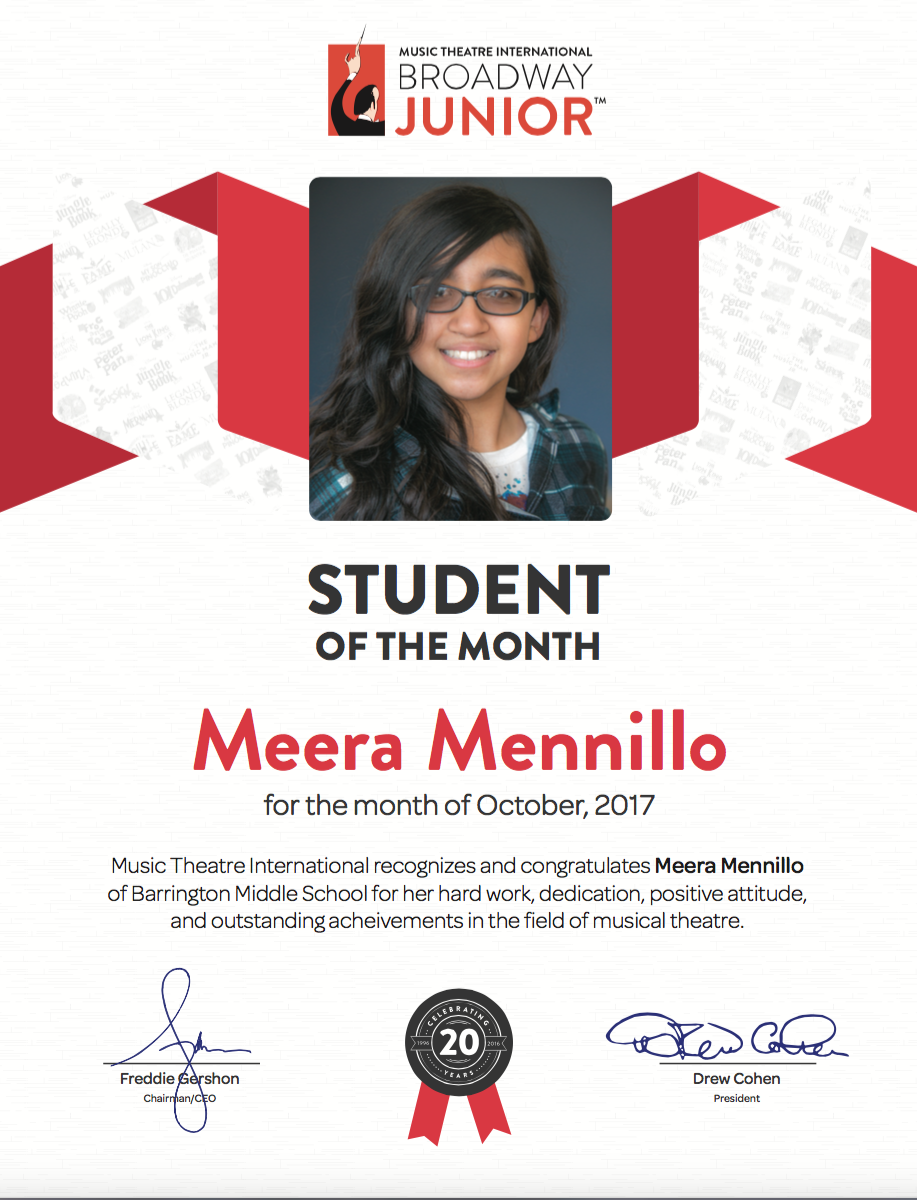 What Broadway Junior Means To Me - By Meera Menillo
From the moment we enter school, there is pressure on every kid to fit into a particular "role." In a world that runs on technology, my generation is growing up learning less about the value of the arts, and even the values of friendship, teamwork, and hard work. I am grateful to have been involved in the arts my whole life as it has taught me many important lessons: connect with people instead of objects and anyone can shine no matter their role. Since first grade, I have been involved in multiple Broadway Junior Shows, most recently playing Paulette in Legally Blonde the Musical JR. Broadway Junior is so meaningful to me because it let me discover confidence at a young age to a point where I can not only outwardly embrace my creativity, but also help others do the same. I aspire to one day be an inspiration for kids the way my mentor and director of eight years, Dena Davis, is for me. To me Broadway Junior means maturity, teamwork, passion, and just plain fun. Broadway Junior is an opportunity for kids like me to find, not where they fit in, but how they stand out.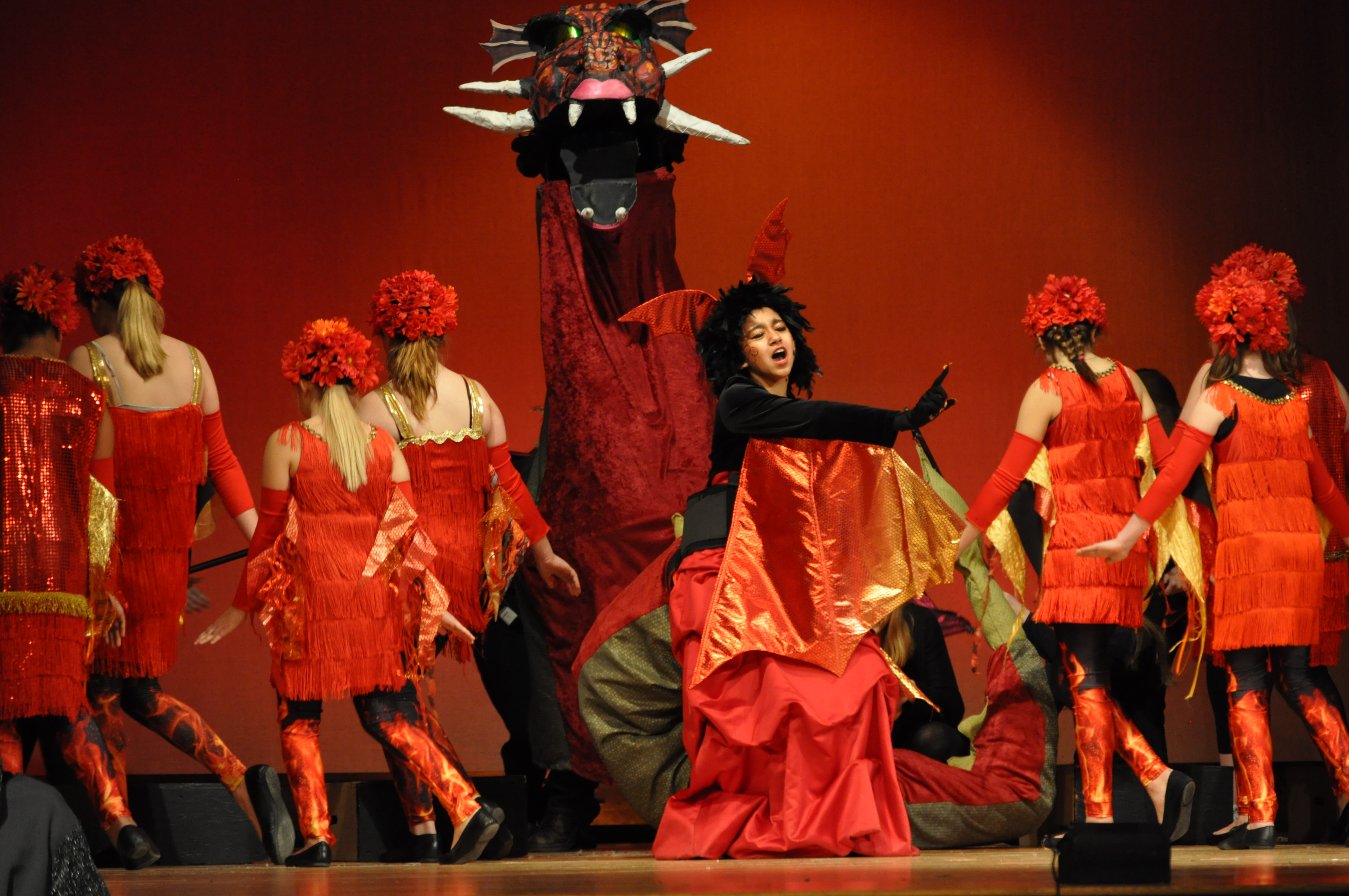 Meera in Shrek the Musical JR.
Nominating Essay - Dena Davis
I am nominating Meera Mennillo for a number of reasons, but mostly for her spirit of generosity and leadership. A child who is gifted with an extraordinary talent is often recognized early and could go through their school career with accolades and opportunities to shine. In Middle School, being exceptional can either boost one to the top of a social ladder, or cause one to "hide" for fear of standing out from the crowd. The unique thing about Meera, is that she IS that extraordinarily gifted child, but she makes it her mission to reach out to fellow cast-mates and do whatever she can to help THEM shine. She re-defines confidence as someone who has belief in her own abilities, but somehow knows her job is to share and lift others. It is very common to see Meera break out in rehearsals and pull a cast-mate aside to help work on a song, coach them on an accent or run lines if they are having difficulty. Meera has been taking part in theatre in our district since the first grade, when she appeared as a "munchkin", and has happily embraced any part from ensemble to lead. This year, Meera is playing "Paulette" in Legally Blonde JR., which will be her last junior production before entering High School. Meera's generosity doesn't stop in the rehearsal room of the plays she appears in; She volunteers in the lower elementary schools to assist directors and work with large groups of very young children. She volunteers to work backstage and help crew productions. An honor student, a skilled Indian dancer and a musician, Meera is someone to watch out for as a future leader in the Arts. We are all so grateful for the positive impact she has on our entire community.