Cindy Says: You Make the Difference
Cindy Says: You Make the Difference
I just returned from the Junior Theatre Festival in Atlanta. Numerous Covid protocols in place, herculean amounts of extra planning to make spaces for kids and teachers safe, and an endless number of students that would do anything to have the opportunity to perform and safely be with their "people". Yes, there were many tears, many incredible/masked performances, and an overwhelming feeling that for many this was the piece they have been missing these past two years.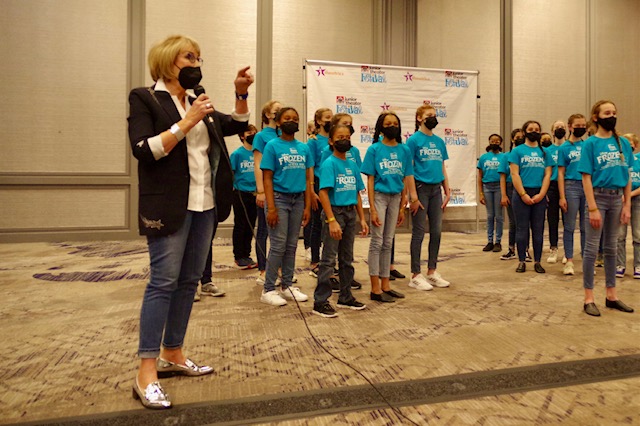 Our teacher workshop uncovered an undeniable and important truth. Yes, our students have missed out in a huge way, but teachers? Yes, YOU need to find a way to lovingly be kind to yourself in order to remain sustainable. Sustainable for your students, for your family, but mostly for yourself.
Everyone has a set of standards they strive for in their programs. But, striving for perfection in the same manner you always have may not be the ideal learning course, and can get in the way of your ultimate goal.
Treating yourself like you would a friend (aka offering yourself some grace) is critical. Seeing the nods from teachers that have been sharing similar demanding situations reminded everyone that they, too, are human, and humans can face roadblocks. The important part is picking yourself up and getting back on track with a new set of tools in the here and now that allows students to create again.
Here are the basic pillars of sustainability that we all need to put back into focus:
Tell the Story
What is the purpose of musical theatre? You all have stories - stories that created YOUR story. Share the love of musical theatre that was your spark. Reflect on it. Share that original passion in all that you do with students, families and community.
Boundaries are Freeing
You have heard us use this phrase in all we teach, but there is no more important time than right now. No rehearsal space available because of testing? Create space in the classroom. Nine cast members in quarantine on show night? Augment your ensemble with other cast members. Flexibility with an end goal is a mighty skill!
You are Your Own Best Resource
Take care of yourself emotionally and physically and don't be afraid to ask for help. Be kind, make expectations realistic, and go back to what ignited YOU.
Would you kindly customize our Sondheim Pledge and fill in the blank?
"I make the world a better place by__________, so help me Sondheim."
Your students will be proud. Very proud.
~ CR
Follow the fun @mtishows on Instagram, Facebook, and Twitter.