Every Goodbye Is Hello: Growing Up in JOHN & JEN
Every Goodbye Is Hello: Growing Up in JOHN & JEN
Composer/librettist Andrew Lippa is probably best known for his adaptation of
THE WILD PARTY
and for writing the score of THE ADDAMS FAMILY, which recently opened on Broadway and stars Bebe Neuwirth and Nathan Lane.  But before either show, Lippa had made his name in modern musical theatre with his two-person show, JOHN & JEN.
That JOHN & JEN is a two-person show already sets it apart.  But while two-person shows tend to be one acts with a run time of about 90 minutes - such as Jason Robert Brown's THE LAST FIVE YEARS - JOHN & JEN is a full-length show with an intermission.
Additionally, while both actors have equal amount of material to perform, the show - despite its title - is more Jen's story than John's.  Jen is our introduction to the world of the show; she sings first in the prologue, and when we first officially meet the characters, we see newborn John through Jen's six-year-old eyes.  "I'll make sure you're happy," she promises, "as safe as you can be."  This moment marks the start of Jen's trajectory throughout the show, as her need to project John from their abusive father drives her character in the first act.  John and Jen have typical sibling spats, of course; Jen tries to distance herself from John at her high school basketball game by not allowing him to talk, for instance.  But overall, Jen assumes an incredibly maternal role towards John...until she leaves for college.
"All my life you've been telling me that you'd stick by me, that we'd be together, and now you're leaving me," John accuses his sister. Jen, however, is not about to give up her chance to escape.  "I thought you of all people understood how badly I gotta get out of here!" she snaps.  "I can't hold your hand forever!"  Jen ends up staying away from her family for several years, not returning until John is 18 and she's 24.  Over the  years, John has become more like their father: "Dad says he thinks I'd make a good soldier," he writes in a letter to Jen,
"And in two months I'll finally
Make him proud of me.
I'm gonna join the navy."
Jen disapproves of John's transformation, telling him she "never should have left you out of my sight...One of those John Wayne army men/Chin uptight." Likewise, John is not thrilled with Jen's hippie sensibility, suspecting that her ardent opposition to the Vietnam War is simply another way for her to hurt their father. Hearing that Jen and her boyfriend are moving to Canada to avoid the draft is the last straw for John, and Jen leaves before they resolve their fight.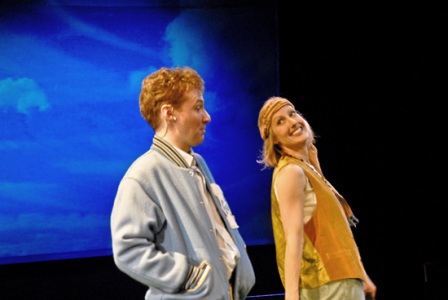 Mckinley Carter and John Cunningham are JOHN & JEN at The Apple Tree Theatre--photo from Theatre In Chicago
John's death in Vietnam two years later ends the first act, setting the stage for Jen's arc in Act 2. Here, the actor playing Jen's brother John plays her son - also named John. Jen, as a mother who sees her son as chance to redeem herself for her callous treatment of her brother, transfers her pledge of protection onto this new John. "I've got his old clothes/Up in the attic," she tells her son, "You're gonna fit them - just right, just right." Jen attempts to mold her son into her brother, from dressing him in her brother's clothes to encouraging him a little too enthusiastically to play baseball, a game her brother John loved. But just as college came between brother and sister, it comes between mother and son. Jen, afraid to let John out of her sight, is furious over his decision to turn down Columbia and stay with her instead. Only this time, Jen recognizes that her overcompensation has put her in danger of losing her son, just as she lost her brother. "I pushed you too hard," she admits,

"I loved you too strong,
I went for it all
But I somehow went wrong,
That was my way...

I need time to learn
And the room to go wrong.
But I will go right,
Piece by piece, day by day."

Twenty years later, Jen has finally found peace after her brother's death, and has begun to understand that the best she could do for both Johns would be to let her son find his own way.

To license JOHN & JEN, visit its MTI show page. Discuss JOHN & JEN and view production photos on its MTI ShowSpace page.