Filichia Features: A Summer Production of Spring Awakening
Filichia Features: A Summer Production of Spring Awakening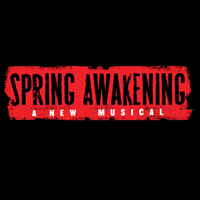 At the recent American Association of Community Theatre Festival in Carmel, Indiana, 12 companies ranging from Burlington, Massachusetts to Chula Vista, California came to show their wares.
But only one company dared to take on a musical.

It wasn't just any musical. When the time came for adjudication, Tim Jebsen, the executive director of Midland, Texas' community theatre, called it "challenging material on a difficult subject."

Paul Nelson, who has adjudicated these festivals for the past 16 years, noted that it was "a complex show, what with its dealing with death and sex in a society less informed than our own." And Kathy Pingel, who works with the Des Moines Community Playhouse, predicted that "it will resonate with audiences forever."

The show, of course, was Spring Awakening, the controversial 2007 Tony-winning Best Musical. Bookwriter-lyricist Steven Sater and composer Duncan Sheik took Frank Wedekind's provocative 1890 play in which German teens deal with new-found sexual and academic pressures.

It all starts when Wendla, a curious teen, finds that her mother is too embarrassed to tell her the truth of how humans reproduce. Because of this, she'll later not understand the ramifications of her sexual encounter with the somewhat smarter Melchior.

Meanwhile, there's Moritz, who is not necessarily bright enough to pass his exams. This causes his father to roar, "What are your mother and I supposed to do? How can she show her face at the Missionary Society? What do I tell them at the bank? How do we go to church? What do we say? 'My son failed!'"

Father is insensitive to the fact that Moritz feels terrible and is worried too about his own future. But here we have a parent who simply sees his son as a reflection on him. He feels cheated that his friends and relatives won't envy him because his son isn't a star pupil.

Wendla becomes pregnant, which was the ultimate disgrace for a girl in the late 19th century (and beyond, for that matter). Her mother decides that her only recourse is abortion, but that's illegal. A back-alley doctor is found who'll do the deed, but he doesn't do it well.

Wendla dies.

Wedekind's message to parents was clear: when your children ask "Will you tell me how babies are made?" just say yes. Keeping kids in the dark about sexual matters can lead to tragedy. And if this weren't enough of a hot-button issue, Wedekind also dared to look at teen homosexuality. No wonder that his play was denied production for 15 years.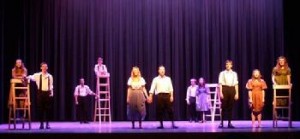 The musical version of Spring Awakening came to the festival courtesy of The Ohlook Performing Arts Center from Grapevine, Texas. The troupe has an interesting history. It was founded in 2002 as a children's theater; anyone from age 3 to 18 was welcomed. Five years later, the kids who'd already been 13 to 18 were now too old to continue. They weren't happy that they were suddenly theatrically homeless.

So these teens decided to form The Adult Performing Company. Needless to say, it was this troupe and not the 3-to-18 set that performed Spring Awakening.

As a result, some cast members looked older than the characters' ages. One actor, in fact, was balding and attempted to mask it with a comb-over. And yet, seeing these men and women up there suddenly made Spring Awakening work in a different, unexpected and yet satisfactory way. Now it seemed to be a "memory musical" – one in which the characters were not telling us about their experiences in the here-and-now, but were remembering the ones they had had long ago.

Director Jill Blalock Lord may have hit upon something here: must Spring Awakening only be performed by age-appropriate people? Maybe all those boys in black school uniforms (and those black pants that tuck into black knee socks) can become men in black. You decide what's best for you and what strikes you as the right solution.

The original production of the musical Spring Awakening was controversial in yet another way, albeit a more benign one. Quite often, when characters wanted to express their inner thoughts, they pulled out microphones from their inside jacket pockets and started singing into them.

Some Broadway savants, such as Arthur Laurents, very much liked the concept. Many other musical theater purists didn't; why did the show set in 1890 suddenly take us into another century with this startlingly anachronistic touch?

After all, if Daddy Warbucks took out an iPhone to contact President Roosevelt, we'd say, "Oh, they didn't have those then." If one of the daughters in Fiddler On The Roof said "Gag me with a spoon," we'd exclaim, "That expression wouldn't be used for 80 more years!" And if Anita and Maria in West Side Story wore jelly shoes, we'd blink and complain "Those didn't come in until the '90s!"

There is a difference, however, with Spring Awakening: the characters only take out their microphones when they are expressing their inner thoughts. One could argue that singing is artificial to any story, so why not take the artifice one step further and use microphones to literally and figuratively amplify their thoughts?

You know that here at MTI we demand that shows be done as written. You'd better not have Annie sing "The sun'll come out on Tuesday." Don't try changing Sky Masterson in Guys And Dolls into Moon Masterson. Every word, every song, every line of dialogue must be performed as it is written in the script and score (unless you ask for permission and are granted it).

But a careful look at Spring Awakening's script shows that there is no mention whatsoever of microphones. This suggests that original director Michael Mayer had the idea to add them. Thus, other directors can apparently feel free to not use them – which was Jill Blalock Lord's choice.

Ms. Lord certainly didn't eliminate the erotically-charged mood. Right from her opening number "Mama Who Bore Me," she had Megan McCray's Wendla caress her own body quite a bit. And how did she deal with that notorious scene in which Melchior and Wendla experimented with sexual intercourse? While the amount of nudity in the original Broadway production wasn't gratuitous or sensational, Ms. Lord, in conjunction with costumer designer Hannah Blalock, shrewdly found a way to minimize it. When Melchior took off his pants, his shirt tail was quite long. Blalock made us believe that the long shirt was the fashion of the day, and John Davenport's gluteus maximus remained discreetly covered as he simulated the sex act.

As for scenery, Matt Lord provided about as little as you see in a production of Our Town. Ladders and chairs were pretty much all that was shown. Thus, the characters not in any given scene climbed the ladders and observed the characters involved in the action. Occasionally they functioned as a German version of the Greek chorus.

Like it or not, Spring Awakening tells the truth about sexuality. Not only do the boys lust for the girls, the girls lust for the boys – and some boys lust for the boys, too. And while the musical is set more than 100 years ago, it still has something to say to contemporary parents: must you start choosing your children's colleges soon after they're potty-trained?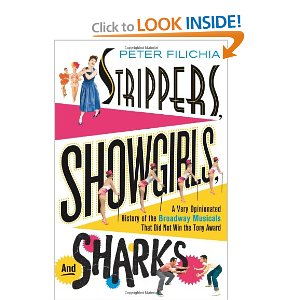 You may e-mail Peter at pfilichia@aol.com. Check out his weekly column each Tuesday at www.masterworksbroadway.com and each Friday at www.kritzerland.com. His book, Strippers, Showgirls, and Sharks – a Very Opinionated History of the Broadway Musicals That Did Not Win the Tony Award is now available at www.amazon.com.