Filichia Features: Attending the Tale of Sweeney Todd at a High School
Filichia Features: Attending the Tale of Sweeney Todd at a High School
Hear ye, hear ye, directors of high school musicals! When the time comes for you to retire -- be it tomorrow or the latter half of the century -- you may well look back on Sweeney Todd as your crowning glory.
Do you dare to do it?
If your kids have the voices, you almost owe them a chance to perform Stephen Sondheim's now-legendary score and Hugh Wheeler's riveting book.
As Carl Wallnau of The Young Performers Workshop in Hackettstown, New Jersey has often said (and this is one of my all-time favorite quotations), "If you don't tell kids that something's impossible, they simply go out and do it."
I saw it happen through Pleasant Valley High School's Sweeney Todd, not in its hometown of Bettendorf, Iowa, but in Lincoln, Nebraska at last month's International Thespian Festival.
Director William Myatt made it eerie, permeating "City on Fire" with enough white smoke to elect six dozen popes. He and Francis Dunbar designed an Evita-like bridge set buttressed by very tall library ladders. Those became veritable jungle gyms full of lower-class Londoners.
Some kids are disappointed when they "only" get ensemble. Not when they're chosen for Sweeney Todd's. They love dressing up and caking on greasepaint to look like the wrath of God -- or, to quote an excised Sondheim lyric from Anyone Can Whistle, "the lame, the halt and the blind and anyone out of their mind." Your kids will be grand at Grand Guignol and will count the seconds before they can storm on stage, act crazy and scare the audience.
Needless to say, Sweeney offers many more scares, as the former Benjamin Barker escapes from prison intent on killing Judge Turpin for incarcerating him and stealing his wife Lucy. Sweeney's barber shop is still owned by Nellie Lovett, who makes, by her own admission, "The Worst Pies in London." Indeed they are – until Sweeney starts killing people and their meat makes for awfully tasty pastries.
How extraordinarily well Bailey Connors and Halle Fish sang Sweeney and Mrs. Lovett. But they didn't neglect the small details. Connors wasn't just repulsed by Beggar Woman's looks; the way he contorted his face established that she smelled terrible even by 19th-century standards. He moved far enough away to avoid her face -- which is important. If he saw it, he just might recognize her, despite her years of living on the street. Sweeney can't know until show's end who Beggar Woman actually is.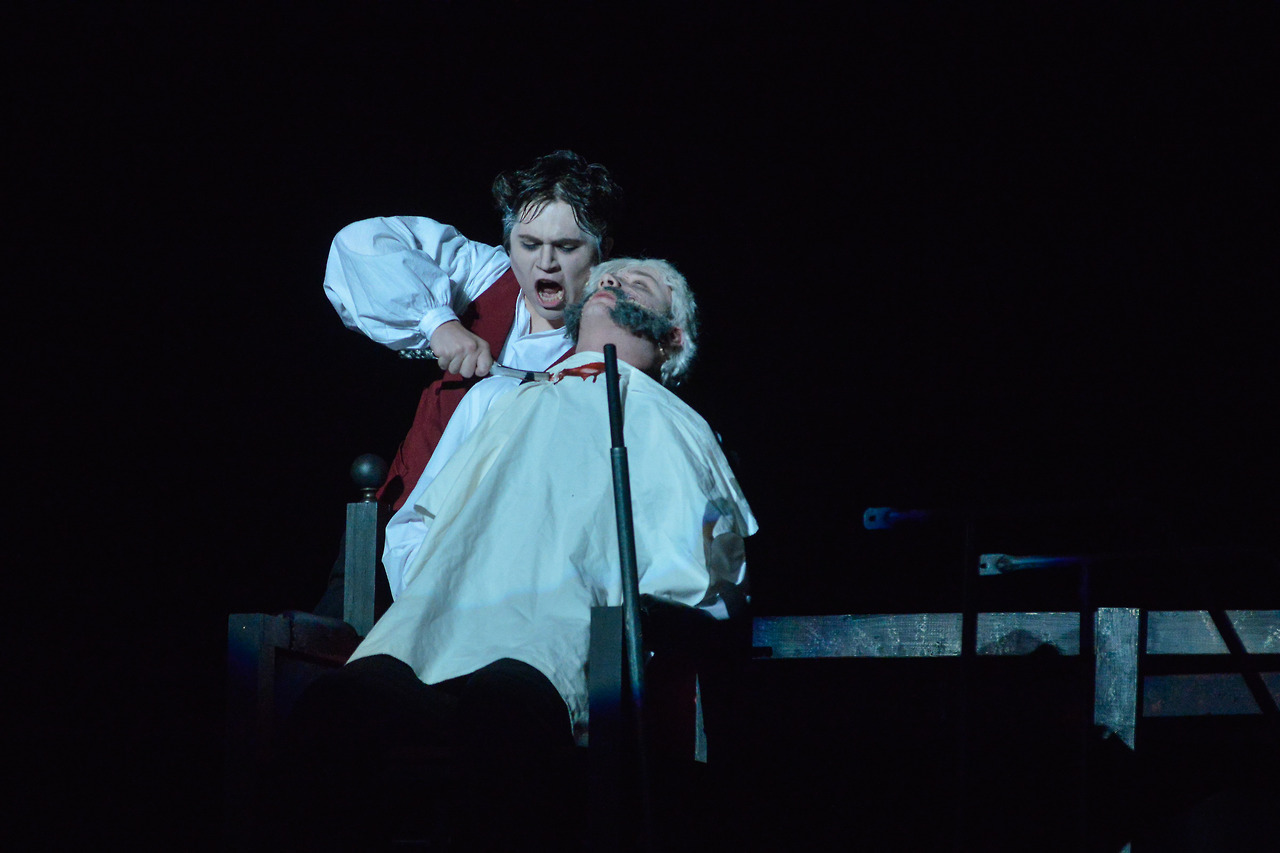 Sweeney Todd: The Demon Barber of Fleet Street, Performed by Troupe 856, Pleasant Valley High School, Bettendorf, Iowa. Photos by John Nollendorfs.
Some call Sweeney Todd an opera – but please! Don't describe it as such to your kids, for most hate that word as much as homework, curfew and grounded. Most Sweeney characters have a secret, so let yours be that this musical has been considered an opera.
When Mrs. Lovett kissed Sweeney, Fish gave an "Isn't-he-cute" smile that showed her fierce denial that he didn't care for her, let alone love her. Fish amused after Beadle Bamford encouraged her to join his song and she gave a "Why not?" reaction.
Credit, too, to Connors and Fish near show's end, when they waltzed. Considering how many dead bodies were by then littering the stage, they did nicely in not bumping into any.
When Connors waltzed her into the oven, Fish's screams rivaled The Wicked Witch of the West's.
Myatt's Sweeney was only one of five schools chosen to play in the 2,258-seat Lied Center. Kids from nearly 500 Thespian chapters attended, so each of the select quintet performed twice to accommodate as many as possible.
Today's theater teens tend to know everything about current Broadway and far less about yesterday's. The gasps the students emitted at every-few-minute intervals proved that most were unfamiliar with Sweeney. Witnessing its introduction to thousands of high schoolers was gratifying – and not surprising. Kids are, after all, a prime audience for horror movies, so they took to Sweeney as enthusiastically as Mrs. Lovett's second-act customers took to her, shall-we-say, nouvelle cuisine.
And you know kids where ribaldry is concerned. When Mrs. Lovett and Sweeney one-upped each other in "A Little Priest," and he said he wanted a general in his pies – only to have her ask "With or without his privates?" the kids roared in delighted shock. Tell both performers and your musical director to expect to wait many seconds for the laughs to subside.
The titanic applause at the final curtain not only showed that the kids appreciated the sterling cast but that they also loved the op – um, musical. So give your performers and audiences the chance to become acquainted with Sondheim and Wheeler's masterpiece.
"You will learn," Sweeney says early on to his naïve pal Anthony. Pleasant Valley High's students learned quite a bit, too, as will yours as they conquer Sweeney Todd.
You may e-mail Peter at pfilichia@aol.com. Check out his weekly column each Monday at www.broadwayselect.com and Tuesday at www.masterworksbroadway.com. His book, The Great Parade: Broadway's Astonishing, Never-To-Be Forgotten 1963-1964 Season is now available at www.amazon.com.