Filichia Features: Catch Catch Me If You Can
Filichia Features: Catch Catch Me If You Can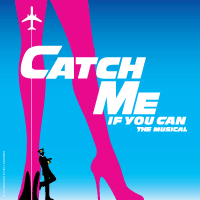 In a way, it's The Producers and Les Miserables combined.

At first glance, that may seem to be a strange way to describe Catch Me If You Can, the 2011 musical with a book by Ragtime's Terrence McNally and a score by Hairspray's Marc Shaiman and Scott Wittman. But there really are parallels with the long-run musical comedy hit and the longer-running musical play.

Just as The Producers had a con man in Max Bialystock, Catch Me offers us Frank W. Abagnale, Jr. who audaciously tricked a schoolroom of students, airline employees, a hospital staff and a family. These illegal activities certainly grabbed the attention of Carl Hanratty, the FBI official who became Frank's Javert (in the role that won Norbert Leo Butz a Tony). Carl endeavors to catch Frank, and does after a five-year hunt in the show's first scene at JFK International Airport. "The show is over," says Carl.

The word "show" leads to a smart conceit: Frank sees his life flash before his eyes – but as a '60's TV variety show a la Dean Martin or Hullabaloo. Just as it's said that some people who are tortured remove themselves from their bodies to escape the pain, Frank suddenly escapes the only way he can.

This type of TV spectacular was still being broadcast in 1969 when the real Frank's luck ran out. But McNally doesn't run the risk of having his audience members miss that they've been whisked to the '60s; he immediately lets them know they're in a period piece by including announcements for departing and arriving flights from TWA, Braniff and Pan Am. Remember them?

Frank's opening number, "Live in Living Color" proves that composer Shaiman knew how these variety show songs sounded in the early swinging '60s (before the decade really started swinging). Shaiman is our king of pastiche to the point where pistachio must be his favorite ice cream flavor. He's written the right music for a chorus of young beautiful, leggy and scantily clad women – an important component in any tired businessman's show (a la The Producers). With a dynamically charismatic and ever-appealing Frank, you've got a tired businessman's and businesswoman's show.

Going the TV special route was a savvy decision. Decades ago, Bob Fosse was wise enough to know that if he made Chicago into a realistic musical, audiences wouldn't be able to get behind Roxie who was, as Billy Flynn unapologetically called her, "a common criminal." That's what Abagnale was, too, and musical comedies are better when they treat anti-heroes in fanciful fashion.

Harry Bogen and Sammy Glick, the realistically drawn heels in I Can Get It for You Wholesale and What Makes Sammy Run? – both pretty good shows – even lumped together didn't stay on Broadway nearly as long as J. Pierrepont Finch did in How To Succeed In Business Without Really Trying. Finch has already enjoyed two Broadway revivals while Harry and Sammy have yet to have one. And just as the comic book approach helped How To Succeed and the vaudeville worked for Chicago, the TV-special conceit aids Catch Me If You Can.

The show even borrows one of How To Succeed's best gambits. Whenever things go Frank's way, he sharply turns his head to look and smile at us so that we can enjoy and share in his success – exactly as Finch did in his show. But much more importantly, your Frank must be a great song 'n' dance man who's capable of making a charismatic rapport with your audience. Otherwise, he'd be easy to dislike.

McNally helps by including an important detail from the 2002 film: Frank's parents were dishonest -- dad fiscally, mom sexually. They had no idea how much their straying from the ethical path would impact their son. But it did, and these details help us to have a modicum of sympathy for our anti-hero.

Frank starts off innocuously. Once he's forced out of private school because his parents could no longer pay for it, he still wears his blazer to school (which shows how diminished he feels that he's now in public school). When one student mocks his appearance with, "Are you a substitute teacher?" Frank seizes the notion and impersonates one. While the principal is outraged by the ruse, his father's amused -- giving Frank tacit approval to commit more scams. Just as sports figures say "It ain't bragging if you can back it up," Frank feels "It ain't bad if you're clever enough."

As Shaiman and Wittman did in Hairspray, they've made room for a "(You're) Timeless to Me" number. Frank and his father sing "Butter Outta Cream," a song not unlike "High Hopes," the Sinatra standard and Oscar-winner. It too tells of little animals who survive seemingly insurmountable obstacles, and emerges as a nice 'n' easy masterpiece.

So is "The Pinstripes Are All They See," which is performed in the December, 1964 flashback. The Abagnales are celebrating Christmas around -- here's a nice detail – an artificial tree. Frank's father is telling his son that he'll get ahead in the world by always looking well-dressed; he even says that this is one reason why the New York Yankees so often win.

(With this talk of the Yankees being perennial champions, now everyone in your audience will know for certain that Catch Me is a period piece.)

Your Carl must be the straightest of arrows. Even his FBI colleagues rib him for "not being cool" -- which Carl admits with pride. And yet, he sings a song that's musically cool: "Don't Break the Rules." This is the type of number that gets the most glorious of receptions: great applause to begin with, but once it starts to abate, it suddenly gets louder and more powerful than it had been at first.

At one point, Carl is in the same room with Frank, but the criminal slips through his fingers. Here your Carl must show frustration as great as Sweeney Todd's when Anthony interrupted him just before he was about to slit the judge's throat.

The Producers and Les Miz don't have much romance, but Catch Me has a bit more. After Frank convinces medical administrators that he's a doctor, he falls in love with Brenda, a nurse who comes to love him, too. McNally has improved the Frank-Brenda relationship from the film by making her the best nurse on the staff. The movie has a doctor yelling at her after she made an incompetent move, which causes Frank to sympathize with her. In the musical, she saves him by giving him good medical advice. "I love that you're good at your job," he says moonily. That's a component that's spurred many to fall in love.

We know that Frank really does love Brenda because he eventually tells her his real name. And yet, he doesn't offer her much explanation. When Brenda discovers the truth, she sings that she still wants Frank to "Fly, Fly Away." It begins as a nice country waltz, but your singer will pour so much of her voice and heart into it that it will emerge as far more.

Your director will have to keep it moving, and your choreographer – intentionally or un – must make the variety shows dances look as splashy as they once appeared on TV. That's especially true of "Live in Living Color," for which your lighting designer should offer a rainbow of bright colors.

That opening scene has Frank's suitcase inadvertently opening. Inside are stacks and stacks of ten, twenty and fifty dollar bills. Here's hoping that you make so much money from your production of Catch Me If You Can that you can fill last night's receipts in that suitcase.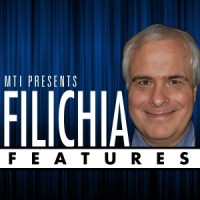 You may e-mail Peter at pfilichia@aol.com. Check out his weekly column each Tuesday at www.masterworksbroadway.com and each Friday at www.kritzerland.com. His new book, Strippers, Showgirls, and Sharks – a Very Opinionated History of the Broadway Musicals That Did Not Win the Tony Award is now available at www.amazon.com.